March
Continuing Through April 6
Agency, Tolerance and Imagination: Art and Civic Engagement
The Trout Gallery, Weiss Center for the Arts
Gallery hours: Monday-Saturday, 10 a.m.-4 p.m.
This exhibition features prints and photographs that focus on current political and social issues. These works were acquired as part of the museum's student-selected art acquisition initiative. Exhibition curated by Jacqueline Amezcua '19.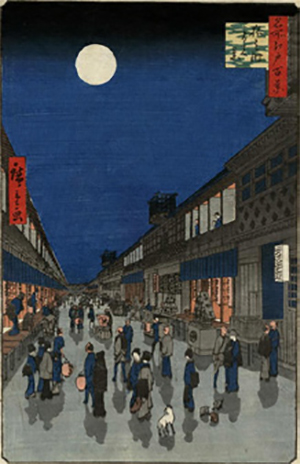 Ando Hiroshige, Night View of Saruwaka-machi from One Hundred Famous Views of Edo, 1856.
March 1-April 13
Reception: March 1, 5-7 p.m.
Timely and Timeless:
Japan's Modern Transformation
in Woodblock Prints
The Trout Gallery, Weiss Center for the Arts
Gallery hours: Monday-Saturday, 10 a.m.-4 p.m.
This exhibition considers woodblock printmaking in Japan from the age of Hiroshige through the early 20th century. This exhibition is curated by senior art history majors Fiona Clarke, Isabel Figueroa, Mary Emma Heald, Chelsea Kramer, Lilly Middleton, Cece Witherspoon and Adrian Zhang, under the direction of Ren Wei.
Learn more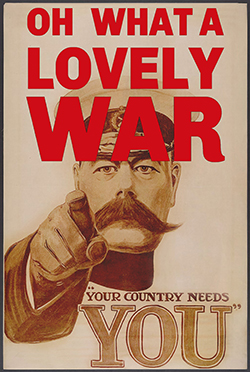 March 1-2 and 4-5, 8 p.m.
Oh What A Lovely War
Mathers Theatre, Holland Union Building
$7, or $5 with student ID
Oh What a Lovely War broke new theatrical ground in 1963 when it viewed war from the perspective of the common soldier. The recent 100th anniversary of Armistice Day seems an appropriate occasion to revive this classic of modern theatre.
Created by the visionary director Joan Littlewood and her Theatre Workshop, the piece juxtaposes the playfulness of British popular culture and the nostalgic songs of the period against the horrors of the World War I. The audience experiences the contradictory emotions of pleasurable delight and political anger through music, imagery and storytelling. As the play progresses, the soldiers' songs become increasingly bitter and cynical, while the tunes themselves are inherently moving.
In The Sunday Times (London), Harold Hobson wrote that Joan Littlewood's astonishing production was "stamped with originality, with entertainment and pathos, with the true life of the theatre."
Special notes on this performance:
All performances will be followed by a Q&A session on student-led research related to themes in the play.
The Saturday, March 2, performance will also include an intermission presentation on wartime food. The Dickinson College Farm will provide samples during intermission.
Learn more
March 4-30
Opening Reception: Wednesday, March 20, 5:30-7 p.m.; Artist's Talk 6 p.m.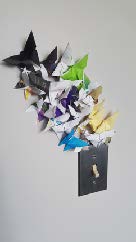 Becky Deihl, Metamorphosis, installation with paper, 2018.
2018-19 Post-baccalaureate-in-Residence Becky Deihl: Was That a Question?
Goodyear Gallery, Goodyear Building (Cedar St. entrance)
Gallery hours: Tuesday-Friday, 3-5 p.m., Saturday, 2-5 p.m.
The Department of Art & Art History's 2018-19 post-baccalaureate-in-residence, Becky Deihl '18, will exhibit her fantasylike multimedia works, which explore common themes through unexpected approaches.
Learn more
Tuesday, March 5, 7 p.m.
An Evening With Writer Linda Hogan
Anita Tuvin Schlechter Auditorium
Poet and novelist Linda Hogan will read from a selection of her works, many of which connect to themes related to gender, indigeneity and the environment.
Thursday, March 7, 5:30 p.m.
The Jane L. and Robert H. Weiner Lecture in the Arts:
Daniel H. Weiss, President and CEO, Metropolitan Museum of Art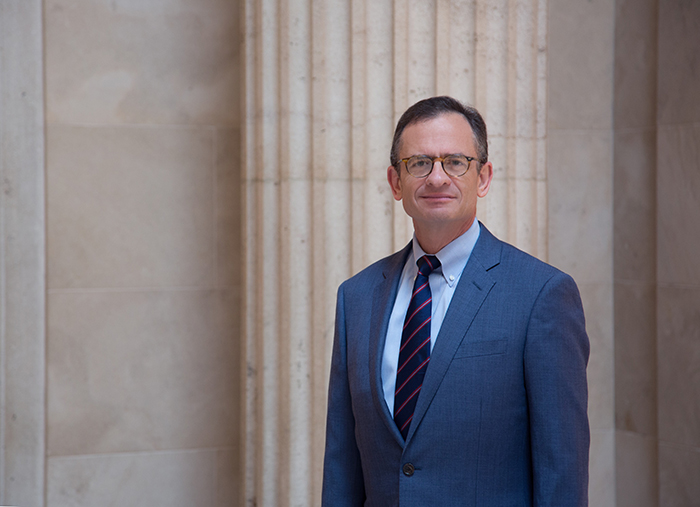 Daniel H. Weiss, President and CEO, Metropolitan Museum of Art (courtesy of the Metropolitan Museum of Art).
Museums, Society and the Public Interest
Rubendall Recital Hall, Weiss Center for the Arts
Weiss became the fifth president of the Metropolitan Museum of Art in 2015 and was appointed president and CEO in 2017. The Met is one of the largest and most diverse art museums in the world, with approximately two million objects in its collection, representing more than 5,000 years of artistic achievement; seven million visitors annually; and an operating budget of $320 million. This lecture is sponsored by the Department of Art & Art History.
Learn more
March 21-23
Artistic Residency: Boston Trio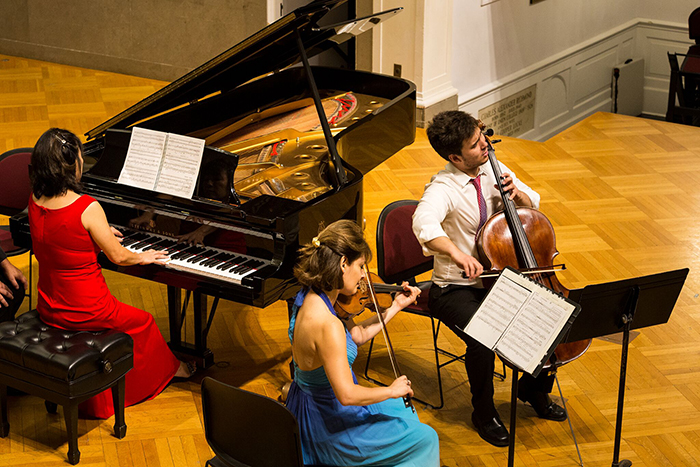 Various locations
Dickinson's artists-in-residence program welcomes the renowned Boston Trio—Heng-Jin Park (piano), Irina Muresanu (violin) and Jonah Ellsworth (cello)—for their March 21-23 musical residency. The artists will work with Dickinson's students and faculty in master classes, concluding their visit with two public concerts (see listing below).
Thursday, March 21, 7 p.m.
Four Strings Around the World by Boston Trio's Irina Muresanu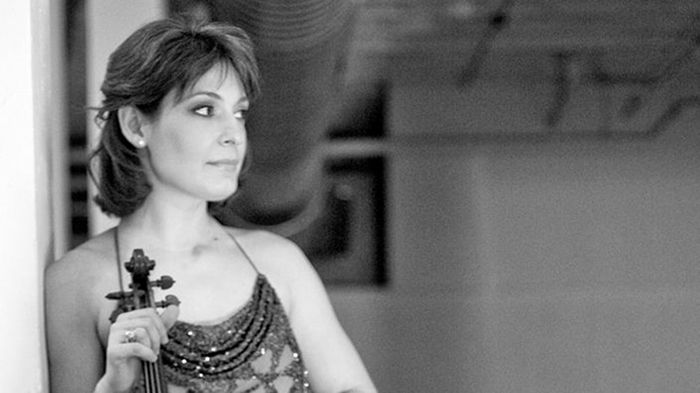 Irina Muresanu of Boston Trio.
Rubendall Recital Hall, Weiss Center for the Arts
'As part of Boston Trio's residency, violinist Irina Muresanu presents an exciting program, Four Strings around the World. This program of global resonance is a celebration of diverse musical cultures through the unifying voice of a single medium: the violin. The audience will experience:
music from four continents: Europe, Asia, South America and North America;
various styles of playing (classical, fiddle, Arabic, Asian, tango);
short videos with music and images designed to inform and immerse the listener in the less-familiar cultures;
two new works written specifically for this program by Shirish Korde (India) and Jerod Impichchaachaaha' Tate (Chickasaw Nation)."
"Four Strings Around the World not only extends the superbly talented Muresanu in new directions, but offers a glimpse into variations of violin technique and approach that would only be gleaned by attending concerts in various country fairs, Irish pubs, campfire gatherings and parlors. The only thing these works had in common was a kind of magical virtuosity that Muresanu regaled the audience with in a most facile manner." —Keith Powers, Cape Cod Times
Saturday, March 23, 7 p.m.
Wheel of Colors by Boston Trio
Rubendall Recital Hall, Weiss Center for the Arts
Artists-in-Residence Boston Trio present Wheel of Colors, a program featuring Jennifer Higdon's Piano Trio (with movements "Pale Yellow" and "Fiery Red"); Joseph Haydn's "Gypsy" Trio, with its vibrant theme-and-variations first movement and Hungarian-infused finale; and Eric Korngold's piano trio, which embodies the gold and glitter of the Viennese world in the beginning of the 20th century. A wide palette of musical colors will be showcased in this program, which brings works from the classical, romantic and contemporary repertoire.
"… warm and reassuring … intense and searching … forthright and extroverted." —Boston Globe
Thursday, March 28, noon
Noonday Concert
Rubendall Recital Hall, Weiss Center for the Arts
This concert features students in Dickinson's performance studies and chamber music programs.
Learn more
All events are open to the public and are free, unless otherwise noted. Events listed in the Calendar of Arts are subject to change. Please contact the appropriate department prior to an event to confirm that it will take place as listed.