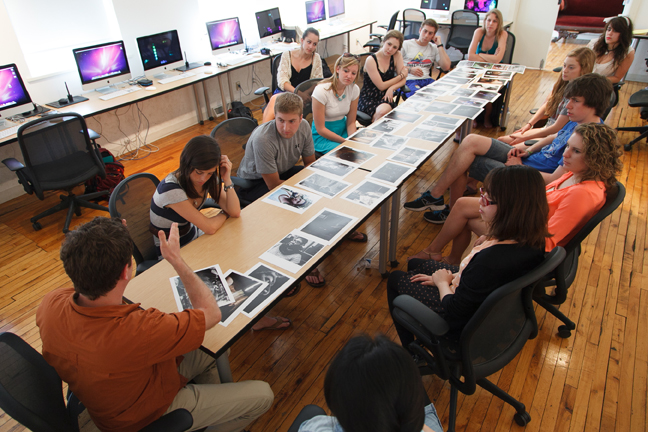 The studio art program at Dickinson College provides a varied and dynamic approach to artistic practice. Our program is structured around the belief that a liberal arts education can provide a unique and effective approach to the study and understanding of art.
The studio art major allows students to gain a strong technical knowledge of the mediums with which they work, while emphasizing the relationship between theory and practice. The curriculum encourages students to think beyond the conventions of any given medium and consider art in a larger context; one that considers other areas of study and various forms of human experience. An understanding of historical discourse and contemporary practice is a key component of each class in addition to critical investigation, concept, and experimentation. Creative problem solving and the ability to think in a critical, yet constructive manner facilitates a unique approach to art making. Our ultimate goal is to provide students with a creative approach and understanding that will allow them to function in a variety of visual and creative fields.
Overview of the program
Students in the studio art concentration of the Art and Art History Major take a total of 12 credits in the major (towards the 32 to graduate);
The studio concentration is compromised of 9 studio credits and 3 art history credits. Click here to view specific requirements in our Advising Guide. Required studio classes include two levels of drawing and one 3D, in addition to electives and the senior seminar;
Mediums offered include: 2D | drawing, painting, printmaking (intaglio, lithography, woodcut), photography (darkroom and digital), digital studio classes in static and time based media; 3D | sculpture (wood and metal fabrication-including welding and casting), ceramics (including throwing and hand building);
The Senior Studio Seminar is the capstone experience and highlight of the program. It provides a year of intensive studio work with the goal of creating a comprehensive body of work (thesis) that includes an exhibition in The Trout Gallery with accompanying catalog. Excellent facilities spread throughout the Goodyear and Weiss buildings including individual studios for senior majors;
Goodyear Gallery, Goodyear's Project Space, and Weiss Gallery 204. All gallery spaces are intended to exhibit student work and professional artists;
Visiting artists and lectors each year;
The Sylvia Smith '73 artist-in-residence program brings an artist to campus for a six-week residency. In this residency, the visiting artist creates a body of work and interacts with students;
Study abroad opportunities and summer programs;
An active student arts community that includes a student run Arts Collective.