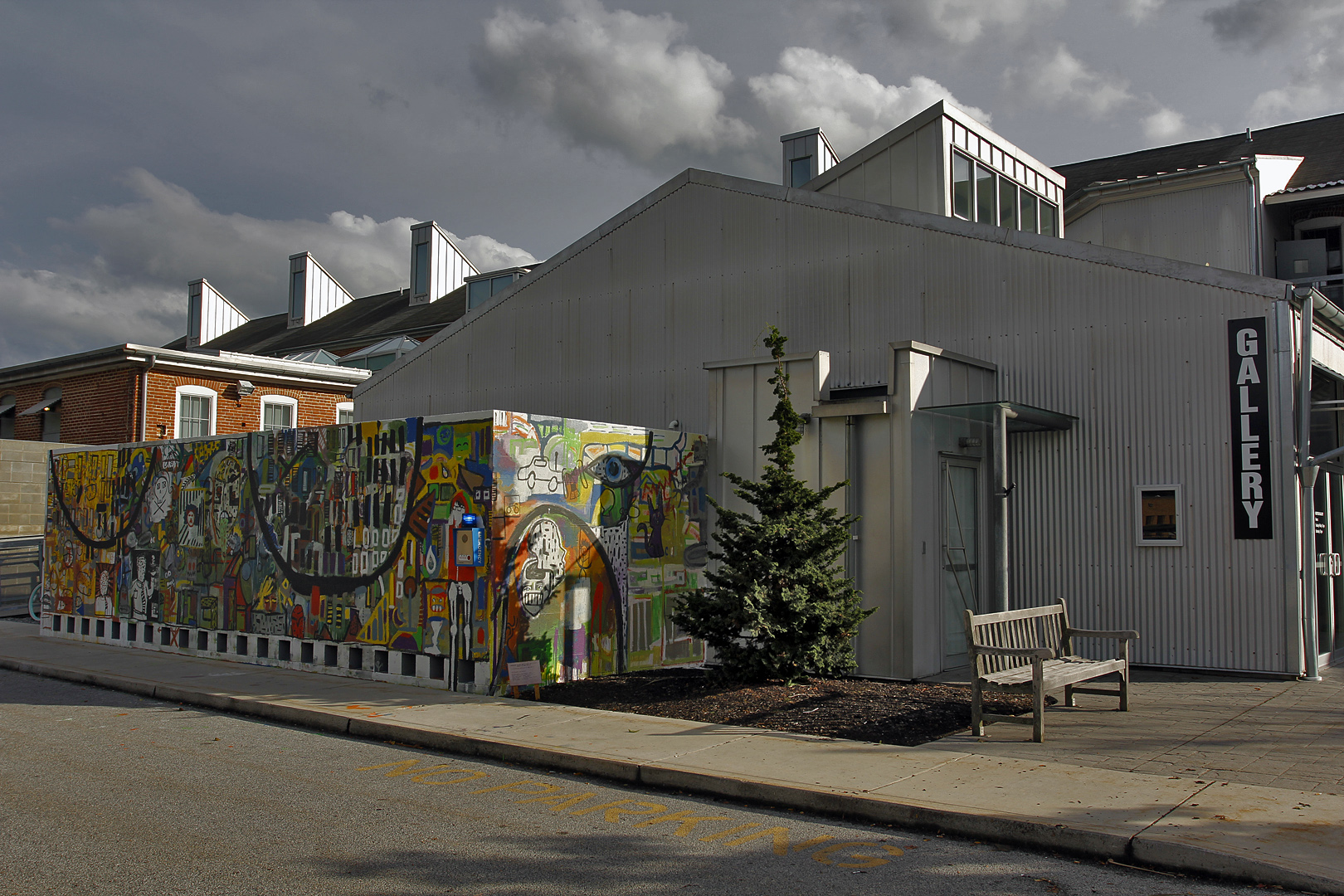 The Goodyear Gallery is dedicated to showcasing the work of contemporary artists and student work. Gallery programming is focused on providing support to classes in the department and affording students the opportunity to learn from working artists through exhibition preparation, and maintaining and curating the gallery space. Most exhibitions have opening receptions that often include artist talks and are open to the general public. *The gallery is located in the rear of the Goodyear Building near the studio art facilities and can be accessed by using the Cedar Street parking lot entrance.
The Goodyear Project Wall
The Goodyear Project Wall is located outside of the Goodyear Gallery and is dedicated to large-scale public art projects that are collaborative in nature. The inaugural project for the wall took place in September of 2013 and featured a collaborative project between artist
Paul Manlove
and a group of fourteen students and
faculty
. For the 2018-2019 Wall Mural by Deirdre Murphy, please refer to the
Conodoguinet: A Long Way with Many Birds Key
in PDF format and is located on the mural.
*The Goodyear Gallery, Goodyear Building (Cedar Street Entrance)
595 West Louther Street
Carlisle, PA 17013
Tuesday - Friday | 3-5pm
Saturday 2-5pm
**Closed March 10-16
Events
Upcoming events | Spring 2019
Fractured: Being and Beings
Exhibition runs from Jan. 21st – Feb 22nd
Opening Reception Wed. Feb. 6th from 5:30-7pm; Gallery Talk at 6pm
This exhibition, curated by Andrew Bale, highlights photographers whose work examines a fractured landscape; its inhabitants and their effects on it.
2018-19 Studio Art Post-Baccalaureate in Residence, Becky Deihl: Was That a Question?
Exhibition runs from Mar. 4th-30th
Reception Wed. Mar. 20th from 5:30-7pm; Gallery Talk at 6pm
Department of Art & Art History Post-baccalaureate in residence, Becky Deihl, will exhibit her fantasy-like multi-media works that explore common themes through unexpected approaches.
Christopher Hartshorne, 2019 Sylvia Smith '73 Artist in Residence
Exhibtion runs from Apr. 8th to May 4th
Opening Reception Wed. Apr. 10th from 5:30-7pm; Gallery Talk at 6pm
Christopher Hartshorne, an artist who works in printmaking will exhibit work made during his spring residency made possible through the generosity of Slyvia Smith class of 1973.

Past events include:
You can review previous event information and future information by following our event blog or our facebook page. Subscribe to our events: