Art stands at the intersection of culture, politics, religion and philosophy, making it an ideal place from which to understand the liberal arts and the world at large. At Dickinson, the Department of Art & Art History offers students two tracks for study: studio art and art history. Both concentrations foster rigorous, critical investigation through active processes of learning in which students connect historical discourse with an engagement of art from multiple contemporary perspectives.
The senior year capstone experience allows studio and art history majors to pursue intensive, original research in their respective concentrations. Senior studio majors, benefiting from individual studio spaces, each create a body of work for an exhibition in The Trout Gallery accompanied by a museum catalog they create. Senior art history majors undertake advanced scholarly research in co-curating and producing a published museum catalog for an exhibition in the Trout Gallery drawn from works in the college's permanent collection or from work lent by established galleries and museums.
Jobs
One River School of Art + Design
American Folk Art Museum
New York Public Library
Children's Museum of New York
The Pennsylvania State University
Philadelphia Museum of Art
National Gallery of Art 
National Museum of American History
Michener Museum of Art
Barnes Foundation
Museum of Modern Art
Sotheby's 
Graduate Schools
University of North Carolina, Chapel Hill
Cranbrook, Academy of Art
SAIC (School of the Art Institute of Chicago)
University College of London, Slade School of Fine Art
Virginia Commonwealth University
New York University, School of Law
McGill University
University of Toronto
Yale University
Harvard University
Rhode Island School of Design
Boston University
MICA (Maryland Institute of Contemporary Art)
PAFA (Pennsylvania Academy of the Fine Arts)
University of Delaware
UPenn
Temple University
The Courtauld
University of Maryland, College Park
Cardiff University
Atlantic Records
The Biscuit Factory
New York Arts Practicum
Metropolitan Museum of Art
Whitney Museum of Art
Philadelphia Fabric Workshop and Museum 
Princeton University Art Museum
Wadsworth Athenaeum
Philadelphia Mural Arts
State Museum of Harrisburg 
Brandywine River Museum of Art
Hirschl & Adler Galleries, Inc.
Christie's 
"It is one thing to write a paper for a professor, but writing knowing that your work will be published and read is an entirely new kind of pressure. That said, the seminar remains the most consistently engaging class I have ever taken. While a large portion of the work was original research, that research was then condensed and clarified into wall labels, introductions, and brochures for general reference. We learned how to render information accessible to a diverse audience, a skill which translates into any number of fields post-graduation."

- Fiona Clarke '19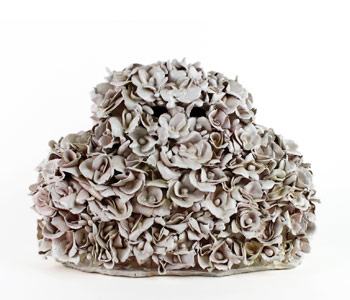 Artist In Residence
This exhibition features work by Will Preman, the 2019 studio-art artist-in-residence. A multidisciplinary artist currently working in Philadelphia. Preman earned a BFA in ceramics and art history from the Kansas City Art Institute in 2012 and an MFA at the New York State College of Ceramics at Alfred University.
Read More