The Department of Art & Art History offer many events throughout the academic year, including artist lectures, art historical talks, exhibition opening receptions, Artist Residencies and Visiting Artists events.
Dickinson Arts Award
---
Sue Coe, 2013
Jane L. and Robert H. Weiner Lectures in the Fine Arts
---
Michael Fried, Art Historian, Fall 2012, "What is going on in Jacques-Louis David's "Sappho and Phaon?"
James Elkins, Art Historian, Fall 2009, "What is an Image?"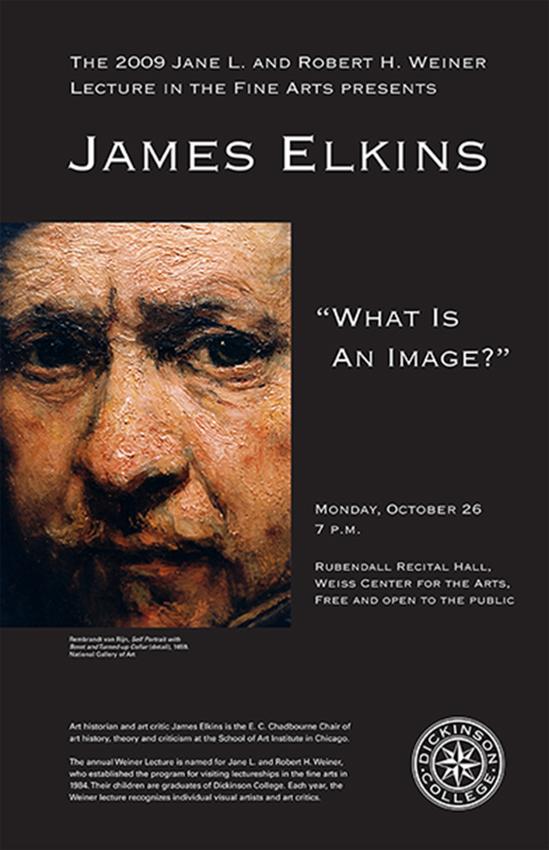 James Elkins Poster for Weiner Lecture, Fall 2009
Art History Lectures
---
Alexis Boylan, Professor of Art History, UCONN, Spring 2013, "Man on the Street: Rethinking the Ashcan School, Gender and Modernity"
Poster for Man on the Street
Artist Residencies and Visiting Artists
---
Rena Leinberger and Juanli Carrion, Common Contexts, Spring 2013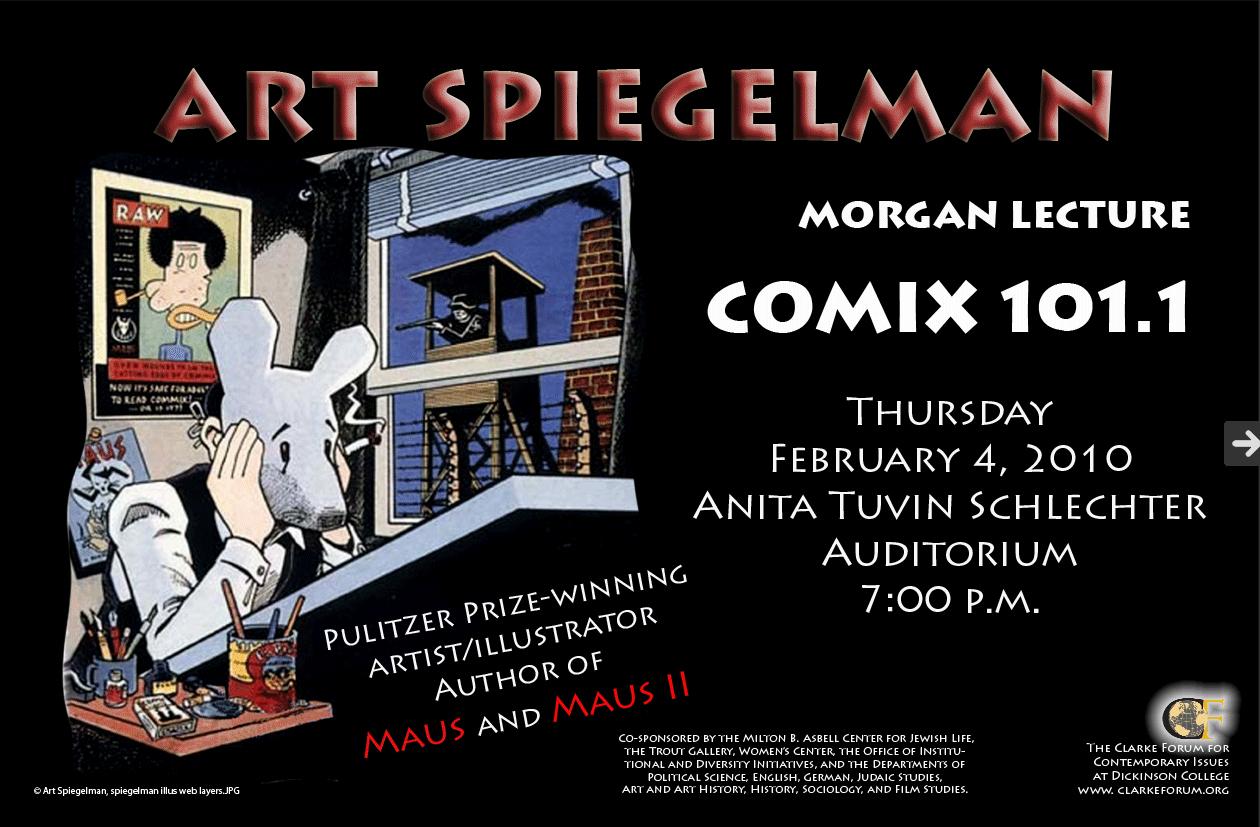 Clark Forum Poster for Art Spiegelman
Li Chao, Ceramicist, Jingdezhen, China, Fall 2009
Other Examples of Previous Events
---
Weiner Lectures
Joanne Greenbaum, Painter, Spring 2011
James Elkins, Art Historian, Fall 2009
Anthony Goicolea, Artist, Spring 2009
Garth Clark, Art Critic 2008
Dennis Congdon, Artist/Painter 2006
Keiko Hiratsuka Moore, Japanese Printmaker, 2005
Wosene Kosrof, Artist/Painter, 2004
A.D. Coleman, 2002
Eleanor Heartney, Art Critic, 2001
Debra Singer, 2000
Masami Teraoka, Artist, October 1999
Grace Hartigan, Artist, Spring 1998
Peter Selz, Art Historian, 1997
Betty Woodman, Ceramicist, 1997
Janet Koplos, Art Critic, 1996
Robert Storr, Curator, 1995
Emmet Gowin, Photographer, 1994
Janet Fish, Artist/Painter, 1993
Jorge Silvetti, Architect, 1992
Charles Simonds, Fall 1991
Neil Welliver, Artist, Spring 1989
Donald Kuspit, Art Critic, Fall 1987
Duane Michals, Photographer, 1986 (1st Weiner Lecture)
Art History Lectures
"Giulio Casserio's Early 17th-Century Medical and Anatomical Treatises: Realism and Artistic Imagery", Elisabetta Cunsolo, Professor of Art History, Bologna Italy, April 2009
"Dynasty and Destiny in an Architectural Context--The Augustan Experiment and the Hadrianic Effect", John Pollini, Professor of Art History and History, University of Southern California, March 2008
"Memorial Mania--Issues of Commemoration and Affect in Contemporary America", Erika Doss, Professor and Chair of the Department of American Studies, University of Notre Dame, March 2008
"Ferrara: Art in an Italian Court Between the Late Gothic and Renaissance", Fabrizio Lollini, Professor of Art History, University of Bologna & Dickinson Center, Bologna Italy, Fall 2007
"Perspective in the Renaissance", Pietro Roccasecca, Fall 2005
"The Face of the Christ", Gary Vikan, Directory, The Walters Museum of Art, Baltimore, Fall 2005
"Writing a Biography of Michelangelo", William E. Wallace, Spring 2005
Visiting Artists
William Holton, Artist, Spring, 2011
Li Chao, Ceramic Sculptor, Fall, 2009
Kristopher Benedict, Artist, Spring 2009
Mark Warwick, Ceramist, Spring 2005
Carlo Mauro, Accademia di Belle Arti, Bologna, Italy, Fall 2004
Doriana Chiarini, Accadamia di Belle Arti, Bologna, Italy, Fall 2004
Jackson Li, Ceramist, Jingdezhen, China, 2004
Artist Residencies
William Holton, Spring, 2011
Li Chao, Jingdezhen, China, Fall 2009
Kristopher Benedict, Brooklyn, NY, Spring 2009
Carlo Mauro & Doriana Chiarini, Accademia di Belle Arti, Bologna, Italy, Fall 2004
Jackson Li, Jingdezhen, China, Spring 2004