Visiting Artists and Artists-in-Residence
Every year, acclaimed arts professionals come to Dickinson to present their work and interact with students in small groups, in and out of the classroom. Meet the distinguished artists who will visit Dickinson during the fall 2015 semester.
September
Amy Boone-McCreesh, visual art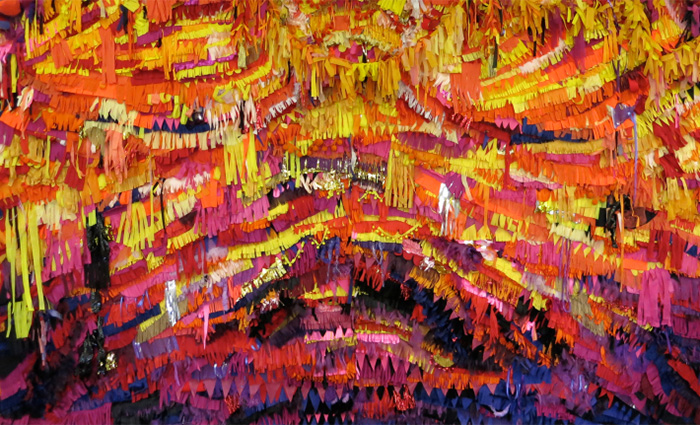 Amy Boone McCreesh, "Bliss," 2013, fabric, ribbon, thread, glue on stretched canvas.
During her monthlong residency, Baltimore artist Amy Boone-McCreesh will create vibrant, site-specific constructions that combine paper, textiles, found objects, unconventional materials and digital processes. The work is celebratory and exuberant, expressing the human impulse to push spatial and imagistic boundaries and to visually commemorate moments in time.
Boone-McCreesh hearkens to images found in traditional celebrations, ceremonies and other shared human experiences around the world, and places them in contemporary context.
Asked to describe her newest works during a recent interview, Boone-McCreesh said that they blur the lines between 2-D and 3-D worlds and between past and present, because they incorporate many different kinds of materials, occasionally including scanned images of previous, finished pieces of art. The artist also discussed her use of pattern as a force of both comfort—in the sense that pattern can be processed, anticipated and, in that way, understood—and disorientation, since large swaths of busy patterns can be visually overwhelming.
Learn more
October
Daniel Finch and Brenton Good, visual art
Finch and Good will exhibit paintings from recent bodies of work focusing on abstraction, archetypal characters and the dialogue between materiality and artist manipulation.

Post-Vietnam America provided a backdrop for Daniel Finch's childhood in Florida, and that era's archetypal characters and events inform his current work. Male icons of the 1970s, such as martial-arts master/actor Bruce Lee and daredevil Evel Kenevil, become powerful symbols of masculinity, past and present.
The son of a sculptor, Finch was born in 1971 in Orlando. He earned a B.F.A. at Augusta State University and an M.A. in painting and drawing from the University of Georgia, and his work, featured in New American Paintings, has been exhibited extensively across the country. Finch also teaches painting and drawing at Messiah College.

The tensions between control and experimentation underlie artist/writer Brenton Good's prints, paintings and monotypes, which draw inspiration from minimalist and Bauhaus art movements while also embracing intuitive moments of discovery. Good has exhibited artwork internationally, and his prints and paintings are included in permanent collections at the University of Alaska, Bilkent University (Turkey) and the Nasher Sculpture Center.
Good also teaches art history and foundation classes at Messiah College, and his articles have been published in Image and UTNE Reader, among other publications.
Learn more
Singer Pur, vocal music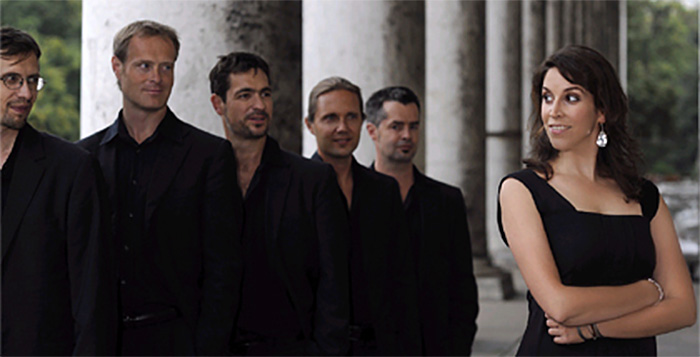 German vocal sextet Singer Pur returns to Dickinson for a series of master classes, workshops, lectures and roundtable discussions and a concert exploring a thousand years of vocal-music history.
Formed in 1992 by members of a celebrated boy choir, Singer Pur boasts an unusual lineup of five male vocalists (three tenors, a baritone and a bass) and one female (soprano), as well as a vast repertoire that spans continents and centuries and ranges from ancient music to American and European classics to rock. The ensemble has recorded more than 20 CDs and has garnered international awards.
Singer Pur has received many honors and prizes during the past two decades, including the Bavarian Academy of Arts' Friedrich-Baur award and the Festival Culture Forest's Fritz Goller prize (2014), the Bavarian State Prize for Music (2013), and the Culture Prize of the City of Regensburg (2008), cited in the ensemble's press kit as "the most important cultural award of [Singer Pur]'s homeland."
Learn more
November
Janie Cole, musicology/oral history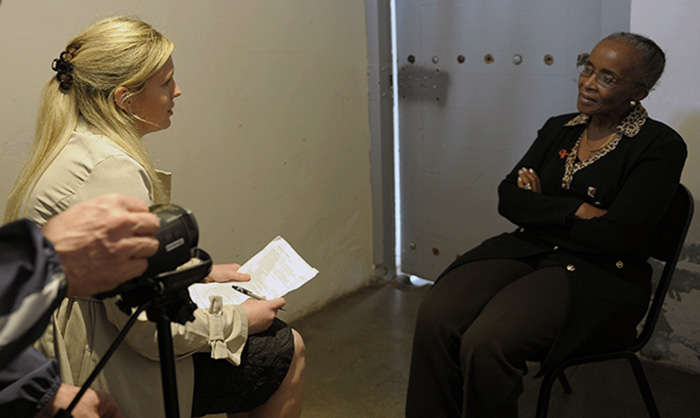 Award-winning musicologist and oral historian Janie Cole specializes in two distinct research areas. The first—Italian and French music, literature, opera and cultural history of the late-16th and early-17th centuries—is the subject of her two scholarly books. The second—contemporary South African music and cultural and oral history related to music and human rights during the apartheid era—is her current area of focus; while at Dickinson, she will discuss her work in this vein.
As founder and executive director of Music Beyond Borders, Cole is devoted to researching and preserving cultural heritage and contemporary music that explores themes of repression, violence, protest and freedom. She also holds a Ph.D. from the University of London and teaches historical musicology at the University of Cape Town's Centre for African Studies and the South African College of Music.
While in South Africa, Cole is recording former political prisoners' oral testimonies about their experiences in the struggle and apartheid prisons and is building a digital oral-history archive. She also is producing a documentary about apartheid-era prisons and is writing a book about her ongoing research.
A recipient of the Stephen Arlen Award from English National Opera and the Janet Levy Prize from the American Musicological Society, Cole has received fellowships from the Harvard University Center for Italian Renaissance Studies at Villa I Tatti (Florence) and the Newberry Library (Chicago) and research grants from the Getty Foundation, the Leverhulme Trust and the Italian Cultural Institute. She has guest-lectured at New York University, Syracuse University, the International Studies Institute, Harvard University in Florence and Northwestern University.
Learn more
Mohammed Fairouz, music composition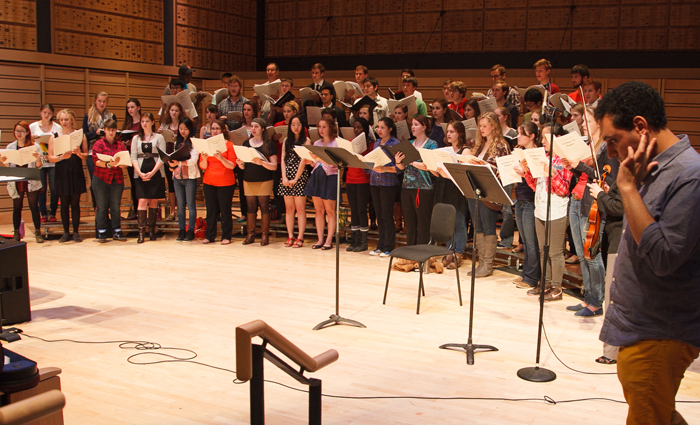 Hailed by The New York Times as "an important new artistic voice" and by The New Yorker as "an expert in vocal writing," Mohammed Fairouz is one of the most widely performed and acclaimed composers of his generation. He visited Dickinson in 2013 to work with students as they prepared to perform Anything Can Happen, Fairouz's epic oratorio that sets three apocalyptic poems by Nobel Prize-winning Irish poet Seamus Heaney, along with text from the Injeel, to music.
This fall, Dickinson continues its ongoing artistic collaboration with the composer and former artist-in-residence, as the College Choir and Dickinson Improvisation & Collaboration Ensemble (DICE) premiere one of Fairouz's works.
Learn more
Shani Collins-Achille and Katie Roy '15, dance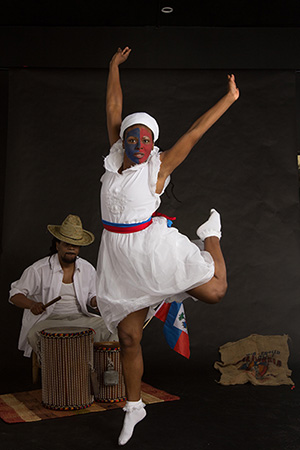 Shani Collins-Achille
The Department of Theatre & Dance and the Dance Theatre Group (DTG) perform choreography by Shani Collins-Achille and Katie Roy '15, along with works by Sarah Skaggs, director of dance, and Erin Crawley-Woods, assistant professor of dance.
An associate professor of dance at Connecticut College and past dancer with Urban Bush Women and Ronald K. Brown, Collins-Achille began her dance education with the Greensboro Ballet, The Alvin Ailey American Dance Theater and Urban Bush Women Summer Leadership Institute, and earned her high-school diploma from The North Carolina School of the Arts. She went on to earn a B.A. (Hollins University) and M.F.A. (Hollins University/American Dance Festival), specializing in dance theory, composition and history, Western dance and folklore and somatic practices.
Roy is a ballet dancer who studied physics, mathematics and dance at Dickinson. During her senior year she completed research in mathematics (working on Euler's Archive) and in physics. She also presented original research during the Science Student Research Symposium that arose from three physics projects—two on ultrasound imaging and one, on the dynamics of the real Weierstrass elliptic function—all while serving as DTG president and premiering an original choreographic work during the fall DTG production, "As We Rise."
Learn more
Adaskin String Trio, music
Joined by violinist Annie Trépanier and clarinetist Pascal Archer, Emlyn Ngai (violin), Steve Larson (viola) and Mark Fraser (cello) of the Adaskin String Trio complete a weeklong residency at Dickinson that culminates in a collaboration with first-year students.
Ngai is an acclaimed historical violinist and award-winning recording artist who has performed throughout Europe and North America. In addition to performing with Adaskin String Trio, he is concertmaster for the Carmel Bach Festival Orchestra and concertmaster of Philadelphia-based baroque orchestra/chamber ensemble Tempest di Mare, and he earned first prize at the 1995 Locatelli Concours Amsterdam. Ngai also teaches modern and baroque violin, chamber music and performance practice at the Hartt School, where he also co-directs the Hartt School Collegium Musicum.
Larson joins Ngai on the Hartt School faculty and also teaches viola and chamber music at the Wintergreen Festival in Virginia. He performs regularly with his other acclaimed chamber groups, Avery Ensemble and Ensemble Schumann, and he is the 1997 second-prize awardee at the Lionel Tertis International Viola Competition, U.K.
Fraser holds degrees from McGill University, l'Université de Montréal, and The Hartt School, and he performs frequently as a soloist and in recital. Fraser also is the founder of Valley Concerts in Northampton, Mass.
"Always and without undue insistence, you felt, they were directing the listener to the heart of the matter." —The Boston Globe
"Normally, when three Canadians play a Czech on a Saturday night in Charleston (W.Va.), it means you're watching a National Hockey League game on television. The Canadian trio gave a brilliant performance of the piece (Martinu's String Trio). It is refreshing to hear unfamiliar music anyway, but when it is played with the vigor, precision and stylistic certitude the Adaksin brought to it, it is memorable." —The Charleston Gazette
Past Artists-in-Residence