December 2015
All events are free, unless otherwise noted.
Continuing Through Dec. 11
Senior Studio-Art Seminar: Works-in-Progress
Goodyear Gallery, Goodyear Building (Cedar Street entrance)
Gallery hours: Tuesday through Friday, 3-5 p.m.; Saturday, 2-5 p.m.; closed Nov. 25-30.
Dickinson's senior studio-art majors exhibit works in a variety of mediums, including sculpture, drawing, painting, photography and ceramics. The artists' ongoing work will culminate in an April exhibition in The Trout Gallery.
Continuing Through Dec. 12
PULL LEFT_not always right: Emerging Contemporary Artists in China
The Trout Gallery
Gallery hours: Monday through Saturday, 10 a.m.-4 p.m.
PULL LEFT highlights the work of young Chinese artists who are engaging in personal and conceptual projects that respond to a global environment. It includes work by Cai Dongdong, Gao Weigang, Wang Sishn, Ma Qiusha, Liu Xinyi, Qiu Xiaofei, Su Wenxiang, Xie Molin, Yan Bing, Yang Xinguang, Zhang Shujian and Zhao Zhao. This touring exhibition is curated byTang Xin at Taikang Space (Beijing). A companion exhibition of PULL LEFT will be on display concurrently at the Rose Lehrman Art Gallery, Harrisburg Area Community College.
Continuing Through Feb. 20
The Vase Project: Made in China—Landscape in Blue by Barbara Diduk with Zhao Yu
The Trout Gallery
Gallery hours: Monday through Saturday, 10 a.m.-4 p.m.
The Vase Project presents 101 identically shaped and similarly painted porcelain vessels, which feature scenes of modern industrial landscapes in China. The ceramic vessels were thrown by hand at the ceramics factories in Jingdezhen, China, and painted by 101 painters in the city who specialize in blue-and-white export ceramics. The purpose of the project is to consider the nature of artistic individualism within a heavily industrialized ceramics workplace. This exhibition is curated by Professor of Art Barbara Diduk with Zhao Yu.
Saturday, Dec. 5, 7 p.m.
Sunday, Dec. 6, 4 p.m.
Dickinson College Collegium: Northern Lights
Saturday performance: St. John's Episcopal Church, corner of High and Hanover streets
Sunday performance: Memorial Hall, Old West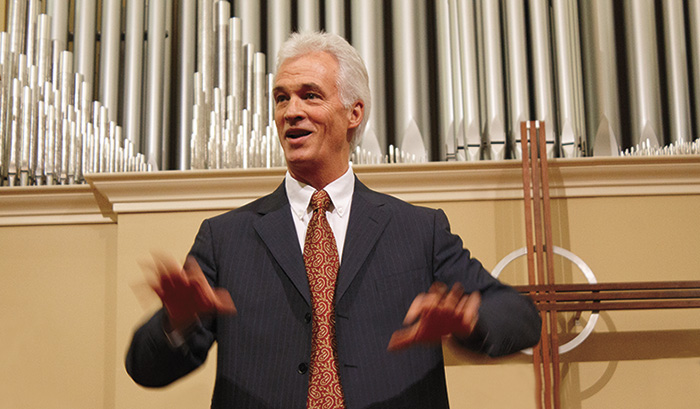 The Dickinson College Collegium and faculty organist Brian Rotz present traditional and recent American songs, anthems and carols for the Christmas season. A free-will offering will benefit Project SHARE.
Thursday, Dec. 10, noon
Dickinson College Chamber Music Concert
Rubendall Recital Hall, Weiss Center for the Arts
This concert features students who have been working in chamber ensembles coached by music faculty.