November 2015
All events are free, unless otherwise noted.
Continuing Through Dec. 12
PULL LEFT_not always right: Emerging Contemporary Artists in China
The Trout Gallery
Gallery hours: Monday through Saturday, 10 a.m.-4 p.m.
PULL LEFT highlights the work of young Chinese artists who are engaging in personal and conceptual projects that respond to a global environment. It includes work by Cai Dongdong, Gao Weigang, Wang Sishn, Ma Qiusha, Liu Xinyi, Qiu Xiaofei, Su Wenxiang, Xie Molin, Yan Bing, Yang Xinguang, Zhang Shujian and Zhao Zhao. This touring exhibition is curated byTang Xin at Taikang Space (Beijing). A companion exhibition of PULL LEFT will be on display concurrently at the Rose Lehrman Art Gallery, Harrisburg Area Community College.
Continuing Through Feb. 20
The Vase Project: Made in China—Landscape in Blue by Barbara Diduk with Zhao Yu
The Trout Gallery
Gallery hours: Monday through Saturday, 10 a.m.-4 p.m.
The Vase Project presents 101 identically shaped and similarly painted porcelain vessels, which feature scenes of modern industrial landscapes in China. The ceramic vessels were thrown by hand at the ceramics factories in Jingdezhen, China, and painted by 101 painters in the city who specialize in blue-and-white export ceramics. The purpose of the project is to consider the nature of artistic individualism within a heavily industrialized ceramics workplace. This exhibition is curated by Professor of Art Barbara Diduk with Zhao Yu.
Nov. 2, 8 p.m.
Nov. 3, 8 p.m.
Pocatello
Mathers Theatre, Holland Union Building
$7, or $5 with student ID (visit online box office)
Eddie manages a struggling chain restaurant. He wants it to be the kind of place that brings people together, but it doesn't seem to work out that way—even for his own family. As the challenged waiters struggle to meet the demands for never-ending breadsticks, gluten-free pasta and emergency cleanup of all types, Eddie tries to connect with something real. This brand-new, darkly comic play from Samuel D. Hunter, one of America's most promising emerging writers, brings a distinctive, contemporary voice to our stage.
Sunday, Nov. 8, 4 p.m.
Styles and Substance
First United Church of Christ, corner of Pitt and Louther streets
The College Choir and Dickinson Improvisation & Collaboration Ensemble (DICE) explore how composers from the 19th century to today have used stylistic decisions to explore the substance of their own identities and aesthetic philosophies. This performance features the premiere of Duo, a new choral work by Mohammed Fairouz.
Nov. 9-11
Janie Cole: Music and the Anti-Apartheid Movement
Various locations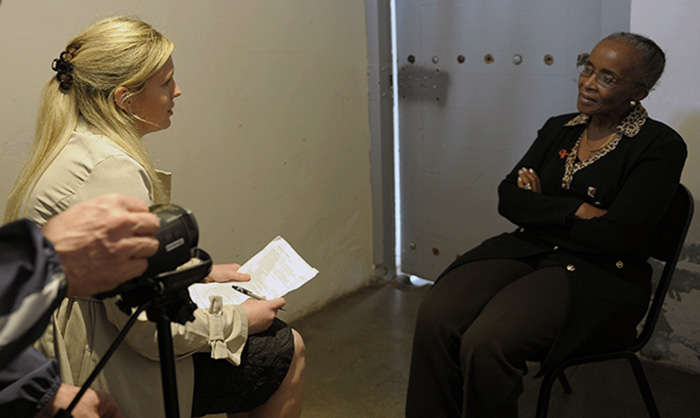 During her three-day residency, musicologist and oral historian Janie Cole will present her ongoing research on the stories and songs of South Africans who were incarcerated at Robben Island during the anti-apartheid struggle.
"Singing with your heart … sustains you, it composes you … you remember the songs that you used to sing and … those songs will give you power." —Grant Shezi, Robben Island prisoner
Cole is the founder and executive director of Music Beyond Borders and a professor at the University of Cape Town.
Learn more
Tuesday, Nov. 10, 7 p.m.
Public Lecture: Janie Cole
Weiss Center for the Arts, room 235
Janie Cole will present footage from her current documentary project, Singing Through the Pain, which examines music's critical role in the anti-apartheid struggle—especially at Robben Island, where activists, led by Nelson Mandela, were imprisoned and tortured.
Nov. 10-Dec. 11
Opening Reception: Tuesday, Nov. 10, 5:30-7 p.m.
Senior Studio-Art Seminar: Works in Progress
Goodyear Gallery, Goodyear Building (Cedar Street entrance)
Gallery hours: Tuesday through Friday, 3-5 p.m.; Saturday, 2-5 p.m.; closed Nov. 25-30.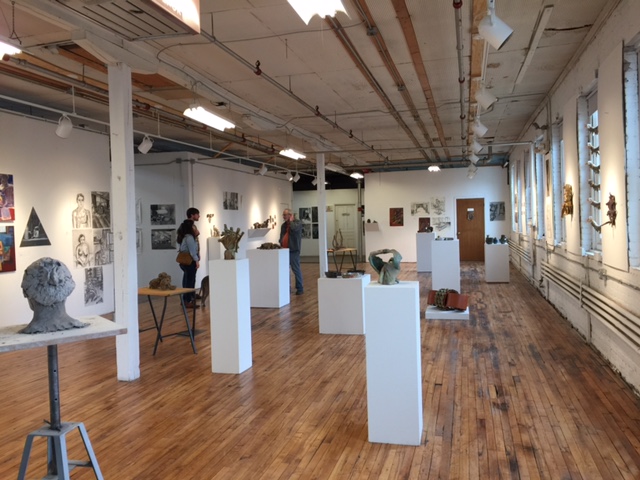 Dickinson's senior studio-art majors exhibit works in a variety of mediums, including sculpture, drawing, painting, photography and ceramics. The artists will be available during the opening reception to discuss their ongoing work, which will culminate in an April exhibition in The Trout Gallery.
Learn more:
Sunday, Nov. 15, 4 p.m.
Loci Classici: Classicism, Impressions of Classicism and Neo-Classicism
First Evangelical Lutheran Church, corner of Bedford and High streets
The Dickinson Orchestra, under direction of Robert Pound, presents a program that explores classicism through the prism of three remarkable works spanning the 18th to 20th centuries: Debussy's Prélude à l'après-midi d'un faune (Prelude to the Afternoon of a Faun), an impressionist musical rendering of a scene from classical mythology; Stravinsky's Pulcinella Suite, one of the first works of 20th-century neoclassicism, through which the composer "discovered the past;" and Mozart's Symphony No. 41 in C major, dubbed by subsequent generations "Jupiter," a touchstone of classicism in the symphonic repertoire.
Nov. 17-20
Residency: Adaskin String Trio
With Violinist Annie Trépanier and Clarinetist Pascal Archer
Various locations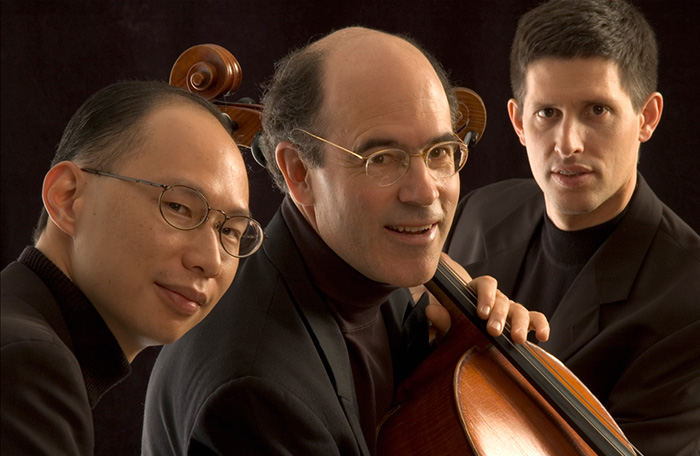 Photo by Susan Wilson.
Adaskin String Trio presents a series of performances, master classes and presentations during a weeklong residency that culminates in a collaboration with first-year students, presenting how music provides a space for self-expression amid social conflict. For details, please contact the music department. Please see associated event (Nov. 20).
Learn more
Thursday, Nov. 19, noon
Noonday Concert
Rubendall Recital Hall, Weiss Center for the Arts
This concert features students in Dickinson's performance-studies program.
Thursday, Nov. 19, 7 p.m.
Ross Gay: Reading, Q&A and Book Signing
Allison Hall Community Room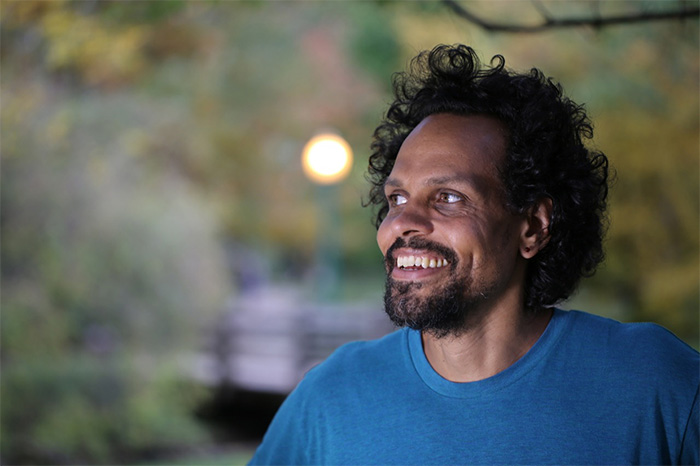 Poet Ross Gay is the author of Against Which, Bringing the Shovel Down and Catalog of Unabashed Gratitude, a current finalist for the National Book Award, and a co-author of the chapbooks "Lace and Pyrite: Letters from Two Gardens" (with Aimee Nezhukumatathil) and "River" (with Richard Wehrenberg, Jr.). He has received fellowships from Cave Canem, the Bread Loaf Writer's Conference and the Guggenheim Foundation.
Gay also is an editor with the chapbook presses Q Avenue and Ledge Mule Press; a founding editor, with Karissa Chen and Patrick Rosal, of the online sports magazine Some Call it Ballin'; and a founding board member of the Bloomington Community Orchard, a non-profit, free-fruit-for-all food justice and joy project. He teaches at Indiana University.
Gay comes to Dickinson through the Belfer lectureship program, which brings a recognized author to campus to read and visit classes. Recent recipients include Claire Vaye Watkins, Elyse Fenton, Susan Stewart, Tobias Wolff and Rick Moody.
Learn more
Friday, Nov. 20, 7 p.m.
Dreams, Prayers, Songs: A Musical Exploration of Jewish History
Rubendall Recital Hall, Weiss Center for the Arts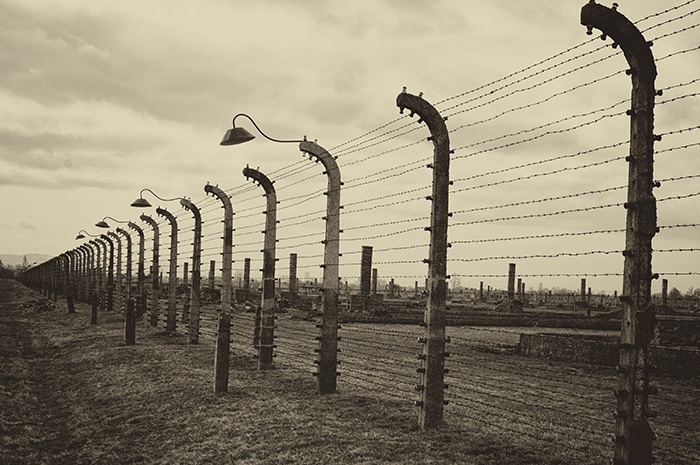 Joined by violinist Annie Trépanier and clarinetist Pascal Archer, Emlyn Ngai (violin), Steve Larson (viola) and Mark Fraser (cello) of the Adaskin String Trio presents works that explore the relationship of music to Jewish history and tradition. The program will feature Michael White's Songs of My People, Gideon Klein's Trio, Osvaldo Golijov's The Dreams and Prayers of Isaac the Blind and traditional Klezmer music for clarinet and strings. The program also includes works by students enrolled in a first-year learning community, Music and Social Conflict.
"Always and without undue insistence, you felt, they were directing the listener to the heart of the matter." —The Boston Globe
Placeholder
Learn more: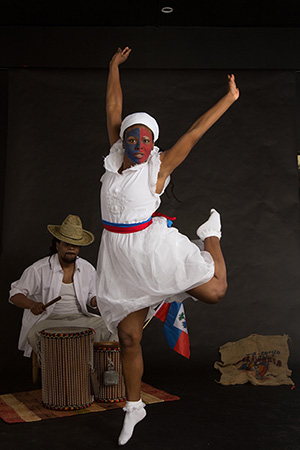 Nov. 20-21, 8 p.m.
Nov. 22, 2 p.m.
Movement Matters
Mathers Theatre
$7, or $5 with student ID (visit online box office)
The Department of Theatre & Dance and the Dance Theatre Group present an exploration of the ways that movement instigates change. Examining the physics of ballet and the migration patterns of our personal histories, this concert promises to be a night of exhilarating dance choreographed by guest artist Shani Collins-Achille, professor of dance at Connecticut College and formerly a dancer with Urban Bush Women and Ronald K. Brown; ballet dancer Katie Roy '15, who studied physics and dance at Dickinson; Sarah Skaggs, director of dance; and Erin Crawley-Woods, assistant professor of dance.
Learn more