Events and News
Every semester, the English department hosts several lectures, readings, or special events. Below are descriptions of our annual series. Most events are free and open to the public: stop by!
Cogan Alumni Fellowship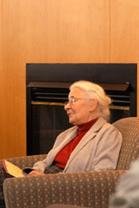 Eleanor Cogan
Dickinson English alumni have all sorts of interesting jobs. Each spring, the Cogan Alumni Fellowship brings a graduate to campus to share life experience and career advice with current students. The residency was named in honor of Eleanor Cogan (1909-2011), who took 52 classes at Dickinson, beginning when she was 70. Mrs. Cogan's adventurous spirit and lifelong curiosity inspires our choice of Cogan speakers.

This spring's Cogan Fellow 2019 was Rev. Dr. Annie Lockhart-Gilroy '97. Annie is a scholar in Christian education and practical theology at Phillips Theological Seminary with a focus on youth ministry and emancipatory pedagogy. She has taught students on many levels from middle school to doctoral students. She has worked with youth as a teacher, coach, youth minister, and Christian educator for almost two decades. She earned her PhD. in Christian Education and Congregational Studies from Garrett-Evangelical Theological Seminary and her M.Div. from Princeton Theological Seminary. Her teaching and research interests include: womanist approaches to working with Black girls, emancipatory pedagogy, faith and developmental theories, and ministry to, with, and for, youth and young adults. Go to our Cogan Alumni Fellows page to read more about our past Cogan Fellows.
The Harold and Ethel L.

Stellfox

Visiting Scholars and Writers Program
Jean Louise Stellfox '60 was inspired to become an English teacher after meeting Robert Frost during the poet's visit to Dickinson in 1959. The Harold and Ethel L. Stellfox Visiting Scholars and Writers Program, funded by Jean Stellfox's generous gift and named after her parents, continues to inspire students through literature. Each year, it brings to campus a renowned figure in the arts.
While Stellfox recipients visit campus, their influence weaves through the greater college community throughout the academic year.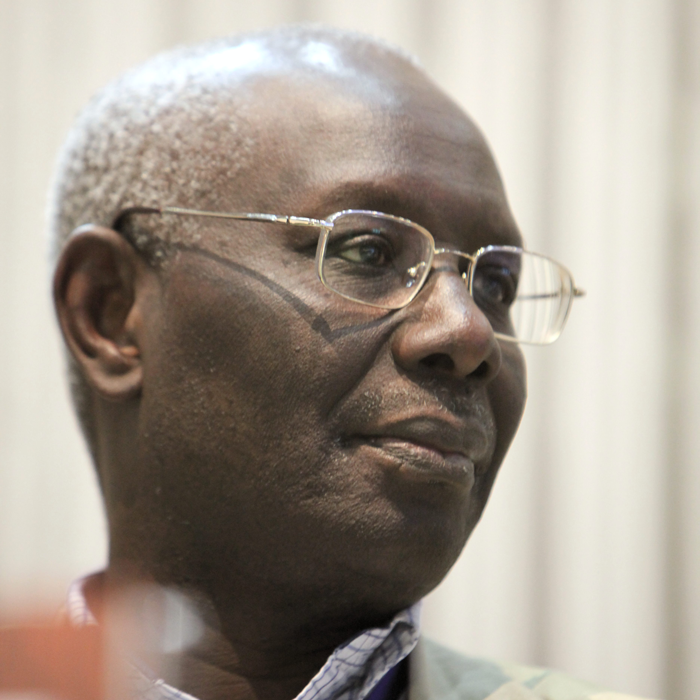 Boubacar Boris Diop (Photo: By Photograph by Rama, Wikimedia Commons)
The 2019 Stellfox Distinguished Writer, Boubacar Boris Diop read from his work on Thurs., April 11. Born in Dakar, Boubacar Boris Diop is a prolific, award-winning Senegalese novelist and journalist. He is widely recognized as one of the most artistically and philosophically serious writers of his generation, with works that are characterized by exploration and reflection on the postcolonial condition in Africa. His 2000 novel Murambi: the Book of Bones has been called "a miracle" by Toni Morrison and was featured on the Zimbabwe International Book Fair's list of the 100 best African books of the twentieth century. In 2004 and 2008, Mr. Diop was a visiting professor at Rutgers University. After having taught Wolof language and literature at Gaston Berger University in Senegal, he is currently Professor of Literature and Creative writing at the American University of Nigeria. His latest novel is Bàmmeelu Kocc Baarma (A Grave for Kocc Barma).
Previous Stellfox Recipients: The fall 2016 Stellfox recipient was John Patrick Shanley. He is one of America's foremost playwrights and best known for his 2005 play Doubt, winner of four Tony awards, a Drama Desk award and the Pulitzer Prize; he also is a screenwriter and director of the 2008 film adaptation, starring Meryl Streep and Philip Seymour Hoffman. Shanley wrote the screenplay for the 1987 film Moonstruck, which won three Academy Awards, including best screenplay. The spring 2016 Stellfox recipient was Edwidge Danticat who inspired individuals to "Just seek the truth and write about it." Award-winning creative writer Lorrie Moore was the Stellfox Visiting Scholar recipient in the fall 2014. In the spring of 2014 Stellfox recipient Paul Muldoon delivered a literary call to action during his inspiring residency in the spring of 2014. Ian McEwan, the Man Booker-winning writer and the first Stellfox award recipient returned as a 2015 Commencement speaker. Here is a conversation on his work, free speech, and the role the Internet can play in the evolution of literature.