Events and News
Every semester, the English department hosts several lectures, readings, or special events. Below are descriptions of our annual series. Most events are free and open to the public: stop by!
Cogan Alumni Fellowship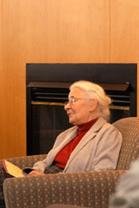 Eleanor Cogan
Dickinson English alumni have all sorts of interesting jobs. Each spring, the Cogan Alumni Fellowship brings a graduate to campus to share life experience and career advice with current students. The residency was named in honor of Eleanor Cogan (1909-2011), who took 52 classes at Dickinson, beginning when she was 70. Mrs. Cogan's adventurous spirit and lifelong curiosity inspires our choice of Cogan speakers.

Sarah Blumenstock '12 is the 2023 Cogan Fellow who will return to Dickinson on Monday, March 6, 2023. Sarah is a Senior Editor at Berkley, an imprint of Penguin Random House. She started her career selling foreign and domestic rights for Penguin Young Readers before joining Berkley in 2016. She acquires bold, immersive romance and women's fiction. Her books include TikTok sensation The Love Hypothesis by New York Times bestselling author Ali Hazelwood and the genre redefining Bringing Down the Duke by USA Today bestselling author Evie Dunmore, in addition to many other exciting novels. She has served as a guest lecturer at Cornell SC Johnson College of Business and as a panelist at San Diego Comic Con. Go to our Cogan Alumni Fellows page to read more about our past Cogan Fellows.
The Harold and Ethel L.

Stellfox

Visiting Scholars and Writers Program
Jean Louise Stellfox '60 was inspired to become an English teacher after meeting Robert Frost during the poet's visit to Dickinson in 1959. The Harold and Ethel L. Stellfox Visiting Scholars and Writers Program, funded by Jean Stellfox's generous gift and named after her parents, continues to inspire students through literature. Each year, it brings to campus a renowned figure in the arts. While Stellfox recipients visit campus, their influence weaves through the greater college community throughout the academic year.

The Harold and Ethel L. Stellfox Visiting Writers and Scholars Program presents Ada Limón, 24th Poet Laurate of the United States, who visits Dickinson this spring to serve a Stellfox residency.



Limón visited Dickinson February 15-16, 2023, for a public reading, the Stellfox ceremony and book signing. She also met with classes and small groups of students, one of the hallmarks of the program's unique approach to giving students access to leaders in the field. Limón was presented with this year's Stellfox Award on Thurs., February 16, 2023 at 7 PM, in Allison Great Hall. She delivered a reading of her recent book, followed by a Q&A session. Go to the news article about Ada Limón's Dickinson Stellfox Residency.
Previous Stellfox Recipients: In March 2020, Roberto Saviano read and discussed excerpts from Gomorrah (2006) and Piranhas (2016). Saviano is an advocate for social justice, inclusivity, and human rights. Since 2006, he's been living under armed guard, after receiving death threats from the Neapolitan Mafia. He continues his fight against crime through his books, public lectures, articles and television appearances. The 2018-19 Stellfox Distinguished Writer was Boubacar Boris Diop a prolific, award-winning Senegalese novelist and journalist. He is widely recognized as one of the most artistically and philosophically serious writers of his generation, with works that are characterized by exploration and reflection on the postcolonial condition in Africa. Acclaimed poet Naomi Shihab Nye was the 2017-18 recipient of The Harold and Ethel L. Stellfox Visiting Scholars and Writers Program. Nye is one of America's leading contemporary poets. She is a Lannan Fellow, Guggenheim Fellow, and has received a Witter Bynner Fellowship, administered by the Library of Congress. The fall 2016 Stellfox recipient was John Patrick Shanley. He is one of America's foremost playwrights and best known for his 2005 play Doubt, winner of four Tony awards, a Drama Desk award and the Pulitzer Prize; he also is a screenwriter and director of the 2008 film adaptation, starring Meryl Streep and Philip Seymour Hoffman. Shanley wrote the screenplay for the 1987 film Moonstruck, which won three Academy Awards, including best screenplay. The spring 2016 Stellfox recipient was Edwidge Danticat who inspired individuals to "Just seek the truth and write about it." Award-winning creative writer Lorrie Moore was the Stellfox Visiting Scholar recipient in the fall 2014. In the spring of 2014 Stellfox recipient Paul Muldoon delivered a literary call to action during his inspiring residency in the spring of 2014. Ian McEwan, the Man Booker-winning writer and the first Stellfox award recipient returned as a 2015 Commencement speaker. Here is a conversation on his work, free speech, and the role the Internet can play in the evolution of literature.