Events and News
Every semester, the English department hosts several lectures, readings, or special events. Below are descriptions of our annual series. Most events are free and open to the public: stop by!
Cogan Alumni Fellowship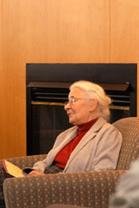 Eleanor Cogan
Dickinson English alumni have all sorts of interesting jobs. Each spring, the Cogan Alumni Fellowship brings a graduate to campus to share life experience and career advice with current students. The residency was name in honor of Eleanor Cogan (1909-2011), who took her first 52 classes at Dickinson when she was seventy. Mrs. Cogan's adventurous spirit and lifelong curiosity inspires our choice of Cogan speakers.

This spring's Cogan Fellow was Melissa B. Lareau, Class of 2003. Melissa is the Founder and CEO of Dirt Revolution. Prior to Dirt Revolution, Melissa worked for fast moving and successful start ups such as Postmates in Business Development and Data Analytics. With a decade of combined experience in agriculture, food systems, food distribution and a Masters in Landscape History from UEA, Melissa and her company are uniquely poised to help solve major problems humanity is facing such as global warming, toxicity in our environments and food security. In her free time Melissa volunteers as the Director of Development and Lead Organizer for San Francisco's annual Día de los Muertos celebration in the Mission and is a founding Member of the New Orleans Food Coop. Melissa discussed her life story and events such as Hurricane Katrina shaped her career path and life vision. Go to our Cogan Alumni Fellows page to read more about our past Cogan Fellows.
The Harold and Ethel L.

Stellfox

Visiting Scholars and Writers Program
Jean Louise Stellfox '60 was inspired to become an English teacher after meeting Robert Frost during the poet's visit to Dickinson in 1959. The Harold and Ethel L. Stellfox Visiting Scholars and Writers Program, funded by Jean Stellfox's generous gift and named after her parents, continues to inspire students through literature. Each year, it brings to campus a renowned figure in the arts.
While Stellfox recipients visit campus, their influence weaves through the greater college community throughout the academic year.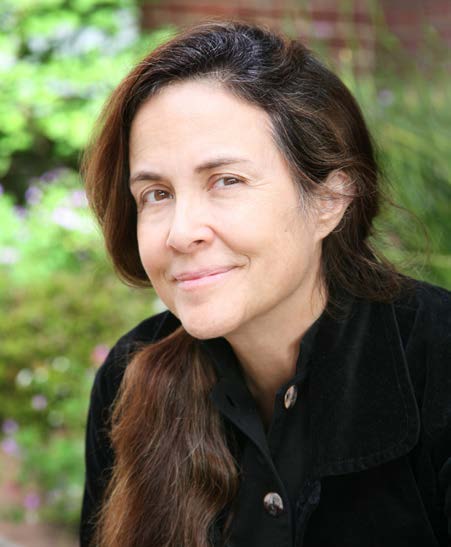 Naomi Shihah Nye (Photo: Chehalis Hegner)
Naomi Shihab Nye was the Stellfox recipient for 2018 and visited Dickinson March 5-6, 2018. Naomi Shihab Nye is an award-winning Palestinian-American author and/or editor of more than 30 volumes. Her books of poetry include 19 Varieties of Gazelle: Poems of the Middle East , A Maze Me: Poems for Girls, Red Suitcase, Words Under the Words, Fuel, and You & Yours (a best-selling poetry book of 2006). She is also the author of Mint Snowball, Never in a Hurry, I'll Ask You Three Times, Are you Okay? Tales of Driving and Being Driven (essays); Habibi and Going Going (novels for young readers); Baby Radar, Sitti's Secrets, and Famous (picture books) and There Is No Long Distance Now (a collection of very short stories). Other works include several prize-winning poetry anthologies for young readers, including Time You Let Me In, This Same Sky, The Space Between Our Footsteps: Poems & Paintings from the Middle East, What Have You Lost?, and Transfer. Her collection of poems for young adults entitled Honeybee won the 2008 Arab American Book Award in the Children's/Young Adult category. Her novel for children, The Turtle of Oman, was chosen both a Best Book of 2014 by The Horn Book and a 2015 Notable Children's Book by the American Library Association. The Turtle of Oman was also awarded the 2015 Middle East Book Award for Youth Literature. Her next book will be Voices in the Air: Poems for Listeners (Feb 2018; Greenwillow Books, HarperCollins).
Naomi Shihab Nye has been a Lannan Fellow, a Guggenheim Fellow, and a Witter Bynner Fellow (Library of Congress). She has received a Lavan Award from the Academy of American Poets, the Isabella Gardner Poetry Award, the Lee Bennett Hopkins Poetry Award, the Paterson Poetry Prize, four Pushcart Prizes, the Robert Creeley Prize, and "The Betty Prize" from Poets House, for service to poetry, and numerous honors for her children's literature, including two Jane Addams Children's Book Awards.
Previous Stellfox Recipients: The fall 2016 Stellfox recipient was John Patrick Shanley. He is one of America's foremost playwrights and best known for his 2005 play Doubt, winner of four Tony awards, a Drama Desk award and the Pulitzer Prize; he also is a screenwriter and director of the 2008 film adaptation, starring Meryl Streep and Philip Seymour Hoffman. Shanley wrote the screenplay for the 1987 film Moonstruck, which won three Academy Awards, including best screenplay. The spring 2016 Stellfox recipient was Edwidge Danticat who inspired individuals to "Just seek the truth and write about it." Award-winning creative writer Lorrie Moore was the Stellfox Visiting Scholar recipient in the fall 2014. In the spring of 2014 Stellfox recipient Paul Muldoon delivered a literary call to action during his inspiring residency in the spring of 2014. Ian McEwan, the Man Booker-winning writer and the first Stellfox award recipient returned as a 2015 Commencement speaker. Here is a conversation on his work, free speech, and the role the Internet can play in the evolution of literature.
Belfer Reading Series
The Belfer lectureship brings a recognized author to Dickinson to read and visit classes at Dickinson. Recent recipients include Ross Gay, Claire Vaye Watkins, Elyse Fenton, Susan Stewart, Tobias Wolff, and Rick Moody.

Don Lee was the 2017 Belfer lecturer. The acclaimed contemporary author read from his new novel Lonesome Lies before Us. Mr. Lee is the award-winning author of Yellow, The Collective, Wrack & Ruin, and Country of Origin, and teaches Creative Writing at Temple University. For more information on Don Lee, go to his website. (Co-sponsored with the Popel Shaw Center for Race & Ethnicity)