Spring Artists-in-Residence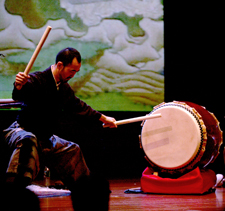 Taiko drummer Kaoru Watanabe
Each year, acclaimed arts professionals come to Dickinson to present their work and interact with students in small groups, in and out of the classroom.
In 2013-14, students studying literature and creative writing have a chance to work directly with Pulitzer Prize-winning poet Paul Muldoon. Music students interact with Mohammed Fairouz (October), vocalists Roomful of Teeth and Singer Pur (November), Taiko drummer Kaoru Watanabe (December) and JACK Quartet (March).
Studio-art majors who are seniors in 2013-14 receive individualized critiques of their work by printmaker Sue Coe, painter Dee Jenkins and stained-glass artist Judith Schaechter, among several others. And this spring, students in the Department of Theatre & Dance, who interacted with four professional choreographers in November, will workshop with actor/mime Bill Bowers, a former student of the legendary Marcel Marceau.
January-February
New York Times Critics' Pick Bill Bowers is an actor, mime and educator who has performed throughout the United States, Canada and Europe. He earned an M.F.A. at Rutgers University's Mason Gross School of the Arts and was granted an honorary Ph.D. by his undergraduate alma mater, Rocky Mountain College. He also studied with the legendary Marcel Marceau.
Bowers teaches mime and movement at New York University's Steinhardt School of Education and has presented miming master classes and workshops for Harvard University, UCLA's Teach for America, Rutgers University and the Institute for Arts and Humanities Education. He also has appeared in the Broadway productions of The Lion King and The Scarlet Pimpernel and in the 2002 movie Two Weeks' Notice (Sandra Bullock, Hugh Grant).
Bowers shares hilarious, heartbreaking and unbelievable-but-true stories about his career as a mime in It Goes Without Saying (see the spring 2014 Calendar of Arts for details). His residency (Jan. 29-Feb. 1) is co-sponsored by the theatre & dance and music departments, the Office of Diversity Initiatives and the Office of LGBTQ Services. For more detailed information please contact Stacy Rohrer at 717-245-1568 or rohrers@dickinson.edu.
"Zestful and endearing . . . full of life." –The New York Times
"Poignant and hilarious"—Dallas Morning News
"Bill Bowers is a real theatre artist. Working with the simplest of tools, he creates a world of poetry, meaning and deep emotion. It Goes Without Saying entertains, for sure, but it enriches as well."— Terrence McNally
March
Judith Schaechter, artist
One of the most eminent and innovative stained-glass artists in the world, Judith Schaechter has works in the permanent collections of the Renwick Gallery (Washington, D.C.), the Victoria and Albert Museum (London) and the Museum of Art and Design (New York). The recipient of Guggenheim, Pew and National Endowment for the Humanities (NEH) fellowships, Schaechter has been named the 2013 Jane L. and Robert H. Weiner awardee.
On March 6, Schaechter visits campus to deliver the Jane L. and Robert H. Weiner Lecture. While at Dickinson, Schaechter will work with students in the studio and will critique senior studio-art majors' works as they prepare for their spring exhibition. She also will deliver a public lecture about her work, the importance of skill in art and the relationship between art and craft.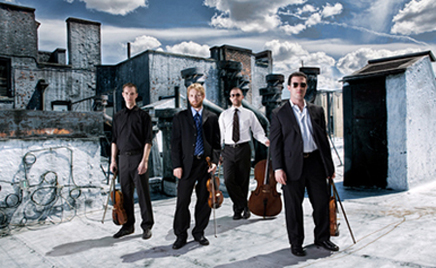 JACK Quartet, musicians
Artists-in-Residence JACK Quartet will join the Dickinson community for a series of master classes, workshops, lectures and discussions.
The recipient of New Music USA's 2013 Trailblazer Award, JACK Quartet electrifies audiences around the world with "explosive virtuosity" (Boston Globe) and "viscerally exciting performances" (The New York Times ). David Patrick Stearns (Philadelphia Inquirer) proclaimed their performance as "among the most stimulating new-music concerts of my experience." The Washington Post commented, "The string quartet may be a 250-year-old contraption, but young, brilliant groups like the JACK Quartet are keeping it thrillingly vital." Alex Ross (The New Yorker) hailed JACK's performance as "exceptional" and "beautifully harsh," and Mark Swed (Los Angeles Times) called the quartet "mind-blowingly good."
The quartet members (John Pickford Richards, violinist, also of Alarm Will Sound; Ari Streisfeld composer/violinist; Christopher Otto composer/violinist; and Kevin McFarland, cello) met at the Eastman School of Music, where they studied closely with the Arditti and Kronos quartets. JACK Quartet's two-day residency at Dickinson concludes with a concert in the Rubendall Recital Hall. (see the 2014 spring Calendar of Arts for details).
"Impassioned virtuosity." –The New York Times
April
Paul Muldoon, poet
Each year, the Harold and Ethel L. Stellfox Visiting Scholars and Writers Program brings an important literary figure to campus for a weeklong residency that culminates in a lecture and award ceremony. This year's StellfoxAward recipient is Paul Muldoon.
Muldoon's collections include Moy Sand and Gravel (2002), for which he won the Pulitzer Prize; The Annals of Chile (1994), which garnered the T.S. Eliot Award; and New Selected Poems (1996), which earned the Irish Times Literature Prize. Muldoon also was awarded a Guggenheim Fellowship (1990), the Griffin International Prize for Excellence in Poetry (2003) and the European Prize for Poetry (2006).
Throughout his week on campus, Muldoon will meet with students for workshops, lectures and informal discussions. He also will attend a special concert of a new work, composed by Associate Professor of Music Robert Pound, that draws from his texts, as well as from poetry by his mentor, the late Seamus Heaney. The week will close with the annual Stellfox Award ceremony and lecture. Both the lecture and the concert are free and open to the public (see the 2014 Spring Calendar of Artsfor details).
"The most significant English-language poet born since the Second World War." —The Times Literary Supplement