Sustainability Initiatives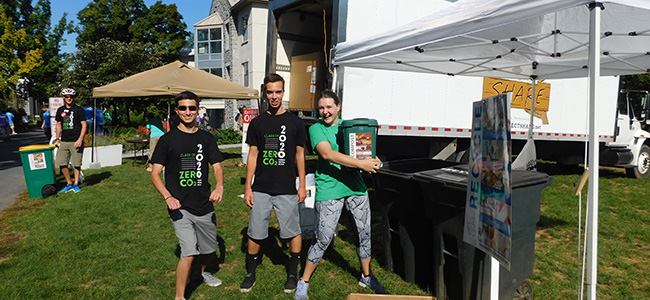 Some of our Campus Projects Include:
LOCALTUNITY
LOCALTUNITY is a Dickinson College initiative for all students, faculty & staff aimed to build community, support the local economy, and buy and eat healthy local food together. Dickinsonians are encouraged to shop at the local Farmers on the Square market together and share meals.
The Treehouse
Students who live in the Center for Sustainable Living, aka Treehouse, work to create community with one another and promote sustainable lifestyles. The Treehouse is Pennsylvania's first LEED-Gold college residence hall. The inhabitants of the Treehouse are often leaders and active members of other student organizations that are helping to build strong community ties on campus.

Eco-Reps for Sustainability
Eco-Reps mentor fellow students, faculty or staff about sustainable living across campus and help promote a culture of sustainability. The Eco-Reps organize events and share information about campus recycling, composting, and energy conservation.
Green Devil Certification:
The Dickinson Green Devil Certification program is an educational self-assessment tool that helps empower all Dickinsonians to engage the world sustainably by thinking critically, reflecting on everyday choices and advocating for change.

A Community of Cyclists
Bicycling is exploding on the Dickinson campus, thanks in part to the Center for Sustainability Education's Handlebar Bicycle Co-op. A shop manager and team of volunteers provide fellow students, faculty and staff with a workspace, tools, salvaged and donated parts, and assistance with maintaining and repairing their bikes. The Handlebar also lends out Green Bikes that have been rebuilt by volunteers from reclaimed parts.

Graduation Pledge
The Dickinson College Pledge is voluntary and allows individuals to determine what they consider to be sustainable and socially responsible. The pledge may be supported by any person who has intentions of associating with organizations and communities of social justice and environmental responsibility following graduation. Dickinson College and GPA hope that the support Dickinson graduates will contribute to the cooperative effort to build responsible citizenship for more sustainable workforces and communities.
Campus Sustainability Map