Engaging Across Pennsylvania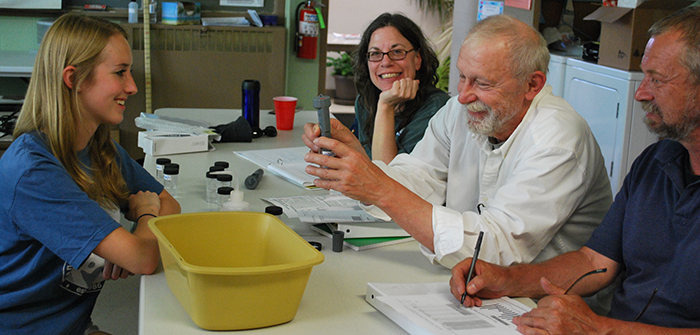 Some of our Statewide Projects Include:
PERC: Higher Education in Pennsylvania
Dickinson is an active member of the Pennsylvania Environmental Resource Consortium (PERC) of colleges and universities and is represented on PERC's executive board. PERC promotes sustainability in PA higher education through conferences, webinars, inter-campus projects and information sharing. Dickinson's Center for Sustainability Education's director, Neil Leary, is former President of PERC. Dickinson hosted the first annual Statewide Student Sustainability Symposium in March 2014.
PACGSC: Pennsylvania Collegiate Green Sports Consortium
The University of Pennsylvania has created a Pennsylvania Collegiate Green Sports Consortium (PACGSC), a network of schools dedicated to greening athletics, for which Dickinson is now one of six charter schools across the state. Through its work with the PACGSC, Dickinson is leading the way by creating and implementing such an Athletic Eco-Rep program for its student athletes.
ALLARM: Marcellus Shale Gas and Citizen Science
Dickinson's Alliance for Aquatic Resource Monitoring (ALLARM) helps community groups across the state to monitor water quality in their local streams and interpret and use the data to improve watershed management. Responding to concerns about potential impacts of shale gas extraction on water resources, ALLARM has developed a protocol for early detection of impacts and has run numerous workshops for citizen groups in areas of the state that overly the Marcellus Shale formation.
PASA: Sustainable Agriculture
Dickinson collaborates with the Pennsylvania Association for Sustainable Agriculture (PASA) to improve the economic viability, environmental soundness and social responsibility of food and farming systems in Pennsylvania and across the country. Dickinson Farm Manager Jenn Halpin is Chair of PASA's Board of Directors.
USGBC: Green Buildings
Dickinson, a member of the Central Pennsylvania Chapter of the U.S. Green Building Council (USGBC), hosted the chapter's annual conference GreenCon 2013. Ken Shultes, Dickinson's Associate Vice President for Sustainability & Facilities Planning, is a board member of USGBC-Central PA. USGBC is the organization that certifies buildings for Leadership in Energy and Environmental Design (LEED). Dickinson has four buildings that have earned LEED-Gold certification.