Engaging Across the Nation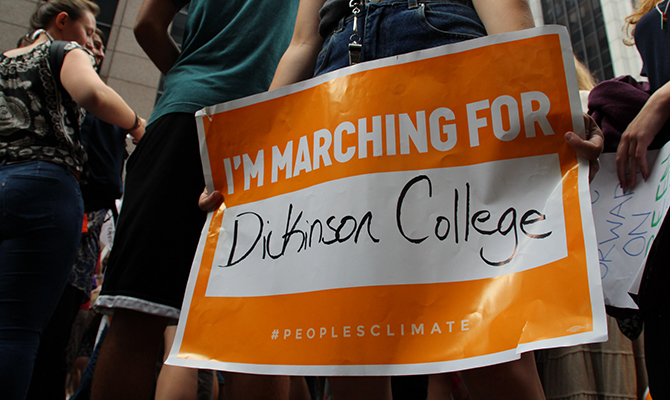 Some of our National Projects Include:
US Higher Education
Dickinson is a member of the Association for the Advancement of Sustainability in Higher Education (AASHE). Each year, Dickinson faculty and administrators attend and give presentations at AASHE conferences, workshops and webinars. Dickinson has earned a Gold STAR rating from AASHE for our sustainability education, campus operations, and administrative leadership.

Climate Leadership
Dickinson College is a Charter Signatory and member of the Leadership Circle of the American College and University Presidents' Climate Commitment (ACUPCC). We earned a Climate Leadership Award from the ACUPCC for our efforts to reduce greenhouse gas emissions and our climate education program. With the support of a grant from NASA's Innovations in Global Climate Change Education program, Dickinson organized and hosted workshops on interdisciplinary teaching about climate change that were attended by 83 faculty members and professionals from 40 different colleges, universities and other institutions. The workshops helped participants to integrate climate change teaching into scores of courses at their institutions. CSE Director Neil Leary participates in the Climate Change Education Roundtables of the National Academy of Sciences.

Seeding the Future
The Dickinson Organic Farm and the Center for Sustainability Education hosted a 2-day conference, Seeding the Future, Using College Farms & Gardens to Teach the Liberal Arts, in October 2011. More than 200 faculty, students and farm staff from 60 colleges and universities across the US attended. Participants attended hands-on workshops at the farm and explored the ways in which schools are integrating farms and gardens with their undergraduate liberal arts curricula, building partnerships with their communities, and starting and improving farm and garden operations on their campuses.