Investments in Local Service, Education, and Leadership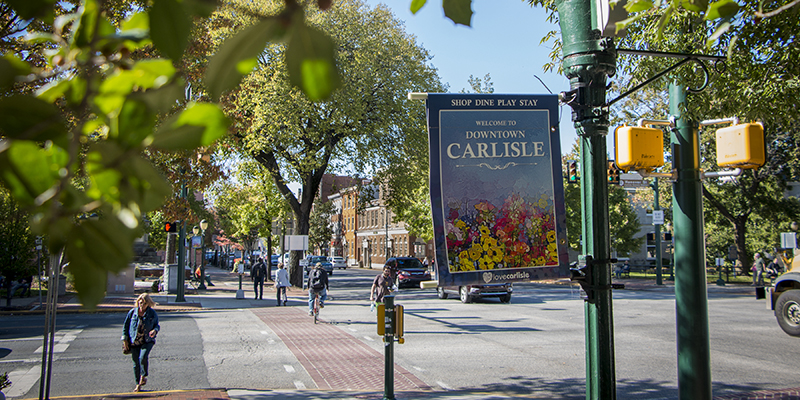 Dickinson College, located in Carlisle, Pennsylvania possesses strong partnerships with many local organizations, businesses, and government entities that create civic engagement opportunities.
Dickinson's commitment to sustainability encompasses investments and collaborations that promote sustainability goals in the local community and the region. For example, Dickinson, a tax-exempt nonprofit institution, makes voluntary tax and other payments of $500,000 per year to the Borough of Carlisle, the Carlisle school district, Cumberland County and other local agencies. These payments help provide infrastructure and services that are vital for a sustainable community. In addition, Dickinson works with local partners to build and sustain a robust local economy, make Carlisle more bicycle and pedestrian friendly, improve access to health care, promote sustainable farming, provide food and clothing to neighbors in need, protect local streams and protect local air quality. 


Some local sustainability investments include:
Bicycle and Pedestrian Friendly Streets
Dickinson helped Carlisle Borough obtain a $2.8 million grant from the Pennsylvania Department of Transportation for the Road Diet, a project that reduced traffic lanes through downtown Carlisle, added bike lanes, and calmed traffic. The Road Diet grant leveraged additional grant funds of nearly $200,000 for upgrades to the LeTort Nature Trail. The impetus for these projects was a $50,000 traffic study paid for by Dickinson College.
Carbon Offsets for Hawk Mountain
Dickinson partnered with Cool Effect, a nonprofit founded by a Dickinson family, to provide an opportunity for members of the Dickinson community to purchase carbon offsets on behalf of the college. Carbon offsets purchased through this initiative will reduce Dickinson's net emissions by funding a forestry project at the Hawk Mountain Sanctuary on the Kittatinny Ridge, just 80 miles from campus.
Carlisle Area School District (CASD)
Dickinson is composting food waste from the CASD at our Dickinson College Farm. To date, this program has diverted hundreds of pounds of CASD food waste from the landfill and has allowed the college to expand their compost program. The Center for Sustainability Education has consulted with CASD teachers and the Green Club on how to incorporate sustainability into their classrooms, teaching, and programs. The CASD has used Dickinson's plastic bag recycling program as a model to create their own. The College Farm offers Farm, Cook, Eat a sustainable cooking program to elementary students in the district.
CONNECT with Youth
CONNECT offers a four-week summer program for at-risk, low-income middle school youth that integrates health education, academic enrichment, cultural activities, leadership, career exploration and community service. Led by Joyce Bylander, CONNECT is a partnership between Dickinson College, the Carlisle Arts Learning Center, the YWCA, Carlisle Area School District and the United Way, and is funded in part by the Partnership for Better Health.
Farmers on the Square
The Dickinson Organic Farm worked with other farmers and partners to establish a farmers' market that operates in downtown Carlisle spring through fall, and on the Dickinson campus in winter. The market provides the community with fresh produce, dairy, meats and other products from within a 50-mile radius. The Dickinson farm also supplies farm produce to 80 families who are members of its Campus Supported Agriculture program.
Food and Clothing for Neighbors in Need
Project S.H.A.R.E, an interfaith social service agency founded and directed by a Dickinson alumna, operates rent free on the Dickinson campus to provide food, clothing, and nutritional education to individuals and families in need. In addition to providing 10,000 square feet of rent-free space to Project S.H.A.R.E, the Dickinson Farm donates produce, and many members of the Dickinson community donate time and money to the organization.
Environmental Education
The Alliance for Aquatic Resource Monitoring (ALLARM) partners with local K-12 teachers and youth-based organizations to teach students of all ages and abilities about aquatic ecosystems and connect them to their local environment. Lesson plans are adjusted based on student age and the needs of teachers and partner organizations, with an emphasis on local connections and community engagement.
High I Partnership
Based on a recommendation from the CivicVisions report, the High I Partnership (HIP) was created in January 2006. The HIP, co-chaired by President Bill Durden, is comprised of local business, community, educational and governmental leaders. The Partnership acts as a catalyst for development, a forum for discussion, and a means to harness resources to transform Carlisle into a vibrant and sustainable 21st century downtown. HIP engaged a consultant to conduct a retail study for Carlisle that resulted in the Downtown Carlisle Association (DCA) hiring a retail coordinator to recruit businesses to the downtown. Dickinson paid the $100,000 cost of the study and community partners paid $95,000 for the initial salary and other expenses of the marketing initiative.
Outreach and Education at the Dickinson College Farm
Dickinson's 50-acre organic certified farm, a living laboratory for the college, hosts a variety of programs for the wider community. Monthly Sustainability Workshops, offered in partnership with the Pennsylvania Association for Sustainable Agriculture (PASA), provides fun, hands-on learning about homesteading, homemaking and backyard conservation. Farm, Cook, Eat teaches elementary school children about healthy food and land stewardship.
Stormwater Education and Watershed Protection
Dickinson's Alliance for Aquatic Resources Monitoring (ALLARM) partners with the Borough of Carlisle, Cumberland Valley Trout Unlimited and the LeTort Regional Authority to educate the public about stormwater runoff and its effects on the Letort Spring Run, and promote stream-conscious behaviors to protect and improve the local watershed.
Trail Network
Dickinson College joined with Carlisle Borough in providing matching funds of $25,000 and $60,000 respectively to leverage $740,000 in state and other grants to extend and connect a network of biking and walking trails in the Borough.
U-Turn
At the end of each school year, Dickinsonians donate unwanted items, appliances, furniture, and clothing to collection centers in residences and the HUB. The donations are then sold at "Carlisle's Largest Community Yard Sale," the U-Turn Sale. The event takes place at Carlisle Fairgrounds and all of the proceeds go to the United Way of Carlisle & Cumberland County. U-Turn encourages environmental and social sustainability by encouraging reuse, cutting down landfill use during move-out, and providing affordable goods to the local community. The 2015 sale was the most successful ever, with over $15,000 raised for United Way.