Dickinson Alumni's Commitment to Sustainability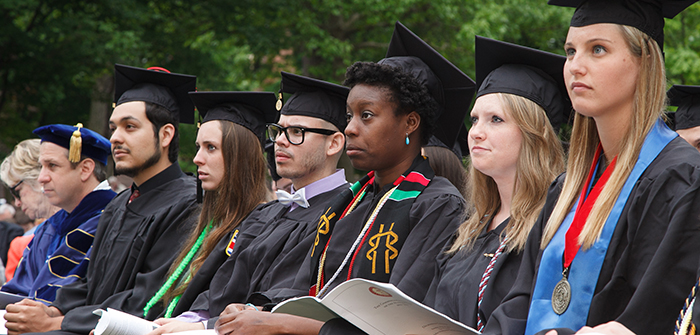 "I pledge to apply sustainability learning and values from my Dickinson experience as I explore and improve the social and environmental consequences of any organizations for which I work and the communities in which I live."
Many Dickinson students have shown a strong commitment to sustainability and social justice throughout their time at Dickinson. After four years, the continuation of these ideals into the lives of college alumni is essential. Dickinson has partnered with the Graduation Pledge Alliance (GPA) to support sustainability and social responsibility among future workplaces and communities of Dickinson alumni.
The creation of the Dickinson Graduation Pledge allows future alumni to carry on Dickinson's legacy of civic responsibility and sustainability throughout their careers and lives. Every spring, the senior class is invited to sign the pledge demonstrating their commitment.
The Dickinson College Pledge is voluntary and allows individuals to determine what they consider to be sustainable and socially responsible. The pledge may be supported by any person who has intentions of associating with organizations and communities of social justice and environmental responsibility following graduation. Dickinson and GPA hope that the support from graduating seniors of Dickinson will contribute to the cooperative effort to build responsible citizenship for more sustainable workforces and communities.

GPA is an organization that strives to build a global community of responsible alumni of higher education. The organization works to encourage chapters all over the nation to sign a pledge to improve society and the environment through the workplace. Ultimately, GPA's goal is to create effective leaders for social and environmental improvement all over the world. 


Commit Now: