Dickinsonians Engaging the World Sustainably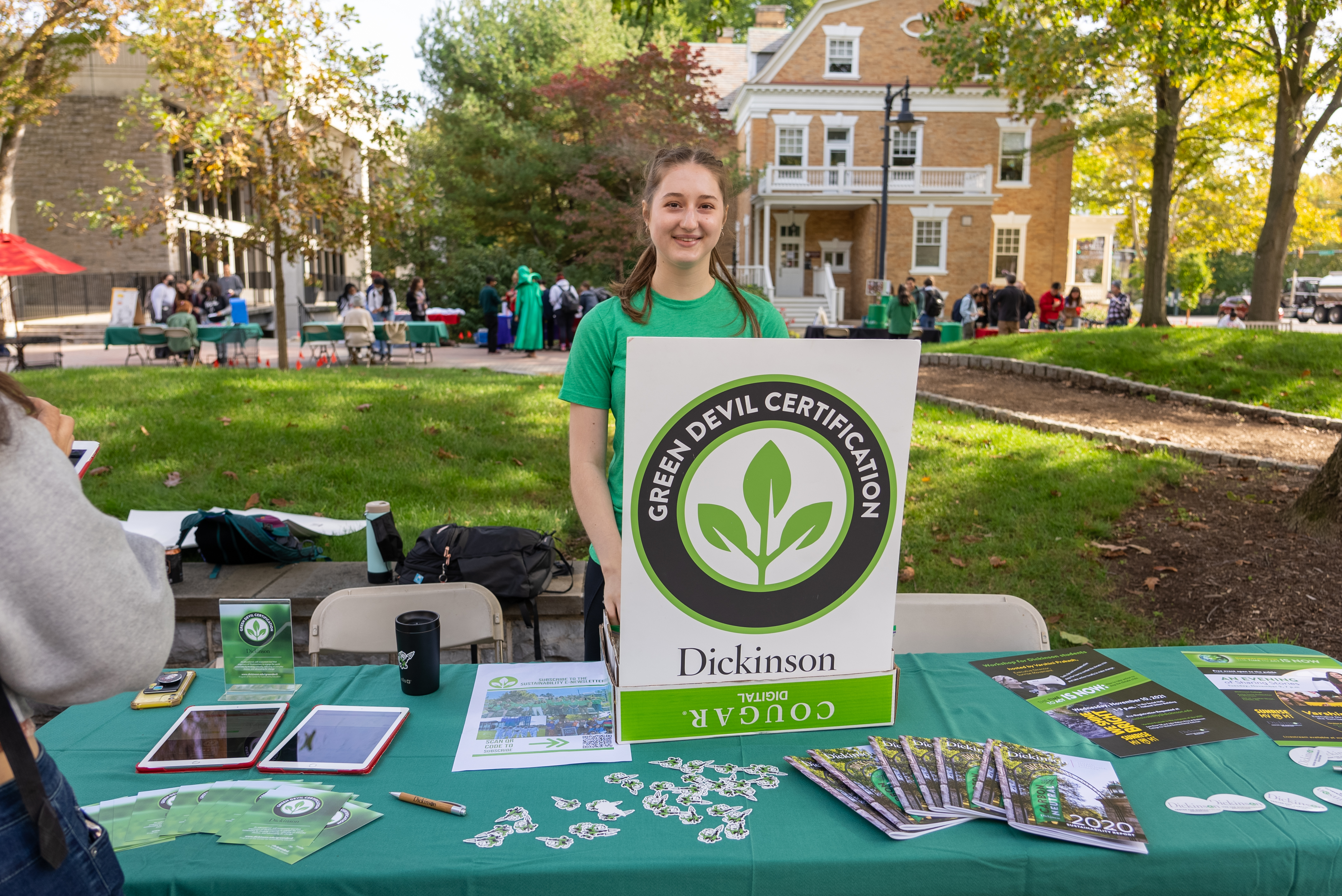 The Dickinson Green Devil Certification program is an educational self-assessment tool that helps empower all Dickinsonians to engage the world sustainably by:
Thinking critically
Reflecting on everyday choices
Advocating for change
Becoming certified will help identify an individual's opportunities to live more sustainably while fostering positive change in our communities by educating Dickinsonians on sustainable practices, actions, and attitudes. The program is open to students, faculty and staff of Dickinson College.
If you choose to participate, you will find that the Green Devil Certification is helpful for self-reflection and growth and a road map to understanding how sustainability values fit into your life. Certification identifies you as a leader in Dickinson's commitment to sustainability, but ultimately, the changes you make are up to you!
The Green Devil Certification program creates a tangible set of goals that Dickinsonians can pursue on a personal, community or global level. Green Devil Certification is not a one-time checklist, but an active commitment to living sustainably. We have seen positive changes for students from first year to senior year or in the beahaviors they have adopted pre and post studying abroad.
Becoming Green Devil Certified is simple. Click below, make necessary commitments and respond to actions items within the online platform. Upon completion of the online assessment, your responses and scores are displayed. There are four certification levels, which allow participants to monitor growth over time.
Certification Levels:
Bronze: 30-40
Silver: 40-50
Gold: 50-60
Platinum: 60-65


If you receive 30 or more points, you will receive a sticker and certification card for your level. Display your sticker and card to identify yourself as a sustainability leader on campus, encourage yourself to improve, and inspire others to become Green Devils.
Dickinson's commitment to sustainability is a defining characteristic of our institution, as we strive to improve the human condition equitably in this and future generations, while conserving environmental systems necessary to support healthy and vibrant societies. The Green Devil Certification will help us move towards these goals.
TRY IT FOR YOURSELF!