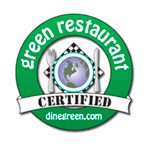 From salad bars stocked with seasonal produce and kosher and vegan menus to artisanal, whole-grain breads and delectable desserts made on campus, Dickinson offers something for every appetite and dietary requirement.
Beginning Monday, April 3rd through the end of the semester, Dining Services will allow students to use meal plan funds (flex points, dining dollars, and meal plan declining balance) as payment for catering orders from our limited catering menu.
Check out our limited catering menu HERE!
All orders must be submitted at least three business days prior to pick-up for proper procurement and preparation time. The LAST day to order is May 12, 2017 at 3:30 p.m.; no orders will be taken after this day and time.
Dining Services has a limited capacity for orders and dates may be blocked once capacity is reached, so ORDER NOW!!
Dining Services is unable to provide equipment or delivery services for these orders.
To Order: Call the Dining Services offices at (717) 245-1318.