Dickinson College Culinary Services makes arrangements for all guests and members of the campus community with special dietary needs. Students with dietary and allergen concerns should contact Access and Disability Services (ADS) to determine what special accommodations are available through dining services. ADS will contact us to identify ways we can ensure access to dining at Dickinson. Our accommodations include the availability of pre-plated gluten-free meals, other plated meals for severe allergies, identification of the Top 9 Allergens and other Traits, a Top 9 Allergen-Free salad bar, kosher meals at lunch and dinner, Sunday through Friday lunch, regular service of vegetarian, vegan, and gluten-free items at a gluten-free station, and personalized menu planning prepared by our chef.
Please note, Dickinson College Culinary Services staff are trained to identify the "Top 9 Food Allergens" as identified by the FDA: wheat, soy, milk, eggs, peanuts, tree nuts, fish, shellfish, and sesame. Sesame identification will begin fall 2022. We do our best to provide you with information about the content of foods containing these ingredients.
Severe Food Allergies? ATTENTION: many suppliers state foods may have been processed with cross-contact issues. Please speak with us and learn how to navigate our menus safely.
No allergen or nutritional information we provide should ever be considered a guarantee. Because of the number of meals served, the number of items used each day, along with food product changes from manufacturers and potential cross-contact during food preparation or of self-service items, the College cannot guarantee that every allergen in the food served will be properly identified and labeled. Diners concerned with food allergies must be aware of this risk. Dickinson College Culinary Services does not assume any liability for adverse reactions to food consumed or items one may come in contact with while eating at any Dickinson College dining facility or catered event.
We encourage all guests with food allergies, intolerances, sensitivities, or other special dietary needs to contact Culinary Services for assistance identifying specific recipe ingredients or Dickinson's registered dietitian at the Wellness Center for help with personal dietary concerns, allergen issues, or other dietary health and wellness questions.
Allergen & Traits Guide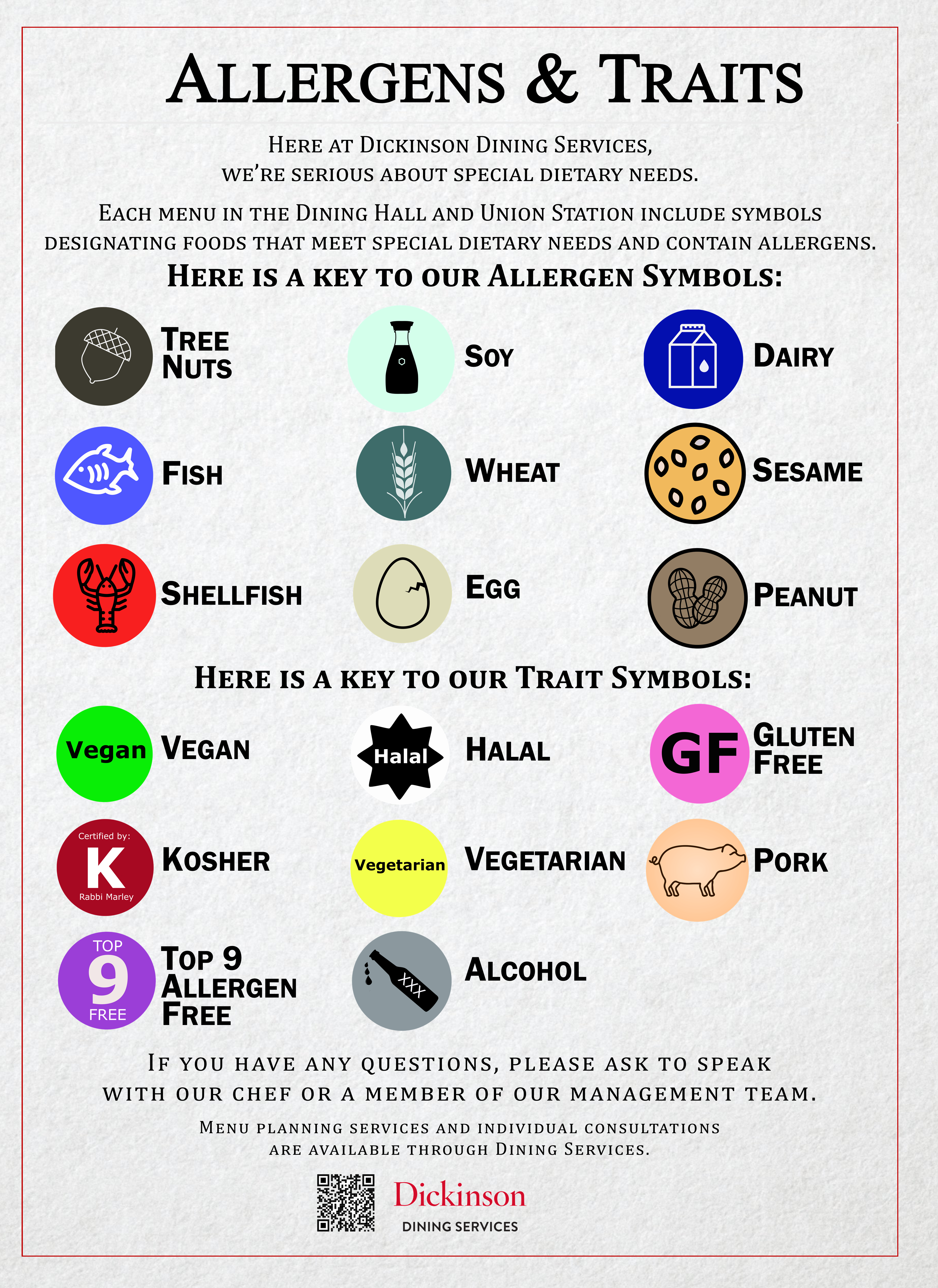 Allergens and traits are posted in our facilities to ensure guests can easily identify areas of concern. In the Dining Hall and in Union Station, all items are marked with these icons to ensure guest safety. If you have questions or concerns, please contact the Culinary Services Office at 717-245-1318. We'll be happy to talk with you!
Here at Dickinson College we offer a number of gluten-free foods and provide a separate area of self-service with packaged and homemade, wrapped gluten-free foods. But if you suffer from Celiac Disease, have a wheat allergy, or suffer from any other severe reactions to food allergens it is very important that you communicate with our supervisors and chefs before consuming foods. And let our food servers know you have a food allergy or Celiac so they know to use separate cooking tools and dedicated cookware for your order. The only true allergen-free foods we offer are those we plate up individually in our kitchen's dedicated allergen-free preparation area.
And check out: Food Allergies when Preparing for College