Overview
Dickinson Culinary Services takes great pride in being a responsible member of the Dickinson College campus community and the community at large. Culinary Services works to be an industry trend-setter in environmental sustainability. Our continual process enhancements including local purchasing, fair trade purchasing, waste reduction, composting program, and lowered energy consumption align with Dickinson's overall sustainable message. Listed below are some of the advancements that have taken place since 2014.
Straws have been eliminated from all dining operations on 12/3/2018 and replaced with recyclable sip-through lids that have no more plastic than a traditional plastic lid for straws.
The Dining Hall has been a 3-Star Certified Green Restaurant since 2015. This is a certification that looks at multiple aspects such as energy use, food sourcing, water use, and waste. There are approximately 250 restaurants in the country that are 3-star certified and only 30 that have achieved the top level at 4 stars. Additional information can be found here.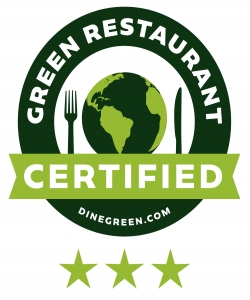 The Pick Your Portion initiative gives students more control over their servings by allowing them to choose either a taste, half, full, or double portion of a dish. This also reduces food waste as students feel less pressure to take full servings of a dish they want to try.
EcoTainers are inexpensive, reusable alternatives for takeout containers in retail locations. Additional information can be found here.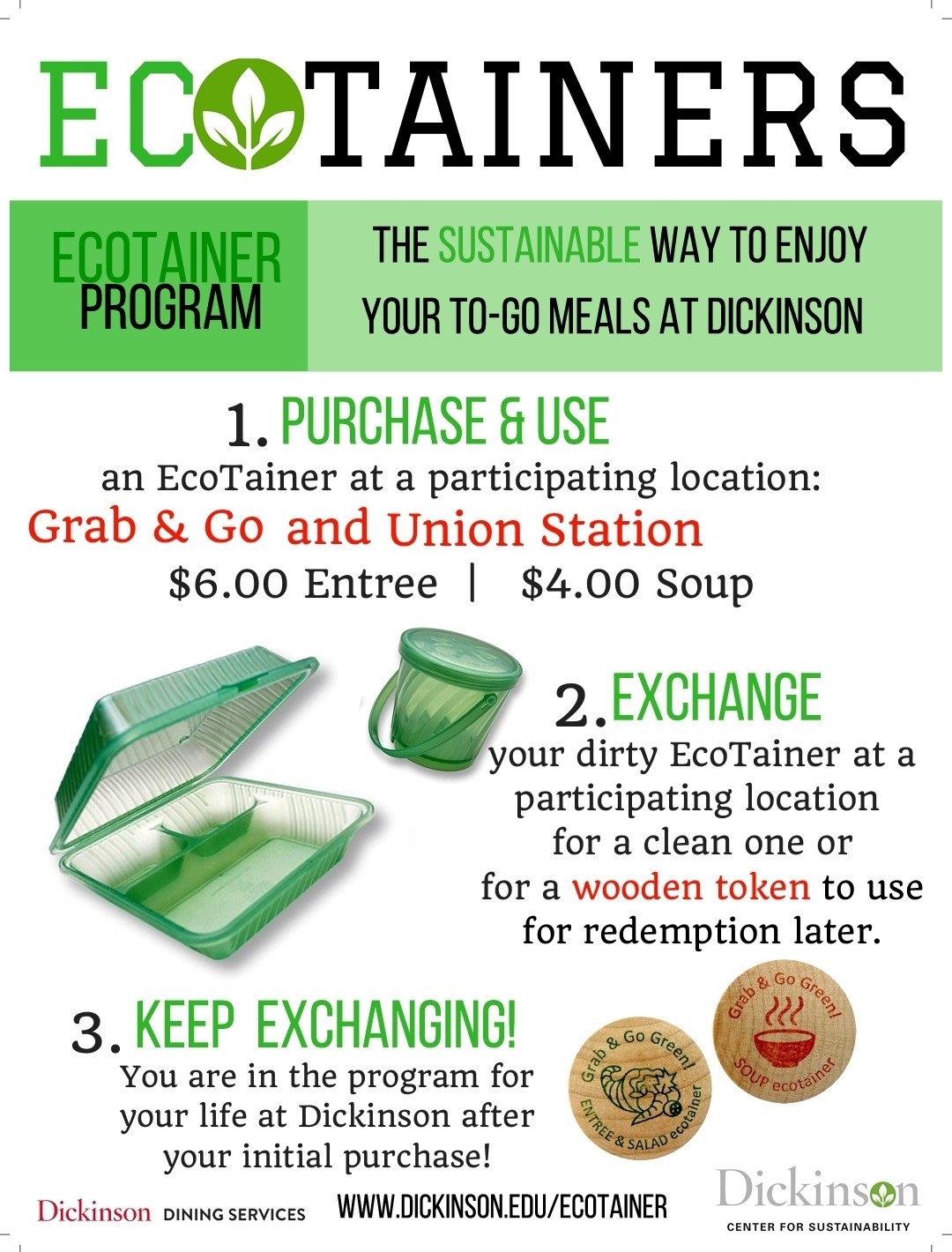 Eco-refills encourage all guests to bring their own clean beverage containers to receive a discount on regular coffee and fountain beverages, which also reduces paper and plastic waste sent to the landfill.
All packaging in retail locations is either recyclable or compostable.
Culinary Services uses local vendors and reviews vendors for sustainable practices. Additional information can be found here.
Catering eliminated plastic plates and now offers lightweight melamine or compostable paper products as inexpensive alternates to regular china service.
Reusable gloves have been implemented for cutting foods during food preparation in the kitchen, and The Juice Bar, which has reduced disposable glove waste.
The Dining Hall has been tray-less since 2009, which reduces water and chemicals used for cleaning, while encouraging guests to consider their food selections rather than "fill the tray."
Dickinson Culinary Services has employed a Dickinson student as a Sustainability Intern on a semester-by-semester basis since 2014. Interns have documented food miles, food sourcing, validated animal welfare programs, and helped to identify ways for Dickinson Culinary Services to improve its practices.
Culinary Services has purchased four Rational SCC White Efficiency ovens. These ovens cook with an incredible reduction in energy needs. The ovens also reduced water needs by replacing less efficient steamers and ovens.
All Culinary Services lighting in seating, serving, kitchen, and storage areas was converted to low-energy-use LEDs.
Culinary Services' 2015 dish washer replacement uses less detergent and saves over 12,000 gallons of water each year compared to the old machine. The dish washer uses an Energy Recovery Unit to capture heat from the exhausted steam and uses that heat to maintain high temperatures for the wash water with no additional energy consumption.
All food waste and paper products are prepared for composting with a Hobart WastePro 1200 pulper, which grinds these items into composting-ready material by extracting water and reducing waste volume. The extracted water is then recycled within the pulper system, reducing water usage for the machine. Additional information about the composting program can be found here.