Spring 2018 Visiting Artists
Every year, acclaimed arts professionals come to Dickinson to present their work and interact with students in small groups in and out of the classroom. Learn more about these distinguished guests.
Spring 2018 ARTISTS-IN-RESIDENCE
Ellie Krakow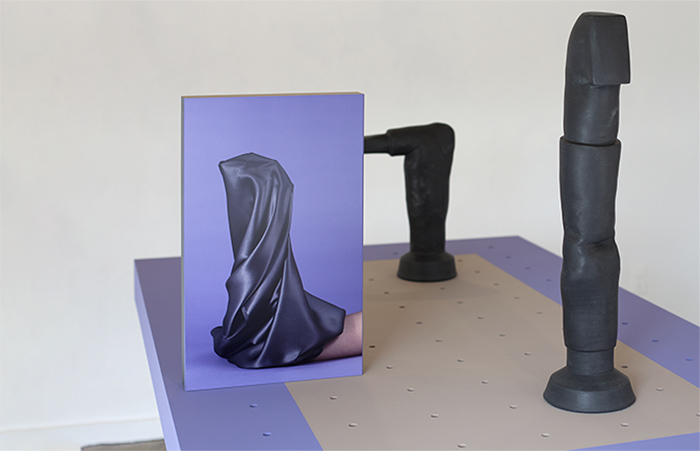 New York artist Ellie Krakow will exhibit recent mixed-media works that combine elements of photography and sculpture Jan. 22-Feb. 7. She will deliver an artist's talk during a closing reception, Wednesday, Feb. 7, 5:30-7 p.m. Her work has been shown in galleries and museums, including at the Henry Street Settlement/Abrons Arts Center and at the Zeitgeist.
Lalla Essaydi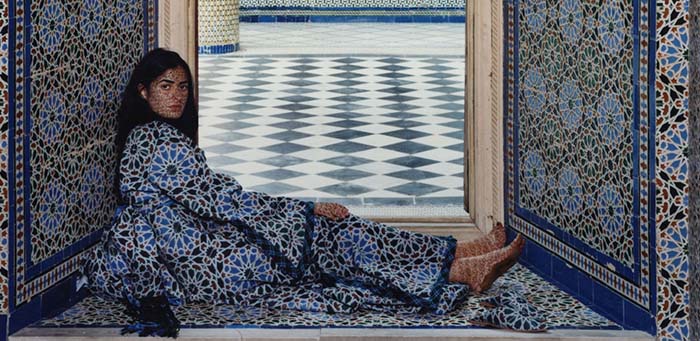 Lalla Essaydi will deliver an artist's lecture during a March 1 reception for an exhibition of her work at The Trout Gallery Feb. 9-May 12.
Essaydi uses painting, mixed media, video and photography to explore the image of woman in Islamic society.
Raised in Morocco, she eceived her M.F.A. from the School of the Museum of Fine Arts/Tufts University in 2003. Her work has been exhibited in Boston, Chicago, Minneapolis, Texas, Buffalo, Colorado, New York, Syria, Ireland, England, France, the Netherlands, Sharjah, U.A.E. and Japan, and is represented in such collections as the Williams College Museum of Art, The Art Institute of Chicago, the Fries Museum, the Netherlands and the Kodak Museum of Art.
Her photography, which often combines Islamic calligraphy with representations of the female body, provides a contemporary reflection on an iconography rooted in Orientalist imagery of 19th-century artists such as Ingres, Delacroix and Gérôme. In much of this work, she returns to her Moroccan girlhood, looking back on it as an adult caught somewhere between past and present.
"In my art," Essaydi says, "I wish to present myself through multiple lenses—as artist, as Moroccan, as Saudi, as traditionalist, as liberal, as Muslim. In short, I invite the viewer to resist stereotypes."
DIVA Jazz Orchestra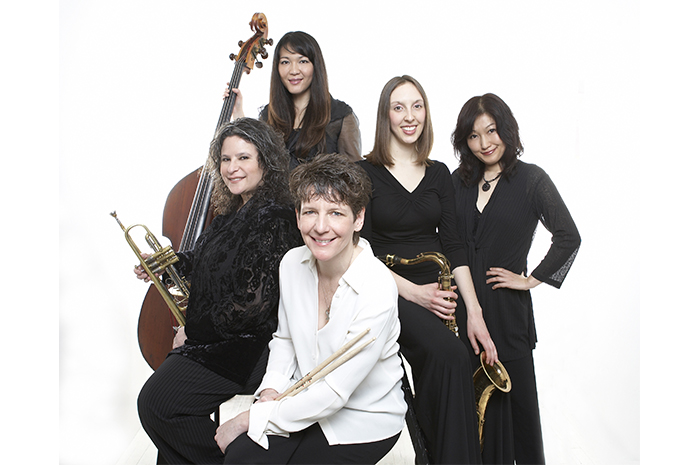 Artists-in-Residence DIVA Jazz Orchestra will perform a Feb. 25 concert of jazz standards and original works, meet with the audience afterwards and screen the 2013 documentary The Girls in the Band, a poignant look at female jazz and big-band instrumentalists and their groundbreaking journeys from the late 1930s to the present day. A panel discussion will follow. The concert is partially made possible by the Cecil Andrew and Adeleine Ewing Fund.
DIVA is a New York-based, 15-member ensemble, headed by drummer Sherrie Maricle, working in the tradition of big bands, but with modern sensibility. The group marked its 25th anniversary in 2017.
DIVA has toured the world to critical and popular acclaim in venues including Carnegie Hall; the John F. Kennedy Center for the Performing Arts, the Lincoln Center, Blue Note, Dizzy's Club Coca-Cola at Jazz, Birdland, the Apollo Theater, Le Meridien Hotel (Paris), Teatro de Sistina (Rome), the Berlin Jazz Festival, the Salzburg Music Festival, the Bern Jazz Festival (Switzerland) and the Montreal and Ottawa Jazz festivals. The band has shared the stage with Nancy Wilson, Joe Williams, Diane Schuur, Carmen Bradford, Marlena Shaw, Dee Daniels, DeeDee Bridgewater, Rosemary Clooney, Ann Hampton Callaway, Jack Jones, Clark Terry, Dr. Billy Taylor, Terry Gibbs, Tommy Newsom, Randy Brecker and Dave Brubeck.
DIVA also is featured in Maurice Hines's autobiographical musical, Tappin' Through Life. Television and film appearances include the 2014 NBC/Macy's Firework Spectacular, The Girls in the Band, CNN Arts Break, CBS Sunday Morning and The Kennedy Center's 25th Anniversary Special. DIVA additionally has been featured on the Japanese television network NHK and Metropol TV in Germany.
Naomi Shihab Nye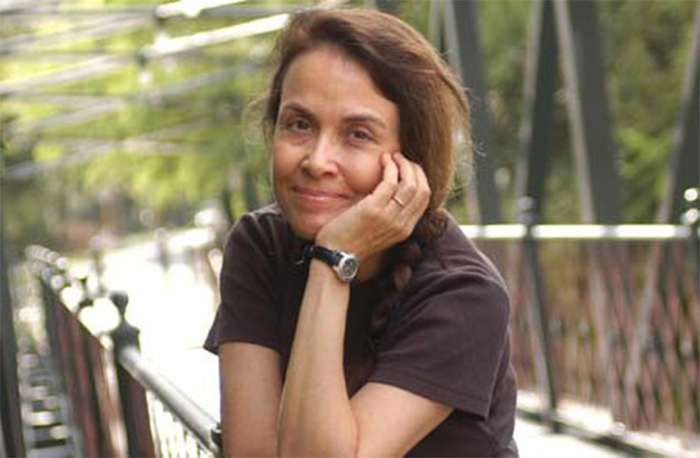 Poet Naomi Shihab Nye comes to campus as the receipient of the 2017-18 Harold and Ethel L. Stellfox Visiting Scholars and Writers Program prize. While on campus, she will meet with students in small groups and in classes and will deliver a public reading and book signing on March 5.
Known for poetry that lends a fresh perspective to ordinary events, people and objects, Nye is a leading American poet. Her works 19 Varieties of Gazelle: Poems of the Middle East (2002) and You and Yours (2005) explore the possibilities of poetic response to the terrorism of 9/11. Other works include two chapbooks and five full-length collections, including the Voertman Poetry Prize winning Hugging the Jukebox (1982), the highly acclaimed Fuel (1998) and her most recent collection, Transfer (2011). Nye, an Arab-American, also has produced a book of essays, children's fiction, poetry and song recordings, and poetry translations. A book signing and reception will follow her public reading.
"Nye's clarion condemnation of prejudice and injustice reminds readers that most Americans have ties to other lands and that all concerns truly are universal." —Publisher's Weekly
Sif Ankergård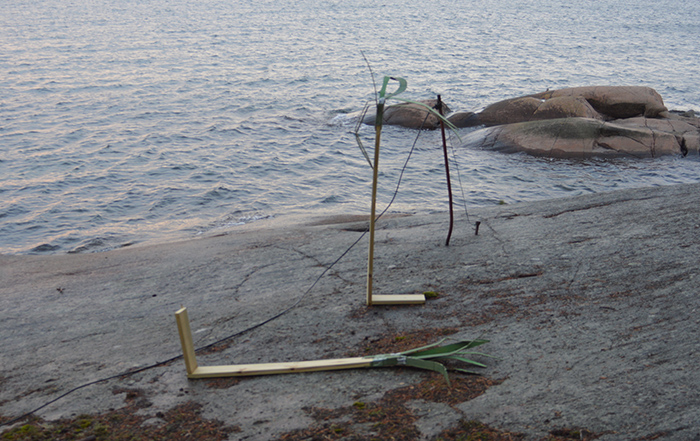 As the 2018 Sylvia J. Smith Artist-in-Residence, Sif Ankergård serves a monthlong residency with the Department of Art & Art History and presents a culminating exhibition on campus. The annual artist-in-residence program is made possible with generous support from the Sylvia J. Smith '73 Fund.
Ankergård earned a B.A. in fine arts from Gerrit Rietveld Academy (Amsterdam) and an M.F.A. from Bergen Academy of Art and Design, Bergen, Norway. Recent projects include an AARK residency in Korppoo, Finland; a solo show at Hordaland Kunstsenter, Norway; the group show Nervous Systems – Language of Wonder and Denial in Kunsthal Aarhus, Denmark; and a published work in Page, an annual magazine.
She writes that her ideas about language and language construction lie at the heart of her work. The artist begins with the project title, then dissects and portrays the layers of meaning behind the text.
"I am interested in exhibiting where the gap between theory and work is blurred by the active use of text, where study notes transform into forms and conversations are allowed to coexist with the artworks," she writes. "Language is not just a matter of course of the given; the obvious. Among other things, social order, power hierarchies and repressive structures are kneaded into it, and in such a seamless manner that we do not sense it, because we already are embedded in the language and it is part of us. It is through language that society is articulated, and in a sense it is the language that constitutes it."
Fall 2017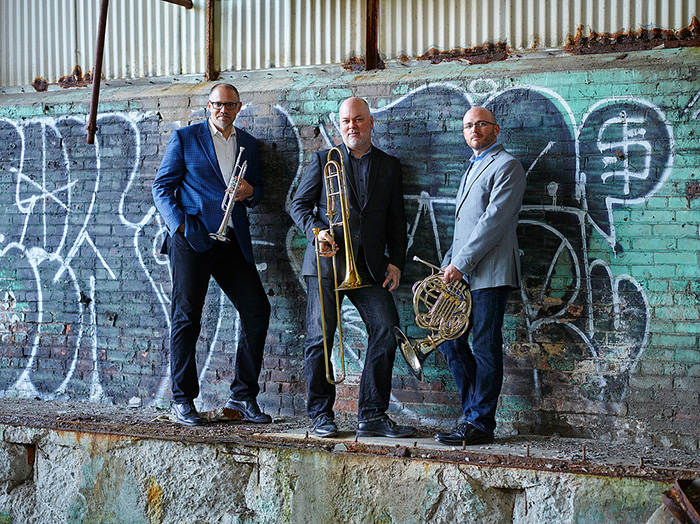 Spring 2017
e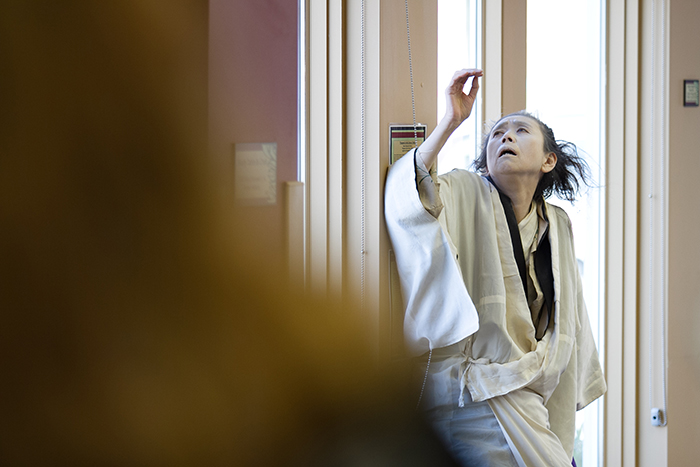 Fall 2016
Spring 2016
Fall 2015: Amy Boone-McCreesh, Daniel Finch and Brenton Good, Singer Pur, Janie Cole, Mohammed Fairouz, Shani Collins-Achille and Katie Roy '15, Adaskin String Trio
Spring 2015: Michael Wille, Feng Weina, Holland Cotter, Michael Clayville and Relâche
Fall 2014: Peter Minkler, Amernet String Quartet and Matthew Bengtson, Lorrie Moore, Sarah Cahill, John Sanborn and Relâche
Spring 2014: Bill Bowers, Judith Schaechter, JACK Quartet and Paul Muldoon