March
Continuing Events
Through May 12
Artist's Lecture and Reception: March 1 (see listing below)
Lalla Essaydi: Photographs
The Trout Gallery, Weiss Center for the Arts
Gallery hours: Monday-Saturday, 10 a.m.-4 p.m.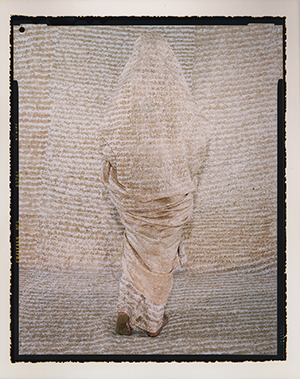 Lalla Essaydi's career as an artist encompasses painting, mixed media, video and photography to explore the image of woman in Islamic society. Raised in Morocco, Essaydi spent many years in Saudi Arabia and was educated in Europe and the United States. Her photography provides a contemporary reflection on an iconography rooted in Orientalist imagery of 19th-century artists such as Ingres, Delacroix and Gérôme. This exhibition features a recent series of pictures Essaydi made in a former harem in Morocco, often swathing her subjects in robes and covering their skin in henna calligraphy that echoes the decorative surfaces that wall the complex. "In my art," Essaydi says, "I wish to present myself through multiple lenses—as artist, as Moroccan, as Saudi, as traditionalist, as liberal, as Muslim. In short, I invite the viewer to resist stereotypes." See related lecture below.
Thursday, March 1, 6-7:30 p.m.
Reception: March 1, 5-6 p.m.
The Jane L. and Robert H. Weiner Lecture in the Arts: Lalla Essaydi
Rubendall Recital Hall, Weiss Center for the Arts
Lalla Essaydi grew up in Morocco and now resides in the U.S. Using photography, she combines Islamic calligraphy with representations of the female body to address the complex reality of Arab female identity. This lecture is sponsored by the Department of Art & Art History.
Thursday, March 1, noon
Noonday Concert
Rubendall Recital Hall, Weiss Center for the Arts
This concert features students in Dickinson's performance studies and chamber music programs.
Learn more
March 2-3 and 5-6, 8 p.m.
Buried Child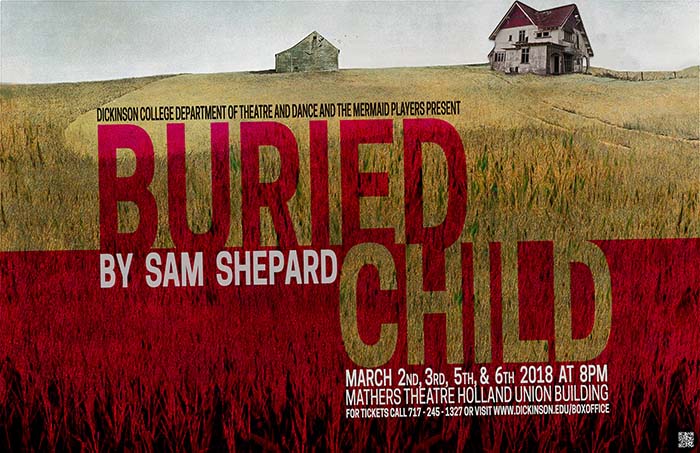 Mathers Theatre, Holland Union Building
Tickets $7, or $5 with student ID
Last summer, America lost one of its most distinctive and powerful dramatic voices with the death of Sam Shepard. In remembrance of this remarkable playwright and actor, the Department of Theatre & Dance, with Dickinson's Mermaid Players, will present what many consider to be his masterpiece—the 1978 Pulitzer prize-winning Buried Child.
On an isolated farm in downstate Illinois, a rural patriarch lies sick and in decline as the family and farm around him seem ready to sink into the muddy fields. Then grandson Vince and his girlfriend, Shelly, arrive for a visit. Shepard's meditation on the debilitating effect of denying the past is brooding, moody, thoughtful and darkly comic.
Learn more
March 2-April 14
Reception: Friday, March 2, 5-7 p.m.
Lens Without Limits: The Photography of Lida Moser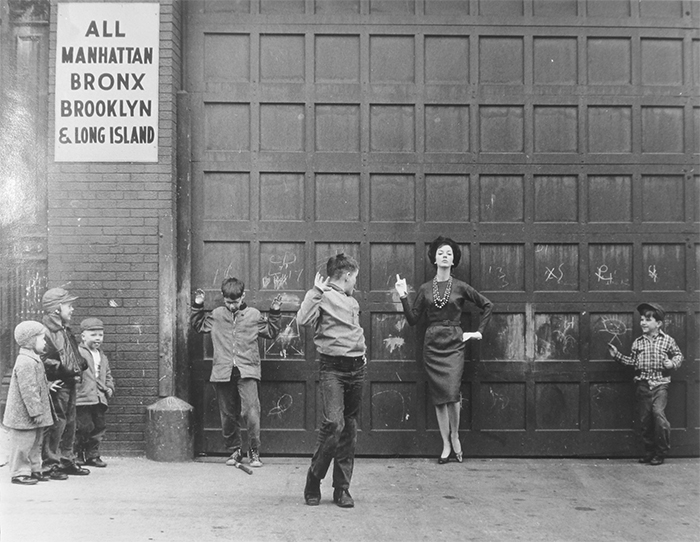 Lida Moser, Mimicry (Judy and the Boys), 1961, gelatin silver print, courtesy Mr. and Mrs. Jules Bricker.
The Trout Gallery, Weiss Center for the Arts
Gallery hours: Monday-Saturday, 10 a.m.-4 p.m.
This exhibition considers the work of New York City commercial photographer and photojournalist Lida Moser (1920-2014). She is best known for her pioneering work documenting the city from its postwar era up through the gritty 1970s. Moser first worked as an assistant in Berenice Abbott's studio and later moved on to a solo career, gaining assignments from a number of leading publications, including Vogue, Harper's Bazaar and Esquire. She was a member of the Photo League and the New York school of photography and produced portraits of many of the leading cultural figures of the second half of the century. This exhibition is curated by senior art-history majors Jacqueline Hochheiser, Kate Marra and Monica Skelly, under the direction of Elizabeth Lee.
Monday, March 5, 7:30 p.m.
Public Reading: Stellfox Distinguished Writer Naomi Shihab Nye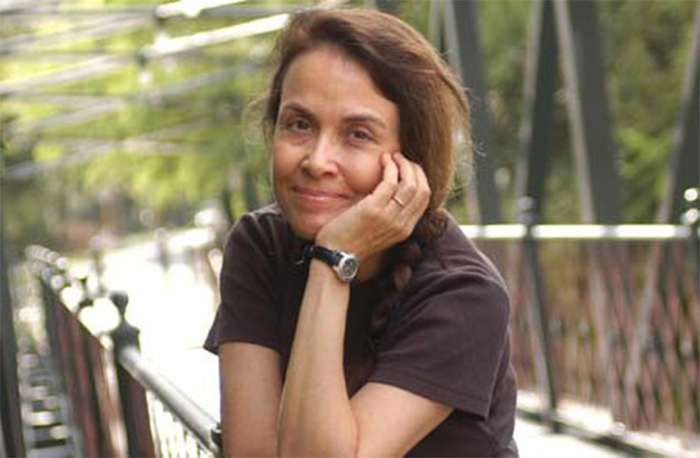 Allison Great Hall
Known for poetry that lends a fresh perspective to ordinary events, people and objects, Naomi Shihab Nye is a leading American poet. Her works 19 Varieties of Gazelle: Poems of the Middle East (2002) and You and Yours (2005) explore the possibilities of poetic response to the terrorism of 9/11. Other works include two chapbooks and five full-length collections, including the Voertman Poetry Prize-winning Hugging the Jukebox (1982), the highly acclaimed Fuel (1998) and her most recent collection, Transfer (2011). Nye, an Arab-American, also has produced a book of essays, children's fiction, poetry and song recordings and poetry translations. A book signing and reception will follow her public reading.
"Nye's clarion condemnation of prejudice and injustice reminds readers that most Americans have ties to other lands and that all concerns truly are universal." —Publisher's Weekly
Learn more:
March 7-28
Opening Reception: Wednesday, March 7, 5:30-7 p.m.; Artist's Talk, 6 p.m.
Talia Amorosano '17: Once Removed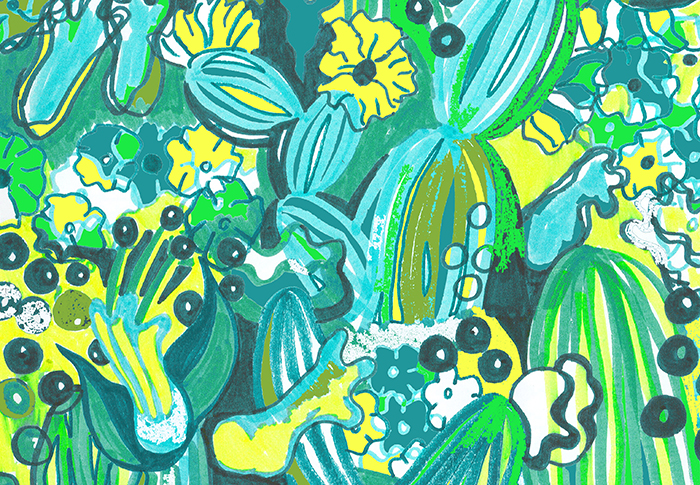 Goodyear Gallery, Goodyear Building (Cedar St. entrance)
Gallery hours: Tuesday-Friday, 3-5 p.m., Saturday, 2-5 p.m.
The Department of Art & Art History's 2018 post-bac intern, Talia Amorosano '17, works in a variety of mediums to reimagine and analyze "mundane" objects and images. Using both digital and manual editing processes, Amorosano creates visually striking compositions that imply cyclical or repetitive narratives.
Tuesday, March 20, 7 p.m.
Songs of Justice:
Emmanuel Nsingani and Friends
Stern Center Great Room
Emmanuel Nsingani is a gifted African jazz musician and a refugee from Congo who was sent to an orphanage after his parents, Congolese Christian ministers, were murdered by the state. He later escaped to the United States, and is seeking political asylum. Nsingani lives in the Harrisburg, Pa., area, where he often performs with fellow talented Congolese immigrants.
This concert and lecture is coordinated by the Department of Music and sponsored by the music, history, political science, Africana studies and policy studies departments, as well as the Popel Shaw Center for Race & Ethnicity, the Community Studies Center and the Department of Student Life.
Thursday, March 22, noon
Noonday Concert
Rubendall Recital Hall, Weiss Center for the Arts
This concert features students in Dickinson College's performance studies and chamber music programs.
Learn more
All events are open to the public and are free, unless otherwise noted. Events listed in the Calendar of Arts are subject to change. Please contact the appropriate department prior to an event to confirm that it will take place as listed.