January
Through Feb. 17
William Kentridge: Universal Archive and Journey to the Moon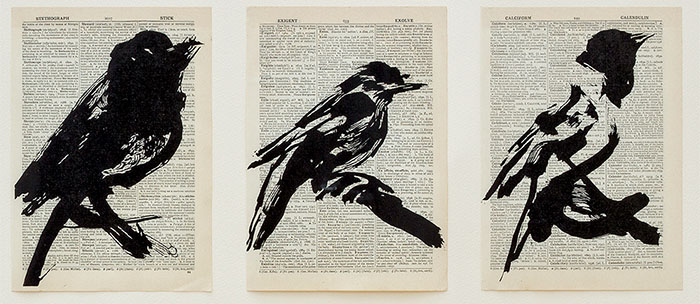 The Trout Gallery, Weiss Center for the Arts
Gallery hours: Monday-Saturday, 10 a.m.-4 p.m.
Internationally acclaimed South African artist William Kentridge (b. 1955) revisits images that appear frequently in his work—coffee pots, typewriters, cats, trees—through a sequence of prints that progresses gradually from identifiable forms to seemingly abstract marks. The images are printed on dictionary pages, which juxtapose creativity with authoritative text to examine the nature of rational thought and knowledge construction. This exhibition was organized by the Gund Gallery at Kenyon College and is made possible, in part, by contributions from Alva Greenberg, the Gund Gallery Board of Directors and the Ohio Arts Council. Complementing Universal Archive, Kentridge's live-action/animated short film Journey to the Moon is projected continuously in the gallery. William Kentridge's films are provided courtesy of Marian Goodman Gallery, New York/London.
Through Feb. 3
Rachel Eng: Irreversible Results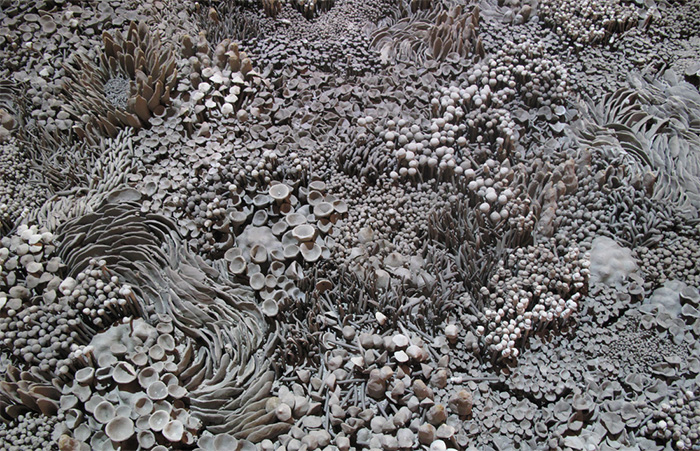 The Trout Gallery, Weiss Center for the Arts
Gallery hours: Monday-Saturday, 10 a.m.-4 p.m.
This exhibition investigates the phenomenal aspects of the natural world and also responds to our current climate situation. Using different materials—some with inherent meaning and others transformed—the pieces in this exhibition question our human curiosity, empathy and potential for change. Rachel Eng is Dickinson's newly appointed assistant professor of ceramics.
Learn more:
Jan. 22-Feb. 7
Closing Reception: Wednesday, Feb. 7, 5:30-7 p.m.; Artist's Talk, 6 p.m.
Ellie Krakow: Beige Negative.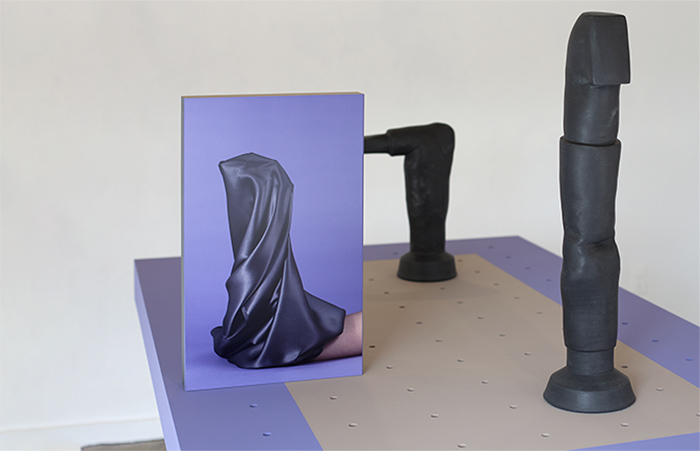 Ellie Krakow, Arm Armature (Modular - iteration 1), glazed ceramic, photos printed on aluminum, wood, paint
Goodyear Gallery, Goodyear Building (Cedar St. entrance)
Gallery hours: Tuesday-Friday, 3-5 p.m., Saturday, 2-5 p.m.
New York artist Ellie Krakow will exhibit recent mixed-media works that combine elements of photography and sculpture.
Sunday, Jan. 28, 4 p.m.
Faculty Recital: Shostakovich, Butterfly Lovers and Ernő Dohnányi
Rubendall Recital Hall, Weiss Center for the Arts
Blanka Bednarz, violin, and guest artists John Novacek (pianist to Joshua Bell and Yo-Yo Ma), Airi Yoshioka, violin (UMBC), Mary Hammann, viola (the Met), and Cheung Chau, cello (orchestra director, UVU), present a program that includes Dmitri Shostakovich's Piano Quintet, Op. 57; the Butterfly Lovers concerto (Liang Zhu Concerto) by He Zhanhao and Chen Gang, in arrangement for string quartet by Dawei Kumaki, as an early tribute to the Chinese New Year; and the Piano Quintet by Ernő Dohnányi, Op. 1.
"Novacek's contributions cannot be exaggerated. … he underplays handsomely while accomplishing technical feats many pianists can't even consider: varieties of touch, a huge dynamic range, nuances of statement and the bold use of all his pianistic resources within the parameters imposed by the genre." —Los Angeles Times

"[Yoshioka is] brilliant and intrepid." —Gramophone

"Violist Mary Hammann [is] … an especially strong ensemble player . . . with a passion so convincing." —New York Newsday

"Cheung Chau is a rare gem in the musical field." —Sing Tao Daily

"Bednarz … produces a richly varied tone, which she alters dynamically and coloristically in response to the music's nuances and subtleties of the moment." —Fanfare
Tuesday, Jan. 30, 7 p.m.
Faculty Wind Quintet
Rubendall Recital Hall, Weiss Center for the Arts
The Dickinson College Faculty Wind Quintet (Jocelyn Goranson, flute; Jihoon Chang, clarinet; Jill Hoffmann, oboe; Kimberly Buchar Nolet, bassoon; Tyler Ogilvie, horn) and faculty pianist Jennifer Blyth perform a French program of Lefebvre's "Suite for Winds No.1," Milhaud's "La cheminée du roi René" and Poulenc's "Sextet for Piano and Wind Quintet."
Learn more
All events are open to the public and are free, unless otherwise noted. Events listed in the Calendar of Arts are subject to change. Please contact the appropriate department prior to an event to confirm that it will take place as listed.