About the Current Stellfox Season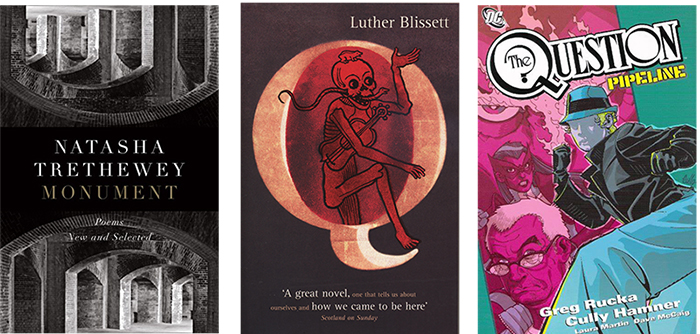 Natasha Trethewey (poetry), Greg Rucka and Cully Hamner (graphic novels) and the Wu Ming collective will interact with students and present their work in March and April 2022.
Because of health concerns regarding an in-person residency, Dickinson did not bestow a Stellfox Award in 2022. Instead, the Stellfox program made it possible for several honorees to interact with students virtually and deliver virtual public events during the spring semester. They are:
March 29: Natasha Trethewey
Former poet laureate Natasha Trethewey kicks off the celebrations this week with classroom virtual visits and a March 29 public reading via Zoom. Trethewey earned an MFA in poetry from the University of Massachusetts-Amherst and is the recipient of the Pulitzer Prize the Mississippi Governor's Award for Excellence in the Arts, and fellowships by the Guggenheim and Rockefeller Foundations and by Harvard's Radcliffe Institute, among other honors.
Trethewey is the author of five poetry collections, including Monument (2018), longlisted for the 2018 National Book Award; Native Guard (2006), which garnered her the Pulitzer Prize; and Domestic Work (2000), winner of the inaugural Cave Canem Poetry Prize, the 2001 Mississippi Institute of Arts and Letters Book Prize and the 2001 Lillian Smith Award for Poetry. Trethewey has taught at Duke University, the University of North Carolina-Chapel Hill and Yale University. She served two terms as the United States' 19th poet laureate (2012 to 2014).
April 14: Wu Ming
Wu Ming ("no name," in Chinese), is a collective of Italian writers formerly known as "Luther Blissett," who write about media, communication, politics, identity and convergence theory. The collective will present a public Q&A via Zoom at 4:30 p.m.
Wu Ming will likely discuss its views on conspiracies and its connection to an infamous contemporary movement, since Wu Ming's novel Q (1999), about unrest in 16th-century France, is said to have inspired the name of the QAnon extremist phenomenon. The group has authored a book about QAnon as well as Axes of War (2000), 54 (2002), Manituana (2007), Altai (2009), The Army of Sleepwalkers (2014), Timira (2013), Point Lenana (2013), The Invisible Everywhere (2015), among other works.
April 19: Greg Rucka, Cully Hamner
Comic-book creators Greg Rucka and Cully Hamner will take part in a public Q&A via Zoom on April 19 at 5:00 p.m.
Rucka is a multiple-award-winning comic-book creator and writer, a screenwriter and a novelist. He is best known for his GLAAD Media Award-winning, culturally diverse superhero work for DC Comics and his multi-genre work for independent presses, such as Image Comics and Oni Press. He was the creator and screenwriter for Netflix's The Old Guard, starring Charlize Theron. His comic-book crime series Stumptown, featuring a bisexual private investigator with a gambling problem, was adapted for television and premiered on ABC in 2019.
Cully Hamner is a comic-book creator and artist. He is best known for his culturally diverse superhero work for DC Comics, including his work as co-creator of DC's first Latinx superhero, Blue Beetle; and for his creator-owned comic-book series RED, which was adapted into a star-studded feature film.
Hammer and Rucka have also received accolades for their joint work, Convergence: The Question, published by DC Comics in 2015.