Stephen C. Hoefer Jr.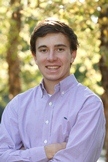 Personally, I found it a rather easy decision to apply Early Decision to Dickinson College. Many people have asked why I didn't want to consider all my options before I accepted an offer at a college. I knew from my visits and conversations with professors that Dickinson would be a perfect fit for me.
Top-Tier Academics
Over the past year I have become interested in pursuing a double major in international studies and international business. While there may be other schools that have strong international programs, but there are few that would give me valuable opportunities outside of the Carlisle campus through internships and Dickinson-led study-abroad programs. When I visited the school, I was able to meet with professors and attend several different classes. I enjoyed not only the small class size, but also the personal attention that the professors gave to each of their students. They certainly seemed to have a strong interest in the well-being and success of each of their students.
Engagement Beyond the Classroom
While Dickinson has many tremendous academic programs, I felt that it would provide me with excellent extracurricular opportunities as well. I knew I wanted to play college golf, but I didn't want practice to distract from my schoolwork. I felt that Dickinson would allow me to easily balance my athletic life with my academic one. In high school one of the most important ways I spent my free time was through community service. The Office of Community Service at Dickinson offered me many opportunities to continue this passion. A culture of service among the student body was important to me when choosing a college and now that I have arrived I can see that there is an engaged student body on campus. In the end, I felt extremely comfortable at Dickinson—its strengths matched my interests and that is what led to my decision to apply Early Decision .