Sena Agawu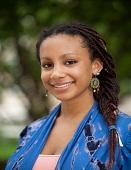 Sena Agawu '15 from Pennsylvania Furnace, Pa.
Meeting many new and wonderful people and exploring areas where you spend the next four years of your life, studying, learning and creating a world for yourself, is what the college search should be like. However, I was more interested in enjoying my senior year of school than writing essays and preparing for interviews. But as the summer and fall of my senior year came along, I knew that I should get started on my college search. I was looking for small, liberal-arts colleges that were close to my hometown.
Warm and Welcoming
Dickinson stood out to me immediately because of the warm and welcoming environment that is evident as soon as you step on campus. Everyone--the admissions staff, the students walking to and from classes and the employees in the cafeteria--is cheerful and willing to answer any questions you may have for them. I could tell right away that every person was important to Dickinson. Everyone is an individual and significant.

There is also something for everybody at Dickinson. I was very attracted by the college's global perspective and approach to education and learning. I am someone whose interests are all over the board, but at Dickinson, I could find classes, majors and minors that would tailor to my interests and guide them in the right direction.
Comparing for Fit
I looked at five different colleges similar in size to Dickinson. On our way home after our first tour and information session at Dickinson, my dad stated: "This is the perfect place for you!" I definitely thought he was making a hasty judgment at the time, but as my search went on, I started using Dickinson as a comparison for all of the other colleges. By the end of my countless interviews, dorm tours and class visits, I knew that my dad was right after all: Dickinson was the right fit for me.