Ailin Pipkin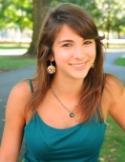 Ailin Pipkin Gabay '14 from Buenos Aires, Argentina
When I was deciding what to do with my life while finishing high school, all I knew was that I wanted to have a challenging experience and to be in contact with other cultures and the arts. I knew that Argentina, my homeland, was not the place where I wanted to study in the following years because I wanted to travel.
Sharing Diverse Backgrounds
As soon as I discovered Dickinson, I knew that it was the ideal place for me. I was fascinated with the idea of a place where I could take classes from different fields, where I could find opportunities to start my own projects, where I could share my points of view with people from diverse backgrounds and where I could belong to such a multicultural and intellectual community. I didn't think twice: I worked hard and I applied Early Decision. I was so excited about Dickinson that I really enjoyed the process of my application. My family and my friends joined me in my new project and shared my enthusiasm.
A Dream in Argentina … Now Real
Now that I am here in this beautiful community, what started as a dream in Argentina seems to be thousands of miles away. Dickinson is a liberal-arts school where you can pursue your passions. You have the chance to take diverse classes, enroll in different clubs, organizations and activities, study abroad, exchange ideas with people from all over the world and find your place in this global community. Now I am full of energy and ideas in my mind for the time I will be here, and all this started by a dream and an action: applying Early Decision to Dickinson.