Alexandra (Lexie) Raczka '15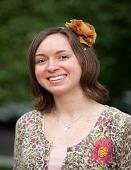 Lexie Raczka '15 from Mansfield, Mass.
For most people, the college search begins some time in high school and is aided by suggestions from counselors and other mentors. The story of how I found Dickinson is rather different; honestly, it was chance that I found the school and even more instances of chance that made me fall in love with everything it has to offer.
A Unique Find in 8th Grade
I first found Dickinson in September 2006; I was an eighth grader who had not even really thought about going to high school let alone about where to go to college. My family and I were at a function at a hotel outside of Boston. As my mom and I lingered in the lobby, we noticed that a college was holding off-campus interviews just feet away from us. We began talking to a member of the admissions team and learned all about the history of Dickinson and the programs that it had to offer. The more we listened, the more my mom and I thought that this school could be a great fit for me. As the interviews concluded and the lobby cleared, we noticed a stray course book lying on a nearby table. I fingered through the pages and brought it home with me, but did not think much more about the school for a few more years.
A School that "Practiced What It Preached"
The summer going into my junior year of high school, I decided that I needed to start the college search. I tend to like to start things really early, so I wanted to give myself ample time to find the right school for me. I soon created a list of schools to visit. Dickinson was the third school that I visited, but really the first one that I really had an interest in. I remember walking on the campus and just feeling something; it felt different from the two other school I had seen. The sustainability of the school was also a big draw. I plan to study environmental science and wanted to find a school that "practiced what it preached, " which Dickinson does. After my visit, my mom urged me to make a list of pros and cons of all the schools that I had already seen to aid me in future college visits. As I began to scribble all of the cons of other schools, I realized that I could not find a single flaw in Dickinson.
Connecting with Community...Again
However, I continued the college search and proceeded to visit 18 more schools, yet on every campus, I did not feel the same thing that I felt walking around Carlisle. I began to worry that maybe I had been putting Dickinson on a pedestal that it did not deserve, so my mom and I paid the school another visit. I only found that I loved Dickinson even more. While on this visit, my mom and I attended a Bach concert presented by a music group at the college. By chance, we discovered that the two people sitting next to us were 50-year alums of the school. As I heard them talk about their days at Dickinson with such fondness, I realized that I wanted to reminisce about my college experiences with such happiness. As my mom and I left the concert, I turned to her, and for the first time, said "I want to go here...I think I might apply Early Decision."
Finding Somewhere That Feels Like Home
After numerous other encounters with Dickinson, from my interview to a reception where I was able to meet President Durden, it came time to begin my college applications, or in my case, one college application. Many people questioned my decision to "put all of my eggs in one basket" and only apply to one school, but my response to this worry was always the same and proved my passion for the college: "I wrote a three-page essay on 'Why Dickinson,' and I don't think I could even write a paragraph about any of the other schools that I visited." When choosing a college, it is clearly important to pick somewhere with a great location, diverse programs and unlimited opportunities, but most important is finding somewhere that feels home.