Working Groups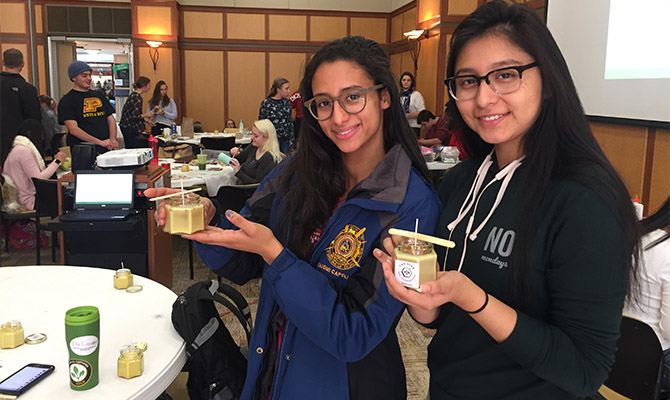 The Hive working groups are designed to create focused teams for engagement of the Dickinson community in aspects of beekeeping, pollinators and value added products. Students, faculty, and staff are welcome to join as many groups as they have time to dedicate themselves to.

Beekeeping Working Group
For individuals wanting to handle bees, discover their biology, and learn the basics of how to care for bees. Active participants can gain the necessary skills to start their own hives in the future. With the greatest number of activities, the beekeeping working group meets approximately once a week during the year, with the exception of November-January. This working group requires at least DRONE level training for The Hive.


---
Honey Harvesting Working Group
Participants will experience the process of how to go from honey in a hive to honey in bottles. Our stickiest of the working groups, it meets for one event each Fall. Winter months provide opportunities for sales, research and business development. This working group requires at least WORKER level training for The Hive.
---
Native Bees and Pollinators Working Group
Individuals involved in this group help pollinators by participating in educational and hands-on activities ranging from plantings and garden management to landscape design to native bee homes. They help the Dickinson community to understand the importance and impact of native pollinators (beyond honey bees). The group holds one to two educational events each semester and requires no experience or training.
---
Value-added Products Working Group
This group looks into business opportunities for value added products related to bees. Using honey, wax, pollen or propolis, you'll have a chance to learn to make everything from soap to moisturizer to more aerodynamic vehicles. The value added products group meets one to two times each semester, and is the home to creative individuals looking to explore new ideas. This working group requires no experience or training.
---
Adopt-a-Bee

A unique, low commitment, opportunity for students, faculty, and staff to follow a bee from its birth to its death, tracking its behaviors, jobs, and experience in the beehive. Sign up to follow a bee and receive photo updates with information about the stages of her life. Will your bee become a guard bee? A nectar forager? Will she take care of the young bees or the queen? Will her hive survive? Find out with weekly updates. No training is required for this program.