Waste Minimization, Diversion and Green Cleaning are Priorities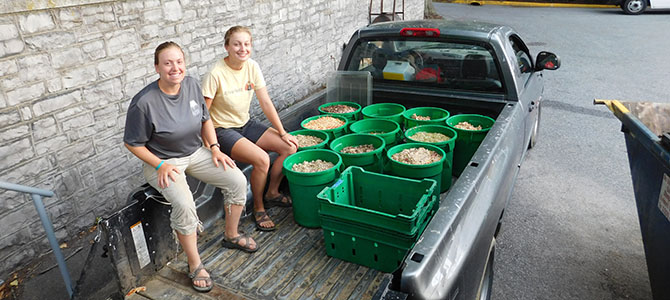 Dickinson is committed to reducing materials consumption, reusing materials, recycling and composting. We are also committed to using sustainable 'green' products. 

Free xChange:
Aims to 1) reduce waste and promote reuse, 2) provide a safe and equitable space for the exchange of second-hand clothing on campus that is accessible to every Dickinsonian and 3) create awareness of the social, economic, and environmental impacts of the global fashion industry.
Recycling:
Dickinson's single-stream recycling system accepts paper, cardboard, plastics (#1-7), glass and metals in all recycling receptacles. 150 tons of materials, representing approximately one-fourth of our solid waste, is diverted from landfills by recycling at Dickinson each year.
College-Owned E-Waste Recycling:
We also have programs for recycling electronic waste, batteries, and ink cartridges for college-generated waste. These smaller e-waste items are collected across campus, taken to a central storage facility and then recycled by certified companies. Facilities Management works with campus offices and departments to ensure these items are properly recycled. Offices and departments are asked to collect college-owned items and take them to the 5 North Orange Warehouse facility to ensure proper disposal.
Green Office Certification:
The Green Office Checklist reflects current sustainability practices and resources at Dickinson. It is designed to provide a framework for academic department coordinators, office managers, program coordinators, and technicians to think about ways to practice sustainability in their departments or offices. Users can self-assess, discuss with colleagues, and set targets for improvement by using the scoring key provided to see where they are doing well, or ways they can make improvements. CSE can provide further guidance about how to use the checklist to identify areas of improvement in office sustainability. Trainings and consultations are provided to interested employees.
Plastic Bag & Film Recycling:
There are three main locations for plastic bag recycling on campus, in the Kline Athletic Center, Kaufman Hall, and the HUB. The bins are conveniently placed alongside single-stream recycling receptacles for use by all Dickinsonians. This addition allowed us to divert plastics that cannot be included in the single-stream such as plastic shopping bags, food baggies, plastic wrap, athletic training wrap and ice bags. Through the GIANT Food program "Bags to Benches," they are then turned into park benches and donated to local communities.
Composting:
100% of the pre and post-consumer food waste from the dining hall is collected, pulped, and sent to our College Farm for composting, where it is used to improve the soils. This system cut the volume of waste sent to the landfill from dining services by 50%, saving over $10,000 annually, diverting one dumpster of waste daily, or about 125 tons each year. Students also collect food waste from residence halls for composting at the farm.
Printing:
Paper use was reduced when unlimited free printing by students was replaced in 2009 by a policy that allows each student to print up to 600 pages without charge each semester and then charges a fee for printing beyond that amount. The revised policy cut student paper use by nearly 60%, saving an estimated $35,000 and 89 trees per year. A new print management system implemented in summer 2012 is reducing paper use by college faculty and staff.
Reuse:
Students donate unwanted furniture, appliances, clothes, food and school supplies in the annual U-Turn End-of-Year sale that benefits the local United Way, with over $15,000 worth of sales. Additionally, students are constantly upcycling items from waste such as pillows from plastic bags, fences from bamboo, tables from pallets, and even glasses from old wine bottles. A reusable to-go-container program exists for all Dickinsonians. Check out more about our Ecotainer program at www.dickinson.edu/ecotainer.
Green Cleaning:
Learn more in our housekeeping sustainability plan
The Dickinson College housekeeping program has goals & strategies for sustainability that include:
Use cleaning products that meet Green Seal standard GS-37 or products with low-volatile organic compounds (VOC) whenever applicable.
Eliminate phosphates and aerosol products.
Use equipment with good filtration.
Use concentrated cleaning products when available.
Use chemicals that are automatically and accurately diluted using cold water.
Educate, train, and motive Housekeeping staff to work in an environmentally responsible manner.
Ensure that all Housekeeping staff is aware of their responsibilities in implementing this environmental policy.
Conserve energy, water, and other resources while still providing a clean and sanitary environment.
Complying with all relevant current legislation and industry standards.
Purchasing:
All paper purchased by the college has 30% recycled content. Dickinson only buys EPEAT-certified computers, and all cleaning products are Green Seal Certified or biorenewable. We purchase furniture and flooring that are made with sustainable materials and manufacturing processes.