Committed to Sustainable Operations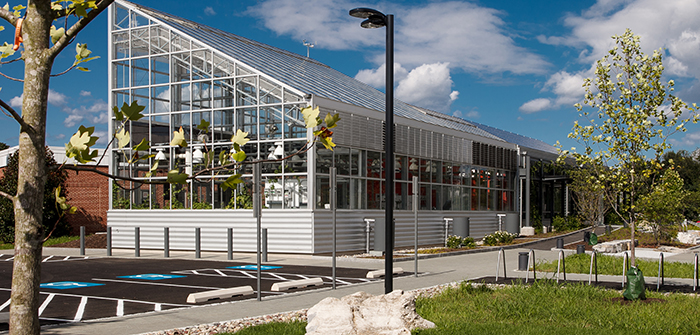 Dickinson has committed to constructing new buildings and major building renovations to a minimum standard of LEED (Leadership in Energy and Environmental Design) silver, but has exceeded that in all new construction projects. Green building simply refers to a structure that is environmentally responsible and resource-efficient throughout a building's life-cycle. From design, construction, operation, maintenance and renovation. It is designed to have a positive effect on the environment and its residents. Simply put, these buildings uses less energy, water and natural resources compared to a standard building of the same size. It is more efficient, and thus creates less waste. In addition, a green home can be a much healthier habitat for the people living inside. Given Dickinson's commitment to sustainability, this philosophy is critical to our operations.
LEED Certification:
A building is categorized into 4 types of certifications according to how well they perform. Points are awarded under six credit categories: Sustainable Sites, Water Efficiency, Energy and Atmosphere, Materials and Resources, Indoor Environmental Quality, Innovation in Design.
According to the total score, a building is then certified as:
Certified: 40–49 points
Silver: 50–59 points
Gold: 60–79 points
Platinum: 80 points and above
Dickinson's LEED Buildings Include:
These buildings incorporate resource saving technologies such as energy wheels that efficiently exchange heat between indoor and outdoor air, high efficiency HVAC systems, sensors to optimize airflow, temperature, and lighting, passive solar designs, natural lighting, high efficiency fluorescent and LED lighting, waterless urinals, and grey water systems. Furniture and fixtures are made with sustainable materials with low volatile organic compounds (VOC).

Our commitment is demonstrated in Kaufman Hall, which was a factory that produced crystals for radio and other electronic equipment. Dickinson acquired this brownfield site, remediated its environmental hazards, and renovated the building to be the home of Environmental Studies & Science, Earth Sciences, Psychology, ALLARM and the Center for Sustainability Education (CSE). Ongoing renovations are integrating natural lighting, light-emitting diodes (LED lighting), energy wheels, solar photovoltaic, and a research greenhouse.
Sustainable Grounds
Dickinson makes extensive use of native plants in its landscaping of the 200-acre main campus to limit water demand, provide habitat and food for wildlife, and avoid introduction of invasive species.
Grounds and Landscape Management Policies and Practices
Our practices include:
Integrated pest management
Biological controls
Natural meadows
Edible landscapes
Rain-gardens
Bioswales