A Campus Wide Effort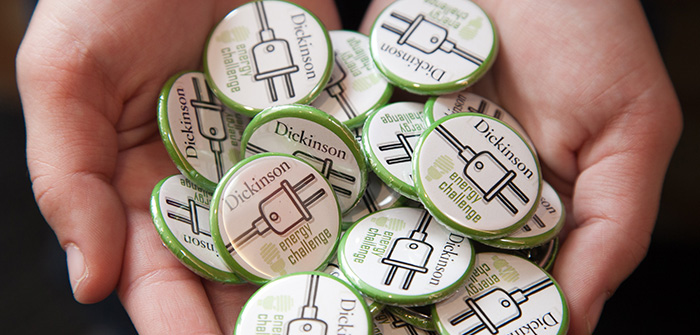 Dickinson is working to reduce its energy consumption and to transition away from fossil energy sources to renewable sources that are less harmful to the environment, the climate and human health. We are committed to reducing our emissions of greenhouse gases (GHG), which come overwhelmingly from our energy consumption. Our target is to reduce GHG emissions 25% from our 2008 level by 2020, and offset the other 75% to become climate neutral.
Dickinson's Energy and Water Management Plan: Energy Management has been an important operations focus at Dickinson College for decades. The college historically valued energy management as a financial sustainability strategy to reduce annual operating expenditures for utilities and apply the savings to sorely needed asset renewal projects.
Our low energy use per square foot comes from:
Energy Plant:
Dickinson's state-of-the-art low-pressure steam energy plant delivers steam and chilled water to two-thirds of the campus, a more efficient system for heating and cooling buildings than using individual boilers and condensers. The central energy plant boilers are dual-fuel, and can switch between heating oil and natural gas. Dickinson is also experimenting with burning viesel, filtered waste vegetable oil, a renewable energy source that produces zero net emissions of carbon dioxide. 



Temperature Setbacks: 

To reduce energy use while providing for comfort, centrally controlled thermostats are set at 68 degrees F during the heating season and 74 degrees F during the cooling season, instead of the more common settings of 70 and 72 degrees. Buildings are closely monitored and unoccupied spaces are kept at even lower temperatures in the heating season and higher temperatures in the cooling season. Stringent energy curtailment programs are implemented during breaks.



Electricity:
Dickinson's largest energy consumption is in the form of purchased electricity. In recent years, electricity use has averaged 18 million kWh. A variety of measures have been taken to lessen electricity consumed for lighting and other uses. To offset the greenhouse gas emissions associated with our electricity use, Dickinson purchases Renewable Energy Certificates (REC's).



Lighting:
Lighting accounts for a substantial portion of Dickinson's electricity use. Nearly all indoor lighting fixtures at Dickinson have been converted to fluorescent lamps, either compact fluorescent (CFL) or T-5 and T-8 fluorescent tubes, which are substantially more efficient than incandescent lamps. An even more efficient lighting technology, LED, is being used in new and renovated buildings, as well as for some outdoor fixtures. Natural lighting, motion sensors, and self-dimming lights are being integrated into new and rennovated buildings.

LUCID Energy Dashboard:
More that 23 campus buildings are using real-time energy monitoring systems to educate Dickinsonians about energy conservation and our work to become and maintain carbon neutrality. Check out our online energy dashboard online or on the touchscreen monitors on campus in the HUB and in Kaufman Hall.
Solar Energy:
Arrays of grid-tied solar photovoltaic (pv) panels with a combined capacity of 110 kW are installed at Kaufman Hall, Waidner-Spahr Library, Althouse Trellis, Treehouse, and the Dickinson College Organic Farm. The arrays at the farm provide electricity for irrigation pumps, the farmhouse and yurts, which house student farmers. The farm also has a solar-powered electric vehicle and uses solar thermal energy, backed-up with a biodiesel fueled boiler, for an innovative root heating system in its high-tunnel greenhouses. Students participated in the design and installation of each of the solar arrays.


Biodiesel and Biogas:
Students use waste vegetable oil from our dining hall to produce biodiesel, a renewable fuel, for use at our College Farm. We are also working to advance initiatives in anaerobic digestion (AD), a strategy included in the EPA's food recovery hierarchy that is preferable to landfilling/incineration because it reclaims valuable resources. Keeping food waste from landfills, such as by transforming it into fuel or fertilizer, can save money and reduce environmental impacts.
Energy Challenge:
Dickinson's Center for Sustainability Education leads campaigns to raise awareness of energy use and promote conservation. Major campaigns since 2012 have allowed Dickinson residence halls to compete for the greatest reductions in consumption using our Eco-Reps Program as an agent of facilitation.
Energy Star:
As older equipment is retired, Dickinson purchases only appliances and equipment that meet Energy Star standards of efficiency. These include motors and fans for air circulation, office equipment, classroom technology, and other equipment. In 2008, all washing machines in student residence halls were replaced with high-efficiency Energy Star front-load washers that substantially reduced electricity and water use.