Conway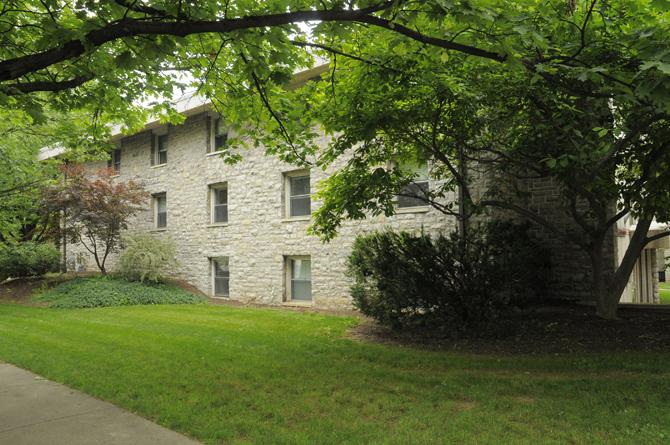 Constructed in the 1960's, Conway is now a mixed-class year residence hall. Each room is structured in the "S" shape and accommodates two, three, or four students. Conway is home to approximately 40 students and includes a ground floor lounge space, laundry area and kitchen facilities. Conway is located on the corner of High and Cherry Streets.
DIMENSIONS & PHOTOS
BUILDING INFORMATION
Walls: Cinderblock
Floors: Carpeted hallways; vinyl tile/sheet vinyl in bedrooms
Furniture: Each student will have a bunkable bed that can be adjusted (or flipped) for height, a dresser, a desk and desk chair, and a bookcase. Closets are built in and not moveable. Soft seating is available in building lounges.
A/C: Central
Kitchen Facilities: Common kitchen, including sink, refrigerator/freezer, & stove/oven.
Community Bathroom Information: Ground Floor (Two community baths: one gender inclusive, one female), First Floor (Two community baths: one gender inclusive, one female), Second Floor (Two community baths: one gender inclusive, one male)
Community Bathroom Cleaning: Bathrooms cleaned daily; Showers cleaned weekly.
Laundry Facilities: Located on the first and second floor
Style of Rooms: 2 single rooms, 20 double rooms
HISTORY
Conway Hall is named for Moncure Daniel Conway (March 17, 1832 - November 15, 1907) who was a clergyman, abolitionist, scholar, and author. He was best known for his outspoken opposition to slavery in the decade prior to and during the Civil War, his free thinking ministry to South Place Chapel in London, and his biography of Thomas Paine. In 1847, at the age of fifteen, Conway left home to enter Dickinson College and earned an M.A. degree two years later. While there he discovered the writings of Ralph Waldo Emerson and developed an interest in Transcendentalism.