Baird-McClintock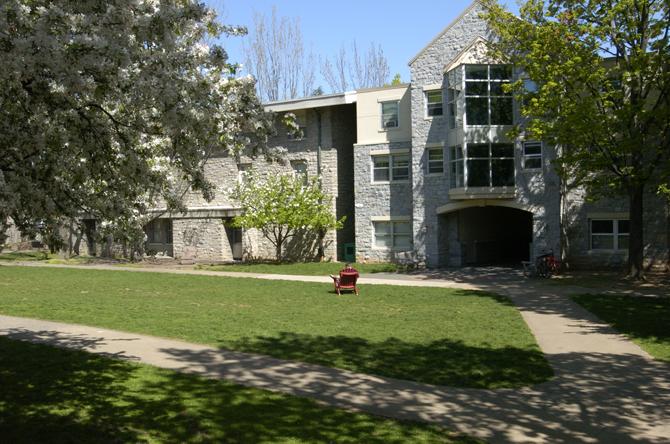 Constructed in the 1960's, Baird-McClintock today is a mixed-class year residence hall. BDMC contains rooms in the "S" shape and accommodates two, three, or four students. It is home to approximately 120 students and has various lounge spaces, a laundry area, and kitchen facilities. This building is located on the west side of campus between the HUB and the Kline Center.
DIMENSIONS & PHOTOS
Baird-McClintock Room Dimensions
Baird-McClintock 360 Room Tours
Baird-McClintock Suite Video Tours
BUILDING INFORMATION
Walls: Cinderblock or drywall; exposed stone in some ground floor suites
Floors: Carpeted hallways; vinyl tile/sheet vinyl in bedrooms
Furniture: Each student will have a bunkable bed that can be adjusted (or flipped) for height, a dresser, a desk, desk chair, and a bookcase. Closets are built in and not moveable. Soft seating is available in building lounges.
A/C: Central
Kitchen Facilities: Common kitchen, including sink, refrigerator/freezer, & stove/oven.
Community Bathroom Information: Second Floor (Two community baths: one female, one male), Third Floor (Two community baths: one female, one male)
Community Bathroom Cleaning: Bathrooms cleaned daily; Showers cleaned weekly (Traditional rooms)
Suite Bathroom Cleaning (1st Floor of Building): Bathrooms & showers cleaned twice a month
Laundry Facilities: Located on the third floor
Style of Rooms for Upperclass Students: 2 double rooms, 6 four person suites
HISTORY
Baird-McClintock is named for Named for John McClintock and Spencer Fullerton Baird. McClintock, an American theologian and educator, joined the Dickinson College faculty in Carlisle, Pennsylvania in 1836 as a professor of mathematics and later taught Greek and Latin. In 1847, the town of Carlisle charged him with inciting a riot over slavery. He was tried in the county court and acquitted. Though he resigned from the College, McClintock did not cut all ties with the College and served as a trustee from 1849 to 1859. He also maintained his intellectual career, publishing many educational volumes and texts, especially in classical and theological literature.
Spencer Fullerton Baird, American zoologist, was offered a teaching position at Dickinson College in 1845 as professor of natural history, and became popular among the students for his practice of taking the young men out into the field to study the natural world. He became chair of both the departments of natural history and chemistry in 1848. Throughout his time as professor, Baird continued to write on subjects of natural history. He quickly became a respected ornithologist, zoologist, and naturalist. Baird later became the Secretary of the Smithsonian Institution. He served as Director of the National Museum from its founding until his death, and he served as Secretary of the American Association for the Advancement of Sciences.