Armstrong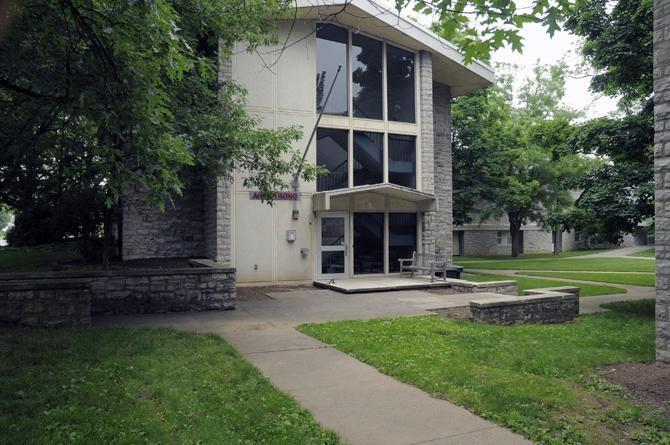 Constructed in the 1960's, Armstrong today is a first-year residence hall. Each room is in the "S" shape and accommodates two or three students. This building is home to approximately 40 students and also has lounge spaces, a laundry area and kitchen facilities. This building is located between the HUB and the Kline Center.
DIMENSIONS & PHOTOS
INTERIORS & FURNISHINGS
Walls: Cinderblock
Floors: Carpeted hallways; vinyl tile/sheet vinyl in bedrooms
Furniture: Each student will have a bunkable bed that can be adjusted (or flipped) for height, a dresser, a desk, desk chair, and a bookcase. Closets are built in and not moveable. Soft seating is available in building lounges.
A/C: Window units
Kitchen Facilities: Common kitchen, including sink, refrigerator/freezer, & stove/oven.
Cleaning: Bathrooms cleaned daily; Showers cleaned weekly.
HISTORY
Armstrong is one of ten buildings that made up Dickinson College's Fraternity Quadrangle. Armstrong Hall (Quad 8) was first used in September 1964 as the residence of the Phi Kappa Sigma fraternity. After the Phi Kappa Sigma fraternity moved out, the building continued to serve as a general residence hall. This building, one of the four Lower Quads, was later named for John Armstrong, one of the nine founding patentees of the Carlisle Grammar School and a founding trustee of Dickinson College in 1783.