Malcolm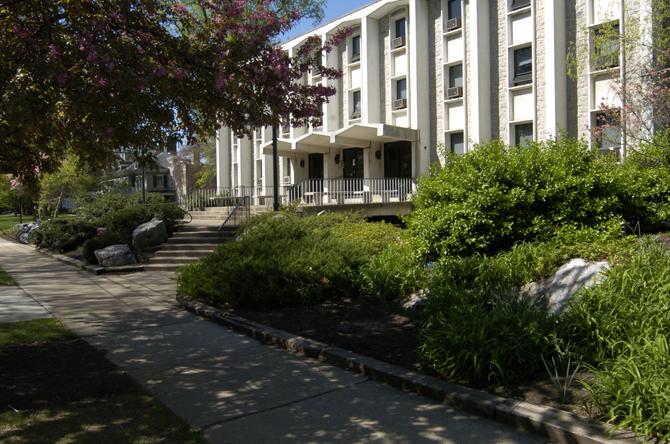 Home to about 90 students, Malcolm Hall is a mixed-class year residence hall that features suite-style living arrangements configured for four students. Each room has a common area space and two adjoining bedrooms with shared bathroom facilities on each floor. Laundry and lounge facilities are located in the building as well. Malcolm Hall is located directly across High Street from the Library.
DIMENSIONS & PHOTOS
Malcom Hall Suite & Apartment Videos
BUILDING INFORMATION
Walls: Cinderblock
Floors: Carpeting in hallways; carpeting in bedrooms
Furniture: Each student will have a bunkable bed that can be adjusted (or flipped) for height, a dresser, a desk and desk chair, and a bookcase. Soft seating is available in building lounges.
A/C: Window Units
Kitchen Facilities: Common kitchen, including sink, refrigerator/freezer, & stove/oven.
Community Bathroom Information: Ground Floor (One community bath: gender inclusive), First Floor (all baths gender inclusive), Second Floor (One community bath: male), Third Floor (One community bath: female)
Community Bathroom Cleaning: Bathrooms cleaned daily; Showers cleaned weekly.
Laundry Facilities: Located on ground and second floor
Style of Rooms: 12 single rooms, 2 double rooms, 13 four person suites
HISTORY
Built as a dormitory for men, Malcolm Hall was completed in September 1966 and dedicated on May 6, 1967. The building, situated on the former site of the Beta Theta Pi fraternity house at the southwest corner of High and Mooreland Streets, was named in honor of College President Gilbert Malcolm, class of 1915, who had served the college in various administrative capacities for four decades.