Davidson-Wilson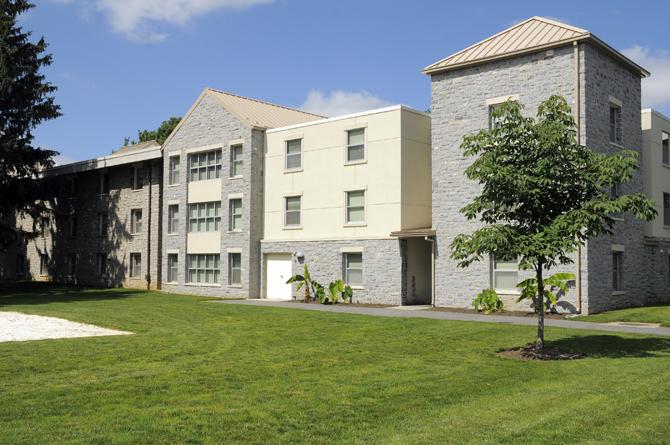 Constructed in the 1960's, Davidson-Wilson today is a mixed-class year residence hall that features suite style living on the ground floor and traditional "S" shaped rooms on the second and third floors. It houses approximately 120 students and also has various lounge spaces, laundry, and kitchen facilities. Davidson-Wilson is located across from the Upper Quads, between the HUB and the Kline Center.
Dimensions & Photos
Davidson-Wilson Room Dimensions
Davidson-Wilson 360 Room Tours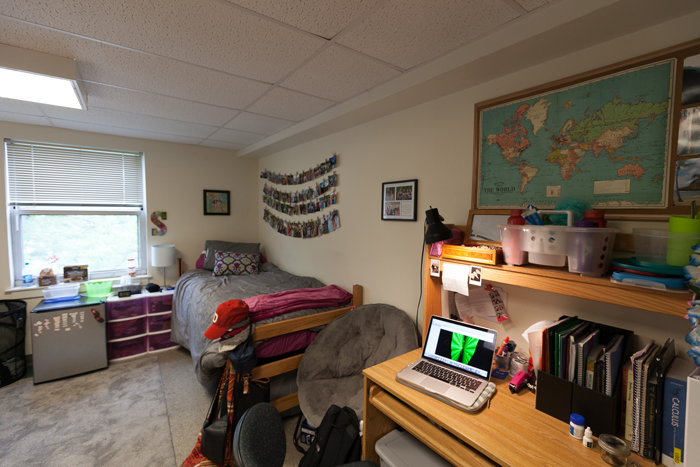 Building Information
Walls: Cinderblock or drywall; some exposed stone in some ground floor suites
Floors: Carpeted hallways; vinyl tile/sheet vinyl in bedrooms
Furniture: Each student will have a bunkable bed that can be adjusted (or flipped) for height, a dresser, a desk and desk chair, and a bookcase. Closets are built in and not moveable. Soft seating is available in building lounges.
A/C: Central
Kitchen Facilities: Common kitchen, including sink, refrigerator/freezer, & stove/oven.
Community Bathroom Information: Second Floor (Four community baths: two gender inclusive, one female, and one male), Third Floor (Four community baths: two gender inclusive, one female, and one male)
Community Bathroom Cleaning: Bathrooms cleaned daily; Showers cleaned weekly (Traditional rooms).
Suite Bathroom Cleaning: Bathrooms & showers cleaned weekly
Laundry Facilities: Located on the first floor
Style of Rooms for Upperclass Students: 1 six person suite, 3 eight person suites (Some of these spaces are utilized for Special Interest Housing)
Davidson-Wilson History
This residence hall is named for Robert Davidson, the elected Acting Principal following Charles Nisbet's death in 1804. He held this position until his resignation in 1809. He is considered the second president of Dickinson College, although he never officially held that title. It is also jointly named for James Wilson, who studied law under John Dickinson, for whom the college is named. He started a practice in Cumberland County and was well-regarded for it, so much so that he was elected a head of a correspondence committee in Carlisle. At the outbreak of war in May, 1775, he was even elected to the Continental Congress and signed the Declaration of Independence alongside Benjamin Rush.