Morgan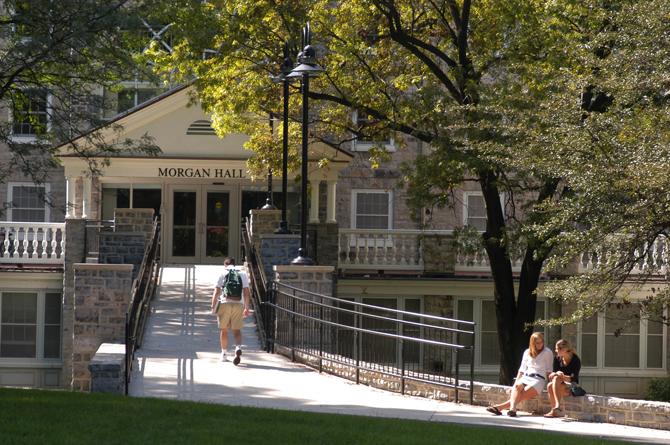 Morgan Hall is home to approximately 160 mixed-class year students. The building features suite-style configurations of two double rooms sharing a private bathroom, or one double and one single room sharing a private bathroom. Shared lounge spaces are on each floor and kitchen facilities are on the first floor. Laundry facilities are located on the first and third floors. Morgan is located on the south west corner of the Rush campus, across High Street from the Library.
DIMENSIONS & PHOTOS
Morgan Hall Suite & Apartment Videos
BUILDING INFORMATION
Walls: Cinderblock or drywall
Floors: Carpeted hallways; vinyl tile/sheet vinyl in bedrooms
Furniture: Each student will have a bunkable bed that can be adjusted (or flipped) for height, a dresser, a desk and desk chair, and a bookcase. Closets are built in and not moveable. Soft seating is available in building lounges
A/C: Central
Kitchen Facilities: Two common kitchens, including sink, refrigerator/freezer, & stove/oven
Suite Bathroom Cleaning: Self-cleaning; Bathrooms cleaned by Housekeeping at Fall Pause, Winter Break, & Spring Break (Suite-style rooms)
Traditional Single Room Bathroom Cleaning: Bathrooms cleaned daily; Showers cleaned weekly (traditional single rooms)
Laundry Facilities: Located on first and third floors
Style of Rooms: 12 single rooms, 1 double room, 13 three person suites, 25 four person suites
HISTORY
Morgan Hall was dedicated on November 12, 1955 as the first single-purpose residence hall built for men in the history of the College. It was dedicated to the memory of James Henry Morgan (1857-1939), college alumnus, faculty member, dean, and president. In 1965, with the opening of the Holland Union Building, the dining hall and kitchens were closed and converted to student living space. Major renovations were completed during the summer of 2002 and provided the building with a re-orientated main entrance, now facing the Mooreland Campus, and an atrium in addition to enlarged and modernized suites.