Witwer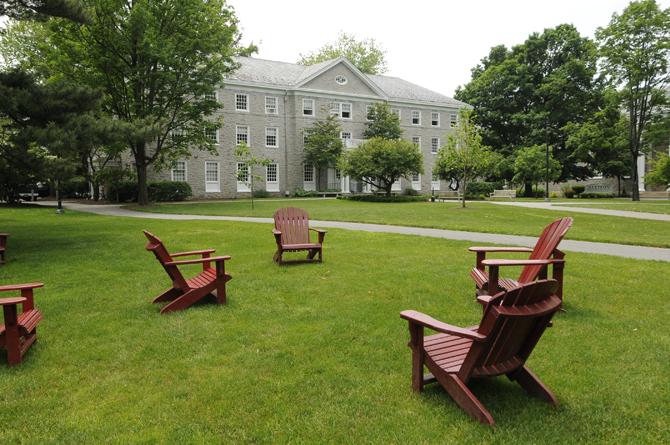 Witwer Hall, the final building to be constructed on Dickinson College's Benjamin Rush campus, was dedicated on October 14, 1967. The hall, which was first used as a residence hall for women, was designed by Elmer H. Adams. The name of the building recognizes the generosity of Mr. and Mrs. Harold R. Witwer and Mr. and Mrs. Samuel W. Witwer, and of the endowed support of the Witwer Family Memorial Fund.
Witwer Hall is home to about 90 students, and is a mixed-class year residence hall that features suite-style living arrangements configured for four students. Each room has a common area space and two adjoining bedrooms with shared bathroom facilities on each floor. Laundry and lounge facilities are located in the building as well. Witwer Hall is located on one corner of the Rush campus, adjacent to Allison Hall.
Interior & Furnishings
Walls: Cinderblock
Floors: Carpet in hallways; carpet in suites
Furniture: Each student will have a bunkable bed that can be adjusted (or flipped) for height, a dresser, a desk and desk chair, and a bookcase. Closets are built in and not moveable. Soft seating is available in building lounges.
A/C: Window units
Kitchen Facilities: Common kitchen, including sink, refrigerator/freezer, & stove/oven.
Cleaning: Bathrooms cleaned daily; Showers cleaned weekly.