Committed to Sustainable Operations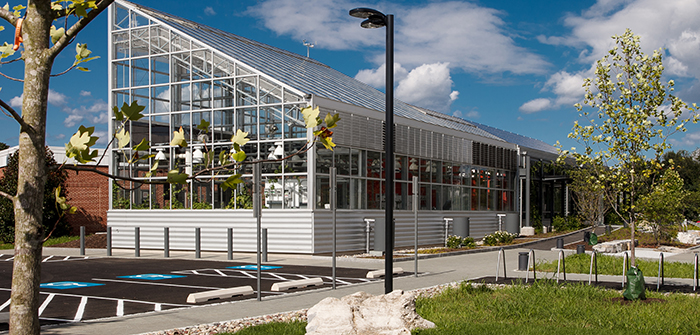 Dickinson has committed to constructing new buildings and major building renovations to a minimum standard of LEED Silver (Leadership in Energy and Environmental Design). Since adopting this policy, all completed projects have earned LEED Gold certification from the U.S. Green Building Council.
Our LEED Gold Buildings Include:
These buildings incorporate resource saving technologies such as energy wheels that effienctly exchange heat between indoor and outdoor air, high efficiency HVAC systems, sensors to optimize air flow, temperature and lighting, passive solar designs, natural lighting, high efficiency fluorescent and LED lighting, waterless urinals, and grey water systems. Furniture and fixtures are made with sustainable materials with low volatile organic compounds (VOC).

Our commitment is demonstrated in Kaufman Hall, which was a factory that produced crystals for radio and other electronic equipment. Dickinson acquired this brownfield site, remediated its environmental hazards, and renovated the building to be the home of Environmental Studies & Science, Earth Sciences, Psychology, ALLARM and the Center for Sustainability Education (CSE). Ongoing renovations are integrating natural lighting, light-emitting diodes (LED lighting), energy wheels, solar photovoltaic, and a research greenhouse.
Sustainable Grounds
Dickinson makes extensive use of native plants in its landscaping of the 200-acre main campus to limit water demand, provide habitat and food for wildlife, and avoid introduction of invasive species.
Grounds and Landscape Management Policies and Practices
Our practices include:
Integrated pest management
Biological controls
Natural meadows
Edible landscapes
Rain-gardens
Bioswales