Dickinsonians Grow Food on Our Organic College Farm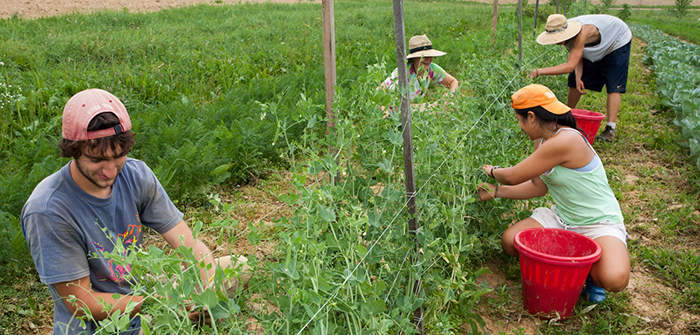 Dickinson is aggressively working to accurately calculate what percentage of the food served in Dickinson's Dining Services Program is local and community-based, certified-organic, fair-trade, humane and ecologically sound. A portion of our local food is grown by our students at the 50-acre Dickinson College Organic Farm.

Vegetarian options are available at all meals in all dining venues. Vegan and Kosher meals are served at the KOVE in the dining hall. Organic produce and grass-fed meats from the Dickinson Farm and other local vendors are featured at several special events during the year.


Our farm serves as a focal point of the college that promotes critical thinking about where, how and by whom our food is grown, how it is processed and distributed, and what are the environmental, social, economic and health consequences of our food system and individual choices. The farm offers a rich variety of programs to learn about sustainable agriculture.

 Advanced organic farming methods -soil enhancement with composted food waste from the college dining hall, integration of livestock, and creation and protection of natural habitat- are significant contributors to growing healthy food for the campus and community, while assisting in the building of healthy soils, protecting local waterways, and supporting native pollinators, insect predators, bluebirds and other wildlife.