Fall 2016 Visiting Artists
Every year, acclaimed arts professionals come to Dickinson to present their work and interact with students in small groups, in and out of the classroom. Meet the distinguished artists who will visit Dickinson during the fall 2016 semester.
Amernet String Quartet

Lauded by The New York Times for their "intelligence" and "immensely satisfying" performances, the Amernet String Quartet was formed in 1991 by Julliard School students, and has since performed in prestigious venues in the Americas, Asia, Europe and the Middle East. The group won the gold medal at the Tokyo International Music Competition and was the first prizewinner of the Banff International String Quartet Competition.
Amernet returns to Dickinson this October after serving an 2014 residency that included a public performance and workshops with student composers. The accomplished musicians will continue their work with Dickinson students and will present an open rehearsal and an evening of music featuring a work by Professor of Music Robert Pound.
Michael Yoder, visual artist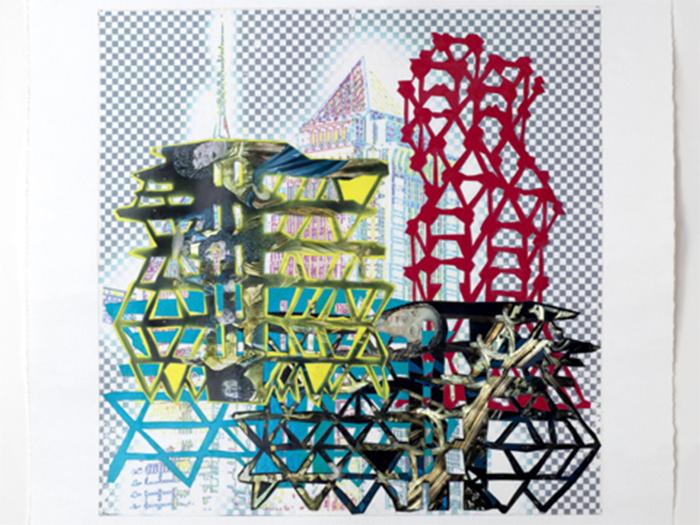 Philadelphia-based artist Michael Yoder will exhibit paintings and works on paper from his ongoing investigation of Louis Kahn's unrealized vision for Center City Philadelphia, Oct. 4-29, Goodyear Gallery. Yoder will be available to speak about his work during an opening reception for the exhibition, Oct. 4, 5:30 p.m., and will also meet with students in Dickinson's studio-art program.
Bread and Puppet, puppeteers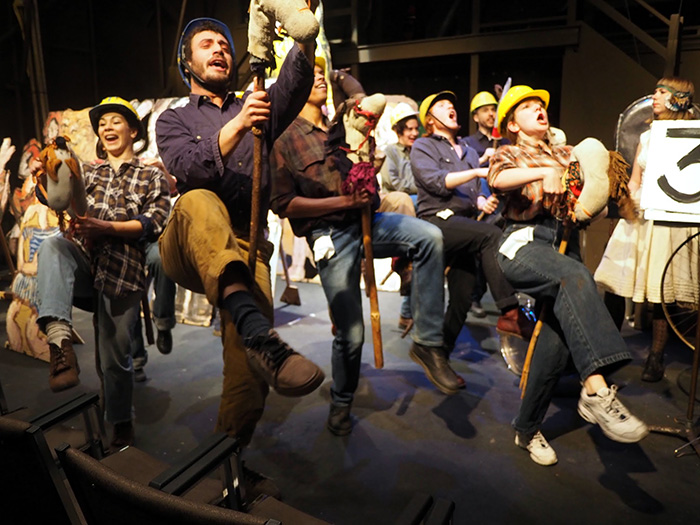 Born on New York's Lower East Side and now housed on a Vermont farm, the Bread and Puppet theatre company is an Off-Off Broadway classic and "a refreshing reminder of the vitality and power of street theater … part carnival, part protest, all pageant" that expresses "political outrage and satire, sometimes coarse and raw." (The New York Times) During its 50-plus years, it's become well-known for large puppets with outsized papier-mâché heads and spirited performances. These include scripted theatrical pieces as well as pageants, including memorable block-long protest processions, with hundreds of participants, during the Vietnam War.
Bread and Puppet visits Dickinson for a two-day residency that includes classroom visits, a puppetry workshop, an on-campus parade and a performance of a political satire, staged at the College Farm barn in nearby Boiling Springs. Like all Bread and Puppet productions, audience members are greeted by the Bread and Puppet band, and are treated to post-show home-baked bread with aioli.
Learn more
Simon Morrison, music historian
Simon Morrison visits Dickinson through the Arts Award program; he will present a lecture on the works of Sergei Prokofiev on Friday, Nov. 11, 7 p.m.
Morrison is an expert in 20th-century Russian, Soviet, and French music and a professor of music at Princeton University. His biography of Serge Prokofiev's first wife, Lina and Serge: The Love and Wars of Lina Prokofiev (Houghton, 2013), garnered glowing reviews in the New Yorker, The Guardian, The Boston Globe, Daily Beast and The Wall Street Journal and was adapted into a "Book of the Week" production for BBC radio/BBC World News Television. He also is author of Russian Opera and the Symbolist Movement (California, 2002) and The People's Artist: Prokofiev's Soviet Years (Oxford, 2009) as well as editor of Prokofiev and His World (Princeton, 2008) and, with Klara Moricz, Funeral Games: In Honor of Arthur Vincent Lourié (Oxford, 2014). His latest book, Bolshoi Confidential: Secrets of the Russian Ballet from the Rule of the Tsars to Today, is slated for publication in fall 2016.
As president of the Prokofiev Foundation, Morrison edits the foundation's journal, Three Oranges. His feature articles and opinion pieces have appeared in The New York Times, New York Review of Books, Threepenny Review, London Review of Books, and Times Literary Supplement, and his articles and reviews have appeared in such journals as the Journal of the American Musicological Society, 19th-Century Music, Cambridge Opera Journal, Journal of Musicology, Music & Letters, and Slavic Review.
Morrison additionally has overseen and co-produced several stage productions, and he restored the scenario and score of the original version of Prokofiev's Romeo and Juliet for the Mark Morris Dance Group.
He is the Alfred Einstein Award from the American Musicological Society (for outstanding musicological article), an American Council of Learned Societies Fellowship, a Phi Beta Kappa Society Teaching Award and a Guggenheim Fellowship.
Learn more
Barry Snyder, musician
Barry Snyder is a pianist and professor of piano who has taught at his alma mater, Eastman School of Music, since 1970. He will present the Arts Award recital on Sunday, Nov. 12, 7 p.m.
Snyder burst onto the international music scene in 1966, when he seized three major prizes at the Van Cliburn International Competition (silver medal, Pan American Union award and chamber music prize). In the five decades since, he's presented concerts around the world, both as soloist and as member of the Eastman Trio (1976-82) and Meadowmount Trio (1989-90).
Snyder has soloed with the Detroit, Houston, Atlanta, National, Montreal, Singapore, Krakow Radio/TV, Nagoya and Japan Philharmonic Orchestras, and has performed in festivals in Seattle, Aspen, Schwetzingen (Germany), Takefu (Japan), Vienna, Bechyne (Czech Republic), and Shenyang (China). His world premieres include works by Syd Hodkinson, Verne Reynolds, Toshio Hosokawa, David Liptak, Carter Pann, Alec Wilder and John LaMontaine. In addition to the Van Cliburn prizes, Snyder is the 1987 Mu Phi Epsilon Musician of the Year and recipient of the Diapason D'or for recordings of the complete cello and piano works by Fauré with Steven Doane.
Snyder also is a noted educator, having given master classes in Japan, Korea, Thailand, Indonesia, Taiwan, China, Australia, Europe, Poland, Russia and South America. Listed in the book The Most Wanted Piano Teachers in the United States, he is the recipient for Eastman's Edward Peck Curtis Award for Teaching Excellence (1975).
Learn More
Richard Move and Ben Munisteri, choreographers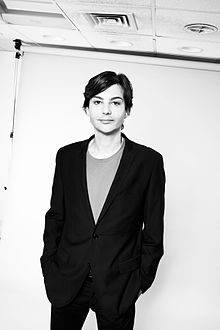 Richard Move. Photo by Philip Habib.
Students from Dickinson's Dance Theatre Group (DTG) present works by New York Choreographers Richard Move and Ben Munisteri as part of their Nov. 20 dance recital. The choreographers will work with students as they prepare for opening night.
Best known for his dances as Martha Graham and his work as founder/artistic director of Move-It Productions and the MoveOpolis! company, Move is a TEDGlobal Oxford Fellow and the recipient of two Bessie awards (New York Dance and Performance).
He was named a "Best of 2011" artist by ARTFORUM International and by Time Out New York and was named one of "25 to Watch" by Dance Magazine and The New York Times.
Move returns to campus to work with students after serving a dance residency in July, the first choreographer to take part in this new dance department initiative. In exchange for his two-week stay in The Site, a professional-grade dance studio with attached living quarters for students interested in studying dance, he provided a work for students to perform in the fall.
Dubbed "an established choreographer with a reputation for formal skill and the ability to create pieces full of life and color" (The New York Times), Munisteri is the Mellon Foundation Choreographer-in-Residence for Lafayette College's Choreographers on Campus initiative. His company, Ben Munisteri Dance Projects, has toured the U.S. and internationally.
Munisteri has received awards and grants from the National Endowment for the Arts, the New York Foundation for the Arts, the MidAtlantic Arts Foundation, the Jerome Foundation, the National Performance Network and the National Dance Project, and he's held teaching positions at Hofstra University, Adelphi University, Eugene Lang College The New School for Liberal Arts and the University of South Florida.
Learn More
John Patrick Shanley: playwright, screenwriter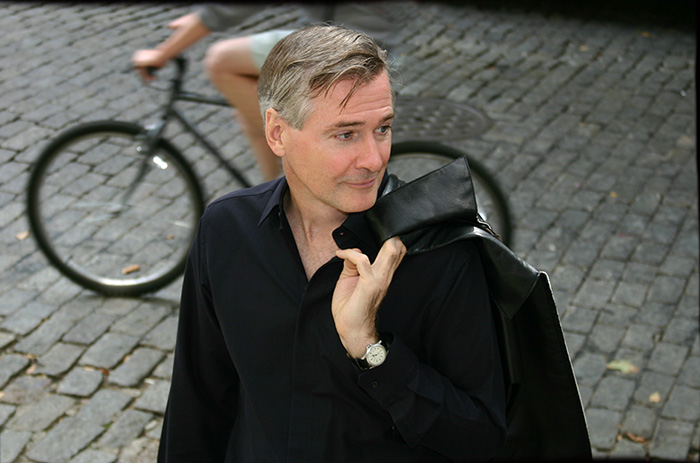 Photo by Monique Carboni.
One of America's foremost playwrights, John Patrick Shanley, comes to campus as the 2016-17 Stellfox Distinguished Writer. He will present a lecture on Nov. 6 and informal conversation/Q&A on Nov. 7.
The youngest of five children, Shanley grew up in the Bronx, N.Y., the son of an immigrant meatpacker, and attended Catholic schools. After launching a career as an off-Broadway playwright, he went on to create his best-known work, "Doubt," a 2005 Broadway production inspired by a relative's experience with a priest who was convicted of child molestation. The play won four Tony awards, a Drama Desk award and the Pulitzer Prize.
Shanley also is a screenwriter and director of the 2008 film adaptation of Doubt, starring Meryl Streep and Philip Seymour Hoffman.
Shanley's other screenplays include the 1987 film Moonstruck (Cher, Nicholas Cage), which won three Academy Awards, including best screenplay. Recent works, including "Outside Mullingar" and "The Prodigal Son," also have received critical acclaim.
Learn More
Past visiting artists
Spring 2016
Fall 2015: Amy Boone-McCreesh, Daniel Finch and Brenton Good, Singer Pur, Janie Cole, Mohammed Fairouz, Shani Collins-Achille and Katie Roy '15, Adaskin String Trio
Spring 2015: Michael Wille, Feng Weina, Holland Cotter, Michael Clayville and Relâche
Fall 2014: Peter Minkler, Amernet String Quartet and Matthew Bengtson, Lorrie Moore, Sarah Cahill, John Sanborn and Relâche
Spring 2014: Bill Bowers, Judith Schaechter, JACK Quartet and Paul Muldoon