The Wellness Center offers counseling and psychiatric services to all current Dickinson students regardless of insurance. Services include, but are not limited to individual and group therapy, crisis intervention, alcohol and drug counseling, psychiatric medication management, consultation, prevention programming and educational workshops.
Open Hours (For urgent and emergent needs)
Monday - Friday
11 a.m. - noon
2 p.m. - 3 p.m.
(No appointment needed)
Our same-day crisis services are designed to assist students who are confronting life-threatening circumstances, current or recent traumatic crises, and serious mental illness. A counselor is available to meet with students in crisis when not being seen immediately could lead to serious consequences or seriously aggravate their existing condition. The reason it is limited to these circumstances is that another student's counseling visit may need to be interrupted to provide you with crisis services. Students can also utilize the My Student Support Program (My SSP) 24/7 by downloading the app or visiting https://myssp.app/ca/home
Virtual-Based Services
My SSP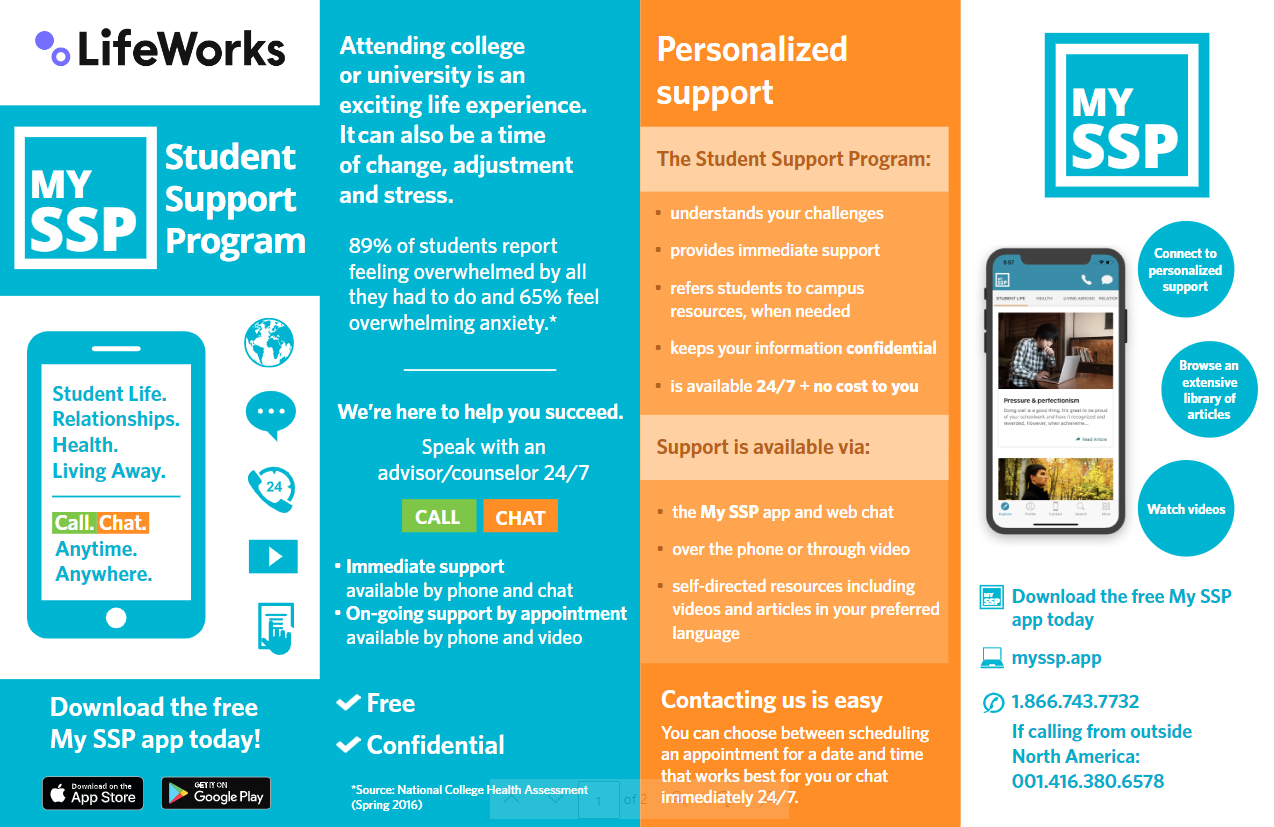 APPOINTMENT-BASED SERVICES
If you are interested in getting started, please come into the Wellness Center (1st floor) during our business hours to schedule an appointment.
Monday, Wednesday, Thursday
8:00 a.m. - 4:30 p.m.
Tuesday
9:00 a.m. - 4:30 p.m.
Friday
8:00 a.m. - 4:30 p.m.
Initial Consultation
Students interested in counseling services first meet with a counselor for an individualized consultation appointment. During the consultation, counselors ask students questions about their reasons for seeking assistance, their history, and their goals for counseling. Counselors then discuss the options for treatment with students and a plan is formed. Treatment options may include services at the Wellness Center, referrals to other campus resources, or referrals to providers in the community if the kind of services needed by the student are not offered on campus.
Individual Therapy
The Wellness Center offers short-term individual psychotherapy to Dickinson students. Students often seek assistance for a variety of concerns, including but not limited to depression, anxiety, relationship problems, disordered eating, adjustment to college, and sexual assault. The frequency of sessions and length of treatment varies for each student, but is closely tied to the goals for treatment. Most students receiving individual counseling are seen every other week; however, arrangements to be seen more or less frequently can sometimes be made.
Psychiatric Services
The Wellness Center offers psychiatric services to all Dickinson students during the fall and spring semesters for those currently on or considering starting psychiatric medications. To schedule an appointment with the psychiatrist, students must first see a counselor for an initial screening and be in regular therapy or case management sessions with a counselor at the Wellness Center. The counselor will refer the student for psychiatric services.
Substance Use Services
The Wellness Center offers substance use evaluations, group sessions, and individual counseling sessions for students interested in identifying the role that substances are currently playing in their life or why their use of a particular substance has recently increased. Additionally, students are also seen for mandated substance use assessments as part of conduct sanctions received through the College or following hospitalizations for alcohol intoxication.
Click here for more information
Group Counseling Options
The Wellness Center offers a variety of group counseling options. These include wellness workshops, support groups, structured treatment groups, and process-oriented treatment groups. Groups change each semester in response to student needs and expressed interests. Current offerings are listed below.
Fall 2022 Counseling and Psychiatric Services Groups
COMING SOON!
Spring 2022 Counseling and Psychiatric Services Groups
Clinical Groups
Clinical Groups Require a Clinical Screening to Determine Appropriateness
Please call the Wellness Center to schedule a group screening if you are interested in joining a Clinical Group
ACOA Group: A Group for Students Impacted by the Substance Abuse of Others
Mondays 12:30-1:30 PM
This group is for individuals that have been negatively impacted by growing up in an alcoholic and/or drug addicted family environment. Topics often discussed include understanding the impact of these family patterns, learning how to recognize and develop healthy relationships, and addressing negative beliefs about oneself.
Theo Nugin and Missy Taylor
Clinical, Closed (in-person)
---
Interpersonal Process Group
Tuesdays 12-1:15 PM
This group provides students with a safe environment where they can increase their understanding of themselves, explore how they relate to others, and try new ways to interact with peers.
Megan Nesbitt & Rebecca Shoemaker
Clinical, closed (in-person)
---
DBT-Informed Skills Group:
Wednesday 5:00-6:15 PM
Thursdays 12:00-1:15 PM
This is a structured, time limited psychoeducational group that will teach a variety of skills from Dialectical Behavior Therapy (DBT). There are four main skills the group will cover: mindfulness, emotional regulation, distress tolerance, and interpersonal effectiveness. DBT skills were developed to help people who feel overwhelmed by their emotions and/or have a history of difficult relationships. The goal of this group is to improve quality of relationships and to replace destructive behaviors with more effective coping skills.
Todd Drazien & Missy Taylor
Clinical, Closed (in-person)
---
Thursdays with Theo (Beginner's treatment group)
Thursdays (5-6pm)
This group is a beginning treatment journey process group. Thursdays with Theo will address Life changes, Mild depression and Mild Anxiety emotions. This group seeks to explain depression and anxiety in a practical sense and explain how families and friends can create an environment of recovery. Most of all this group seeks to help with understanding strategies to deal with personal disputes, life changes, social isolation and loneliness.
Theo Nugin
Clinical, Closed (in-person)
---
Building Balance: Skills for Managing Mood and Improving Well-being
Mondays (3-4 pm): starting 3/21 (3/21, 3/28, 4/4, 4/11)
Fridays (12:30-1:30), starting 3/25 (3/25, 4/1, 4/8, 4/15)
Fridays (3-4 pm): starting 4/1 (4/1, 4/8, 4/15, 4/22)
This is a 4-week skills-based group for students who want to improve their ability to manage their mood, increase their ability to tolerate distress, learn ways to cope with stressors, improve their self-care, and learn skills to improve interpersonal relationships. Each session builds on the skills learned the week before, so attendance at all 4 sessions is beneficial. The 4-week course is packed with empirically supported ways to improve one's overall well-being and manage distress. Registration is required and participation in each of the 4 sessions is requested. Participants are invited to share within the group at a level that is comfortable to them, however, the group is psychoeducational/skills instruction format, rather than process oriented.
Nicole Lavertue
Clinical, Closed, Registration and screening required.
In person, Wellness Center, 2nd floor Conference Room
---
Non-Clinical Groups
Managing Stress Workshop
This is a 50-minute drop in group, discussing signs and symptoms of stress, as well as how stress impacts our lives and our bodies. Much of the session is spent learning many different skills or strategies that are proven to reduce stress and improve overall functioning.
Location: Wellness Center Conference Room, 2nd Floor:
Monday 5/2 at 3:00; Friday 5/6 at 12:30 and again at 3:00
Nicole Lavertue
Drop in, In person, Sign up via EngageD encouraged but not required.
---
Upgrade Your Well-Being
This is a 50-minute drop in group which focuses on improving your overall well-being. The goal of the workshop is to increase your coping strengths and add tools to your toolbox, so you can enhance your overall Well-Being.
Location: Wellness Center Conference Room, 2nd Floor:
Monday 4/11 at 12:30
Nicole Lavertue
Drop-In, In person, Sign up via EngageD encouraged but not required.
---
Tuesdays Topic
Tuesdays (12-1pm)
Tuesdays Topic is a workshop series that focuses on a variety of topics all surrounding/focused on understanding traumatic events how we respond to them, and the path to recovery from these experiences. Examples of topics include...Safe and Inclusive spaces, healthy relationships, and The Neurobiology of trauma.
Theo Nugin
Non-clinical workshop sign up through Engaged but not required. Drop in
---
Deep Breathing and Relaxation Workshop
Wednesday 4:30-5:00 PM
Feeling anxious in these unpredictable times and struggling to practice focus and calm? Has it been increasingly difficult to interrupt worry thoughts and be present? This group will meet weekly to engage in body-mind techniques for lowering anxiety and combatting stress. Each meeting will begin with deep breathing and then focus on a relaxation exercise, a guided visualization, or an awareness technique. Beginners and drop ins welcome. Meetings are weekly when classes are in session. Students, staff, faculty, all members of the Dickinson Community welcome.
Megan Nesbitt
Non-clinical, drop-in (virtual)
Meetings will be virtual.
Join Zoom Meeting here https://us04web.zoom.us/j/72095146417?pwd=N3RQYkFRMW81QVpVUGMvNzBSWEd3UT09
Meeting ID: 720 9514 6417
Passcode: 0xtAsp
---
Alleviating Anxiety and Panic Workshop
This is a 50-minute drop-in group which covers the signs and symptoms of anxiety, discusses the difference between worry and anxiety, impact of anxiety and panic. The session is full of many different evidence-based ways to alleviate anxiety, as well as tips for overcoming Panic Attacks.
Location: Wellness Center Conference Room, 2nd Floor:
Monday 3/28 at 12:30; Monday 4/25 at 12:30 and again at 3:00: Friday 4/29 at 12:30 and again at 3:00
Nicole Lavertue
Drop-in, In person, Sign up via EngageD encouraged but not required
---
Reducing Depression and Sadness
This is a 50-min drop in group which covers the signs and symptoms of depression, impact of depression on oneself and in relationships. The majority of the time in session is devoted to learning skills, backed by research, to help reduce depression or sadness, as well as improve mood, interpersonal connection, and promote healthier thinking.
Location: Wellness Center Conference Room, 2nd Floor:
Monday 4/18 at 3:00; Friday 4/22 at 12:30
Nicole Lavertue
Drop-in, In person, Sign up via EngageD encouraged but not required.
---
Setting Healthy Boundaries: A Guide to Understanding and Holding Healthier Boundaries
Fridays 4-5 pm starting 2/11/22
Do you tend to have a hard time saying "no" to friends, even when it puts you in an unhealthy situation? Are you often tired, mentally drained, or just physically worn out because you put the needs of others first? If you answered yes to any of these questions, it might be time to learn some skills to help set and maintain healthier boundaries in relationships. The Wellness Center is excited to offer students an online workshop series this semester called- Setting Healthy Boundaries: A Guide to Understanding and Holding Healthier Boundaries.
Presented by Dr. Rebecca Shoemaker, this workshop series is designed to help students explore what makes setting boundaries with others difficult, as well as learn and practice a range of skills to help stay mentally and physically healthy in relationships. Each week, the workshop will tackle a different topic, provide students with exercises they can practice on their own, and create space to ask questions about how to effectively communicate their needs, values, and yes, boundaries, with others.
*Students may turn their cameras off to facilitate greater comfort with the material being discussed. While minimal personal disclosure is helpful for discussion, this is NOT a confidential workshop, so please be mindful of others when choosing what information to share.
Rebecca S.
Non-clinical workshop; Open
Online via Teams (sign up through EngageD preferred, but not required).