Wellness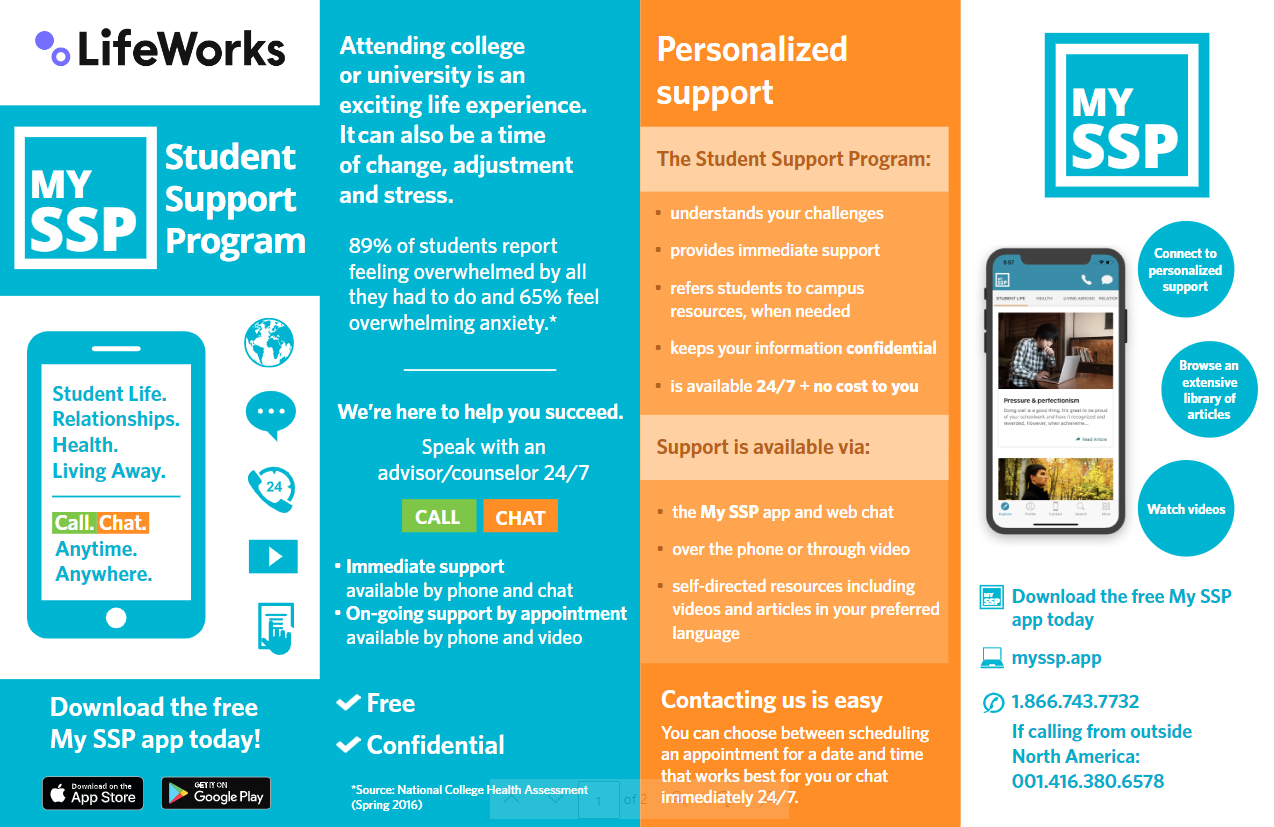 Therapy Assistance Online (TAO):
TAO includes over 150 brief, effective, educational sessions covering over 50 common topics and skills related to mental health, wellness, and substance use issues. TAO Includes interactive sessions, mindfulness exercises and practice tools all aimed at helping you achieve your goals.
How to Register for TAO?
1.In your browser window, navigate to https://us.taoconnect.org/register
2.Enter First Name, Last Name, and your school email address
3.Create a Password and Confirm your Password
4.Leave the 'Enrollment Key' field blank.
5.Click Sign Me Up
6.Check your email. You will be sent a Welcome to TAO email with a confirmation link which you must click on to sign in.
Wellness Center Podcasts and Workshops:
Dr. Megan Nesbitt
The Daily Breath podcast will provide deep breathing exercises, relaxation, guided visualization, and mindfulness activities for supporting calm, promoting mental balance, and managing anxiety. Several episodes will be only a few minutes long, focusing on a single technique and able to fit easily in to your day. Other episodes will be longer workshops, for when you have more time.
Click here: https://anchor.fm/megan-n1 to be taken to the podcast (scroll down to see the episodes) or look for The Daily Breath, with Dr. Megan N wherever you find your podcasts.
SELF-CARE AND COPING SKILLS
Self-Care and Coping Skills Resources (PDF with dozens of links)
Wellness Center Staff Convey Their Own Coping Skills (video)
Self-Care and Coping Skills (Video of Dr. Rebecca Shoemaker - Staff Psychologist)
Creating Wellness: Scrap Fabric Twine (Video of Rebecca Anderson, LCSW, Staff Counselor)
Social, Emotional, and Mental Wellness Tips (from SOAR - Strategies, Organization, and Achievement Resources)
PAST ONLINE WORKSHOPS
Virtual Mental Health Awareness Week Events
Mental Health Awareness Week 2020 (PPT) - Facts, Figures, and Action Points
Self-Care through Mindfulness and Yoga 1 (Video of Julie Vastine, Director - ALLARM)