Clara Roth, Environmental Studies and Studio Art Majors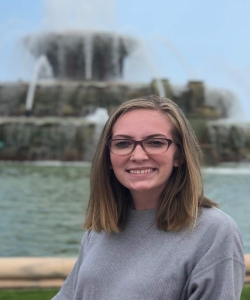 Clara Roth is an environmental science and studio art double major. Throughout her college career Clara has discovered a love for field research, as well as civic engagement, both of which she intends to incorporate in a future career.
While at Dickinson, Clara has worked as the Hive Intern and a peer sustainability educator with the Center for Sustainability Education (CSE). She has also served on the President's Commission on Environmental Sustainability, the Environmental Studies Department Majors Committee, and the Dickinson Sustainable Investment Group. Clara's pursuit of civic engagement during Dickinson has included completing and coordinating the Community Engagement Fellows five-semester program and receiving the Newman Civic Fellowship.
Her explorations of environmental science and sustainability have also extended beyond Dickinson's campus. In the summer of 2019 Clara participated in research by Dr. Kristin Strock in Iceland. Clara had the opportunity to study abroad in the Turks and Caicos Islands in the spring of 2020 where she studied marine resource management. Following the semester's conclusion, she has continued research with Dr. Neil Oculi on Social Vulnerability in Small Island Developing States.
Clara is eager to learn from her peers and mentors as a Baird Fellow, as well as prepare for a career in sustainability.