A Faculty Study Group in Sustainability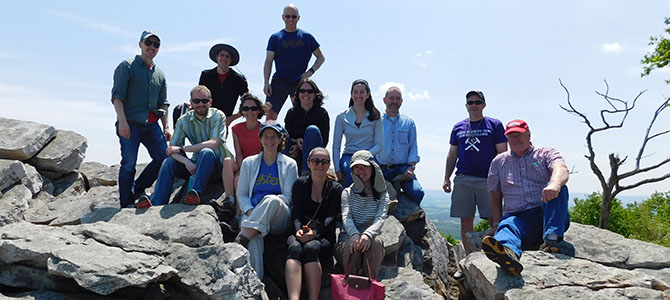 The Valley & Ridge Study Group brings together faculty members from all academic divisions to work collaboratively in introducing and enhancing sustainability content in their teaching. Traditionally, participants attend a 2-1/2 day workshop in May, work on their course(s) over the summer, reconvene for a day in August, and participate in other activities over the year. The program emphasizes connecting the subject areas of the participants with sustainability using active learning pedagogies such as place-based & experiential education.
The Valley and Ridge Project at Dickinson takes its name from the physiographic region within which the College lies, which is marked by the Allegheny Plateau to the north and west, South Mountain to the south and east, and Cumberland Valley in-between. The project got its impetus from Dickinson's participation in the Shared Futures and Sustainability Initiatives of the American Association of Colleges and Universities (AAC&U). The Valley and Ridge Project is modeled after the Piedmont Project of Emory University and the Ponderosa Project of Northern Arizona University.
Faculty Engagement:
Examine the concept of sustainability, its varied interpretations, and connections with different fields of study;
Create new or modify existing courses to integrate sustainability across the curriculum;
Use the local environment and community to teach a sense of place;
Share in Dickinson's service learning, community-based research & living laboratory programs;
Learn how to use the campus and its sustainability programs as teaching resources;
Explore transdisciplinary connections to other faculty and programs; and
Share resources for developing and enhancing sustainability content in courses.
The Center for Sustainability Education recruits for Valley & Ridge each spring, and welcomes faculty projects from across the curriculum. Contact sustainability@dickinson.edu for more information.