Current Residents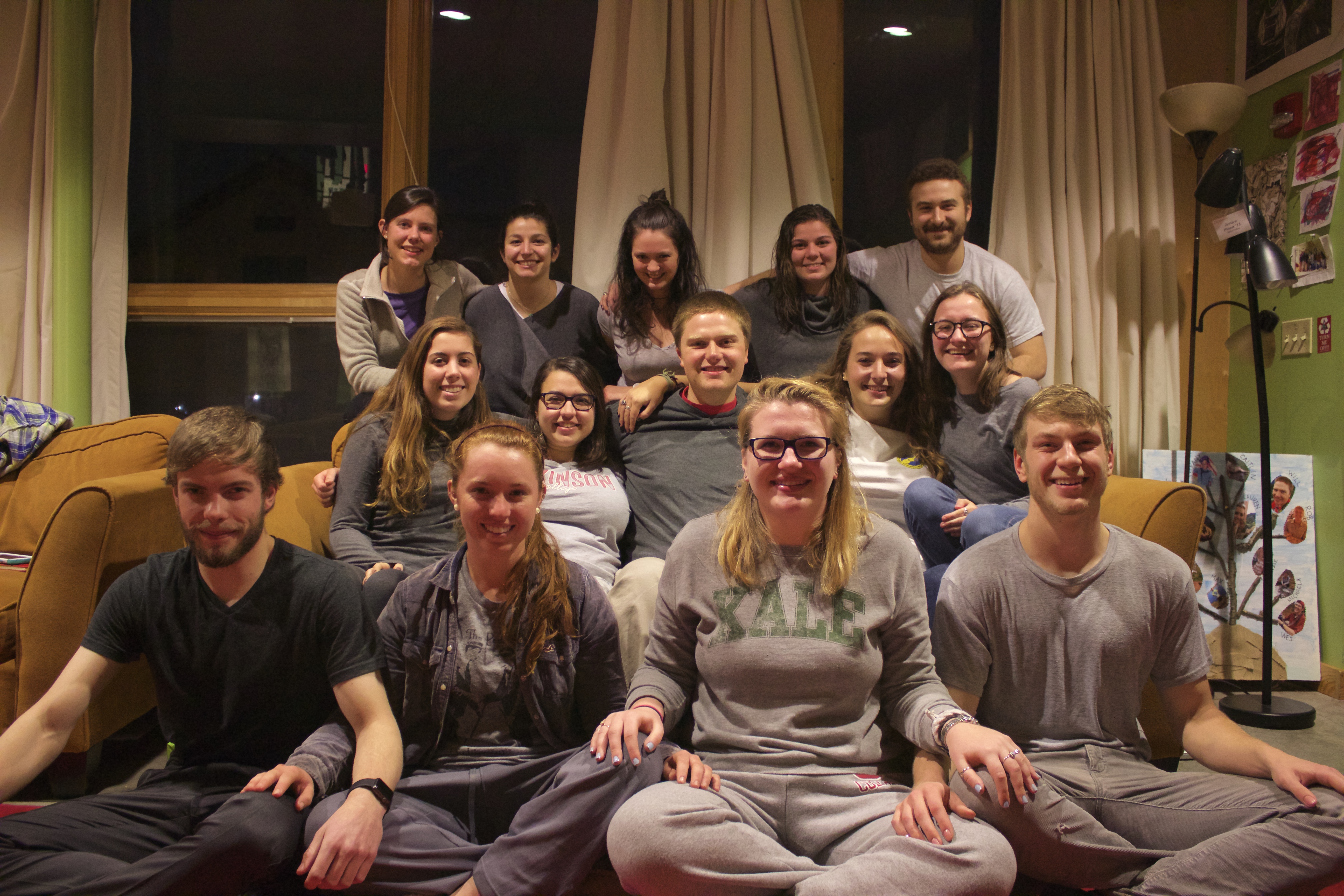 Spring 2016 Treekids
Lauren Bobyock
Lauren is a junior sociology major with a minor in educational studies. This is her first semester in the Treehouse and she is very excited to be here and get more involved in sustainability on campus. She is a DJ and station manager for Dickinson's radio station, 88.3 WDCV, and she mentors a child in the Big Brothers/Big Sisters program. She is also involved with the Jam Space and The Trellis concerts on campus. She loves to play music and sing, learn ways to live more sustainably, swim, and hike.
Tiffany Chin
Tiffany is a senior environmental science major and French minor. She spent last year abroad is Denmark and Cameroon and is pumped to be back at Dickinson. Around campus, she is involved with APO, works for Admissions, and is a Global Ambassador. Tiffany enjoys reading, traveling, hiking, skiing, and frequenting the farmers' market.
Zoe Crawford
Zoe is a sophomore and intends to major in Biology. On campus she a manager of the Peddler, President of the Ski and Snowboard club, an Eco-rep, and volunteer at the Handlebar. Outside of school she horseback rides and competes on her horse Zara.
Caitlin Doak
Caitlin is a senior Philosophy major with Environmental Studies and Women's and Gender Studies minors. At Dickinson, she is a CSE intern and a Global Ambassador and is involved with the Outing Club and Feminist Collective. She enjoys running, traveling, backpacking, singing, and cats.
Max Egener
Max is a senior Environmental Science major and an English minor from Portland, OR. He is currently doing research focused on determining the ecological effects on lake ecosystems of extreme rain events in the central Pennsylvania region, which have been shown to be increasing in frequency over the past 50 years. He has also worked for Dickinson's Alliance for Aquatic Resource Monitoring. Being from the Pacific Northwest, he is an avid downhill skier and backpacker. His interest in the living in the Treehouse has always come from wanting to learn how he can live a more sustainable life while being a part of a community of people who want to do the same and grow intellectually.
Jackie Goodwin
Jackie is a junior Environmental Studies major pursuing the Social Innovation and Entrepreneurship certificate. Last Fall, she studied abroad in Copenhagen and is happy to be back in the Treehouse for her third semester. Around campus, Jackie is an intern at the Center for Sustainability Education and a Rock Wall Monitor. She also enjoys good coffee, going on adventures, and photography.
Mackenzie Johnson
Mackenzie is a senior Policy Management and Spanish double major. Her passion is to grow, cook, and eat consciously-grown food and to provide that opportunity to anyone and everyone in her community. She also enjoys reading, yoga, being outside, and dancing. Mackenzie is also works for the Multilingual Writing Center tutoring Spanish, runs the Farm Cook Eat educational program at LeTort Elementary School, and is a Service Trip Leader this year.
Emily Kaplita
Emily is a senior Biology major from Connecticut. She has been conducting research with Professor Boback for 2 years on the American toad population at the Dickinson College Farm. She is a Watershed Coordinator for the Alliance for Aquatic Resource Monitoring (ALLARM). She also is a part of the Dickinson College Choir and a member of Phoenix. She enjoys being outdoors, reading a good book, and anything that involves science.
Will Kochtitzky
Will is an earth sciences major involved with the Geology Club, Sustainable Investment Group and is a student farm worker. For fun, Will enjoys climbing, skiing and hiking with the Outing Club and his friends. Will also serves on the President's Commission for Environmental Sustainability. When not occupied with the above activities Will loves to cook and look at satellite imagery of Earth.
Silvana Kreines
Silvana is a senior archaeology major who is planning to become a maritime archaeologist. This is her third semester as a Treehouse resident and she is so happy to return to her Treehouse home after a semester in Australia. On campus, Silvana is a student farmer at the Dickinson Farm, a bassist in the Dickinson College Jazz Ensemble, and a member of the EP Project. In her spare time, she enjoys playing the bassoon and a variety of other instruments, rock climbing, cooking, and traveling in search of scuba diving adventures.
Andrew McGowan
Andrew is a senior biochemistry and molecular biology major with a minor in philosophy. Outside of school, he enjoys reading, carving, playing squash, bagpiping, and playing with animals (mostly flying squirrels). He is a Lab Coordinator at the Alliance for Aquatic Resource Monitoring (ALLARM) who also works with Reinvest Dickinson.
Olivia Migliori
Olivia is a junior Sociology and Latin American, Latino and Caribbean Studies double major. She spent the fall semester in Ecuador and Argentina on the Dickinson in South America program and is delighted to be back in the Treehouse for her third semester. On campus she works as an English tutor in the Norman M. Eberly Writing Center and as a Writing Associate for Professor Schubert's Sociology senior thesis class. Her favorite books are Gone With the Wind by Margaret Mitchell and This Is How You Lose Her by Junot Díaz. Her hobbies include reading, dancing alone in her room, drinking tea, and hugging.
Robert Page
Robert is a junior environmental science major from Maryland. In addition to the Treehouse he is a student worker for the college farm. Some of his favorite things to do include playing guitar, going on bike rides, listening to Fergie, losing his keys, and his favorite movie is Mystic Pizza.
Michaela Shaw
Michaela is a senior INBM major and Spanish minor. She studied abroad in Málaga, Spain for the Spring 2015 semester. To distract herself from missing Europe, she is involved with many things on campus: Dining Services (as Sustainability Intern), The Dickinsonian and the Dickinson Science Magazine. She finds balance through rock climbing, yoga and a healthy Netflix habit.