Current Residents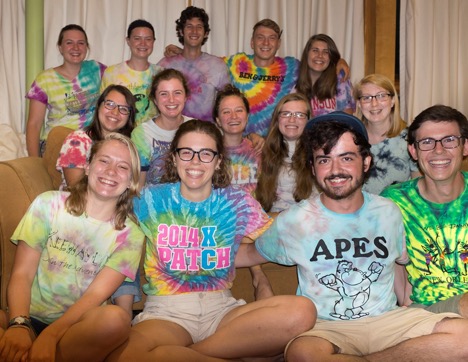 Fall 2016 Treekids
Jacqueline (Jackie) Goodwin
Jackie is a senior Environmental Studies major pursuing the Social Innovation and Entrepreneurship certificate. This is her fourth semester living in the Treehouse and her favorite thing about it is the community of people living there. She studied sustainable development in Copenhagen last fall, where she discovered a passion for increasing public access to the benefits of green spaces. Around campus, Jackie is a Rock Wall Monitor and the PR & Marketing Director for the Idea Fund. Jackie also enjoys traveling, photography, and learning Spanish on Duolingo.
Keziah Groth-Tuft
Keziah is a senior international studies major focusing on globalization and sustainability. She is also working towards a minor in Arabic and a Security Studies Certificate. She spent last year abroad in Jordan and Denmark, and is looking forward to living in the Treehouse again this semester. You can find her around campus- usually at her early morning Underground shift or tutoring in Arabic at the Multilingual Writing Center. In her (rare) free time, Keziah enjoys being outside, listening to Regina Spektor, singing, and hanging out with friends.
William (Billy) Irving
Billy is a sophomore Earth Science major from Upper Darby Pennsylvania. He loves the outdoors, especially camping and backpacking, and is very proud of earning the rank of Eagle Scout. He also likes playing banjo, listening to music, and pretending to understand art. His hobbies include wearing sweaters, eating Triscuits and hummus, looking at dank memes, and discussing politics with friends. Billy works as a peer tutor at the writing center. His favorite movie is Mad Max: Fury Road.
Kelsey Johnson
Kelsey has been living in the treehouse for four semesters and is excited to be back in the house after being abroad for the spring in Copenhagen, Denmark. Some environmental issues that she is very passionate about include environmental health, sustainable eating, and nature conservation. In her free time, she enjoys running, biking, swimming, and hiking. Unfortunately, as a senior she has to think about her post-grad life that is fast approaching. Post-grad, Kelsey hopes to pursue a master's degree in nurse-midwifery.
Madeleine (Maddie) Jones
Maddie is a sophomore International Studies and Environmental Studies double major from Stuttgart, Germany. This is her first semester in the Treehouse and she already loves the vibes of her housemates and their concern for the Earth. She enjoys naps in warm sunlight, watching movies, traveling, advocating for animal rights, drinking a variety of teas, and trying new vegan foods. Maddie is vice president of Dickinson's chapter of American Association of University Women, and can be seen around campus with her orange backpack and Birkenstocks.
Caroline Kanaskie
Caroline is a senior environmental science major from Tamaqua, PA. She is a first-year mentor, a watershed coordinator at the Alliance for Aquatic Resource Monitoring (ALLARM), and a manager at the Peddler. After a year abroad in Woods Hole, Massachusetts and Copenhagen, Denmark, she appreciates the communities she is a part of at Dickinson more than ever. You can find her on her porch watering her plants or hiding in her hammock listening to Fleetwood Mac.
Max Lee
Max is a sophomore who plans on majoring in Environmental Science, but is currently undecided. On campus, he works as a rock wall monitor and first year mentor, and off campus as a student farmer at the Dickinson College Farm. He also helps run Jam Space, a place for musicians to come together and play music, serves on Dickinson's Sustainable Investment Group, and is the secretary for Hillel. In his free time, you can find him running, climbing, drumming, making bad puns, or asking people weird questions.
Wesley Lickus
Wesley is a senior environmental science major from Yarmouth, Maine. This fall is his second semester living in the Treehouse. He studied abroad in Morocco last spring, and a student farmer on the Dickinson College Farm. He also works as a TA for the art department, and assistant photographer to Carl Socolow. When he is not in school, Wesley enjoys sailing, running, cross country skiing, cooking, and taking photographs.
Olivia Migliori
Olivia is a senior Sociology and Latin American, Latino, and Caribbean Studies double major. She spent the fall semester of her junior year in Ecuador and Argentina on the Dickinson in South America program. On campus she works as an English tutor in the Norman M. Eberly Writing Center and as a Writing Associate for Professor Wolff's first year seminar. Her favorite books are Gone with the Wind by Margaret Mitchell and This Is How You Lose Her by Junot Díaz. Her hobbies include reading, dancing alone in her room, drinking tea, and hugging.
Rachael Moore
Rachael is a junior Earth Science and Environmental Science double major. On campus, Rachael is involved with the Peddler, SEED, Geology Club, and Yes Please. She works at the Prevention, Education, and Advocacy Center and is the secretary for the Treeclub. Outside of class, Rachael loves hiking, yoga, and cooking.
Robert (Rob) Page
Rob is a senior environmental science major from Maryland. In addition to the Treehouse he is a student worker for the College Farm, a research student studying turtle nesting site selection for Professor Boback, a member of club soccer, and is trying his hand at DJing for WDCV this semester. Some of his favorite things to do include playing guitar, going on bike rides, listening to Fergie, rock climbing, and fermenting foods.
Madaline (Madie) Ritter
Madie, a sophomore, is enthusiastically pursuing a double major in Religion and Environmental Studies. When she's not busy reading ancient religious texts or working as the Center for Sustainability Education's biking intern, Madie loves to swing dance, ride her bike(s), jam to good music, and cook dinner with her amazing friends. (PSA: Kaufman's edible garden has some killer veggies!) This is her first semester in the Treehouse, and she couldn't be more excited for cold showers and lots of good coffee.
Ruthie Strauss
Ruthie is a junior Physics Major in the Engineering track with minors in Mathematics and German. On campus, she's the Vice Chair of MOB as well as a First Year/Senior Mentor, a WILD Trip Leader, a Tritons Admissions Host, and the SLCE Layout & Design Specialist. Ruthie loves turtles, hiking, biking, and spending 90% of her time in Tome.
Emma Weaver
Emma is a sophomore from Arlington, VA. She is intending to major in sociology and minor in political science. Emma is also interested in urban planning focused on sustainability. On campus she works in the Office of Disability Services and is a member of the College Democrats. Emma enjoys farmers' markets, lying in the treehouse's hammock, and iced coffee.