Current Residents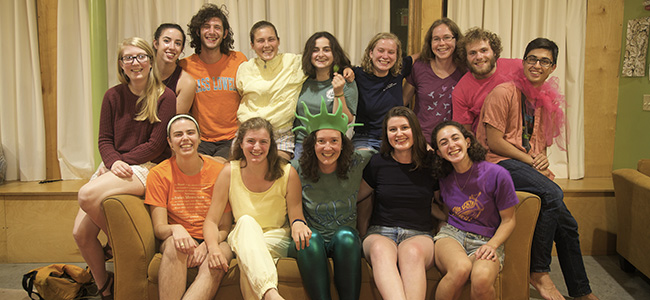 Fall 2017 Treekids
Mariam Kapanadze:
Mariam is a junior psychology major from the Republic of Georgia, but she has been living in New York for past two years. This is her first semester living in the treehouse and she falls more in love with living there everyday. On campus, she is secretary for Dickinson French club and also works at local non-profit organization. Her hobbies include listening to music, talking about her country, and napping with her roommate. With the help from her fellow treekids, Mariam recently discovered that she also loves dancing to a punk rock. One of her goals is to travel the world and go whitewater rafting in every country she visits. If not in the library, she can be found on her porch, talking to her plants, and if you ever walk by, you are welcome to join them
Madigan Kay:
Madigan Kay is a senior Italian Studies Major and Sociology minor from Brunswick Maine. Due to her insatiable appetite and love for food (especially prunes) she is also pursuing a Food Studies Certificate. She spent last year abroad in Bologna Italy and this is her first semester living in the Treehouse. On campus she is a First Year Mentor, the president of the Italian Club and occasionally dabbles in dance clubs (this semester she's trying bellydance). In her free time she can be found on the Quarry trellis doing homework, looking at pictures of wire haired dachshunds, or napping.
Madie Ritter:
Madie, a junior, is enthusiastically pursuing a double major in Religion and Environmental Science. When she's not busy reading ancient religious texts or working as the Center for Sustainability Education's biking intern, Madie loves to care for her plethora of plants, ride her bike(s), jam to good music, and cook dinner with her amazing friends. (PSA: Kaufman's edible garden has some killer veggies!) This is her third semester in the Treehouse, and she couldn't be more excited for cold showers and lots of good coffee.
Katie Overstrum:
Katie is a sophomore environmental science major from Wallingford, CT. You'd be likely to find her somewhere outside, as she is involved as a WILD leader, a student farmer on the Dickinson College Farm, and an ultimate frisbee player on Jive. In her free time, she enjoys running long distances, mowing the treehouse lawn, snuggling up with a book on the porch swing, and playing the harmonica. This is her first semester in the house and is beyond excited for all of the adventures that await!
Ben Eppinger:
Ben Eppinger is a sophomore earth science major from Pittsburgh PA. This is his first semester in the treehouse and he is super pumped about it. On campus you can usually find him playing soccer on biddle field, chilling in the ceramics studio, or in the treehouse kitchen fulfilling his role as the human composter. He also enjoys biking, skiing, pretending to be Benjamin Rush, and hanging out with friends and family.
Sam Waltman:
Sam Waltman is a sophomore from Lexington, Kentucky currently studying history and education. In between managing his kit kat addiction and fantasy football team, Sam works as biking intern for the Center for Sustainability. This is Sam's first semester in the treehouse, and is excited to now have a space to put his bikes. Sam loves riding bikes (you might have figured that out by now), watching movies and reading. Sam thinks that George Clooney is just the best.
Emma Weaver:
Emma is a junior environmental studies major from Arlington, VA. She is intending to minor in sociology and is interested in urban planning focused on sustainability. On campus she is the Media Intern for the Center for Sustainability Education and a member of the Arts Collective. This is Emma's third semester in the house and one of her favorite parts is the community of people and how they challenge her to be more sustainable in her everyday life. Emma enjoys coffee shops, sleeping in way too late, and singing off key at treehouse open mics.
Kendra Beaver:
Kendra is a sophomore from Danbury, Connecticut, and she is super excited for her first semester living in the Treehouse! She is an Environmental Science major pursuing minors in Political Science and Earth Science. On campus, she is the Treasurer of the Arts Collective and the Secretary of the Environmental Studies Majors Committee. Kendra loves cheese, Bindi Irwin, spending time outside, painting, and Disney movies.
Paige Baisley:
Paige Baisley is starting her sophomore year as an Environmental Science major and a Math minor. She is from the amazing town of Beacon, New York. If she is not inside curled up with a good book and a cup of tea, then she is outside with her toes in the mud and her head in the clouds. Paige's favorite hobbies include biking, running, hiking, and cooking. At 5'10", Paige proudly meets the qualifications of tall clubs and societies around the world, though she is not officially a member of any. She is a self proclaimed nut butter addict. Although her initials (PB) may lead you to believe that she favorites peanut butter, she does discriminate amongst nut butters and enjoys all of them equally.
Rachel Gross:
Rachel Gross is a 5'2 fiery ball of energy and burps. She is an Environmental Studies major working on a Food Studies certificate. She hails from the great cookie cutter neighborhoods of suburban Maryland and she often pretends that she is from DC, because I mean, it's DC. She cares about sustainability and making the world a better place. In her spare time, she enjoys farming, climbing, reading, dancing that gives you a full body work out, doing a shameful botch job of knitting, writing what she hopes is poetry and sitting/laying/absorbing the powers of the sun. The light of her life is her weekly radio show 'Tall and Small' that she does with her best-friend and all-around angel of a human, Julia Ormond. Tune in Thursdays at 7 at http://blogs.dickinson.edu/wdcvfm/online-stream-128-kbps/ I promise it's a good time.
Maxwell Lee:
Max is a junior environmental science and biology double major from North Reading, Massachusetts, who is freaked out by how fast time is flying by. He tries (and sometimes succeeds!) to convince friends and strangers that his name is actually Maxwellmillion. This is his third semester living in the treehouse, and he is glad to have moved upstairs as he now has easy access to the social bathroom. He loves being covered in dirt, as he spends so much time on the farm and in the field. He can also be found roaming across open Cumberland Valley roads on foot and bike, crushing courses at the rock wall, and getting into dumb arguments. In his opinion, Paramore's newest album was the best release of the summer and is ready to back this belief on a moment's notice.
Maddie Jones (Jones):
Jones is a junior International Studies and Environmental Studies double major from Stuttgart, Germany. This is her third semester living in the Treehouse. She is currently participating in the Climate Change and Human Security Mosaic and will spend three weeks this fall researching in Nepal. She enjoys watching movies about badass heroines, working out at the gym, traveling, advocating for animal rights, and trying new vegan foods. Jones is president of Dickinson's chapter of the American Association of University Women (AAUW) and is also trying out the martial arts club. She can be seen around campus with her orange backpack and Birkenstocks.
Rachael Moore:
Rachael is a senior Earth Science and Environmental Science double major. This is her 3rd semester living in the house, and she enjoys seeing the community dynamic change each semester. Rachael is currently conducting research with Professor Thibodeau on mercury anomalies and the relationship of the Triassic-Jurassic Extinction and the large igneous province, CAMP. You can usually find her picking up some veggies at the farmer's market, getting coffee at the Peddler, or in a lab in Kaufman. She loves rocks, bunnies, and yoga.
Katie Gimbert:
Katie is a senior Environmental Science major from McLean, Virginia. This is her second semester in the house. On campus, Katie is an Army ROTC cadet on track to commission following graduation and a barista at the Peddler, Dickinson's student run coffee shop on wheels. In her free time she is an avid reader and athlete. On any given day you can find her cuddled up on a couch with a fresh cup of coffee and a book or flying around Carlisle on her cherry apple red Cannondale bike.