Honoring Excellence in Sustainability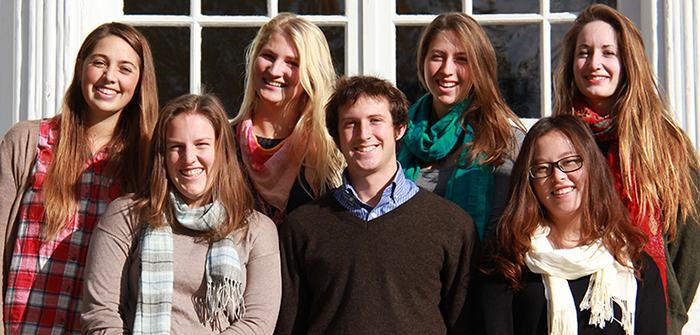 Every fall semester, seniors from all majors and all academic divisions are invited to apply for candidacy as Baird Sustainability Fellows, a college-wide honors program for sustainability. The Baird Sustainability Fellows program recognizes graduating seniors who have advanced sustainability goals on or beyond the Dickinson campus through excellence in scholarship, leadership and service. This college-wide honor, named for Spencer Fullerton Baird, a prominent naturalist of the 19th century and Dickinson alumnus and professor, was established in 2012.

Applicants that meet the rigorous standards of the honor, as determined by an interdisciplinary selection committee, are accepted to participate in the half-credit Baird Honors Colloquium. The Spring colloquium is a unique, interdisciplinary course focused on collaborative projects, advancing student research and professional interests, and building skills for a sustainable world.

Selection of candidates, and award of the Baird Sustainability Fellow honor, are decided on the following criteria:

Attainment of advanced level sustainability competencies and dispositions through academic work, practice and a scholarly, extracurricular, creative or service project.
Evidence of a substantial scholarly or service project of exceptional quality, significance and impact that is related to sustainability.
Demonstrated leadership in advancing sustainability goals of a campus or community group or project.
High scholastic achievement, as evidenced by a 3.4 or higher GPA.
Character and behavior that exemplify the values of civic responsibility, environmental stewardship, social justice and global perspective.
COME TO AN INFORMATION SESSION TO LEARN MORE!
Wednesday 9/17 12:30, Denny 303
Thursday 9/18 4:30, East College 107
Friday 9/19 12:30, Kaufman 179
Tuesday 9/23 12:15, Tome 227
Tuesday 9/30 12:15, Althouse 07

For questions about the program and application process please contact:

The Center for Sustainability Education (CSE), Kaufman 190
Neil Leary, Director, learyn@dickinson.edu, 717.245.1954
Lindsey Lyons, Assistant Director, lyonsli@dickinson.edu, 717.245.1117