Sustainability Clubs & Organizations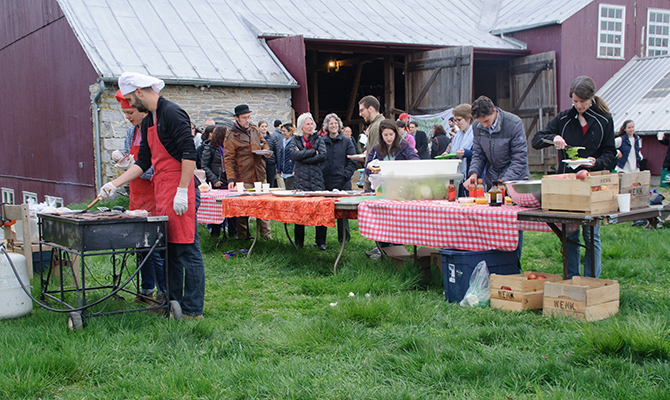 Students come together monthly to connect and network through the Dickinson College Sustainability Coalition. The Coalition is a student-created and facilitated group designed to improve collaboration between sustainability-related clubs and organizations. More information about the coalition can be found by e-mailing sustainability@dickinson.edu.
Some of the student clubs and organizations in the network include:
Idea Fund:
The Idea Fund empowers students to identify and solve problems in the community by equipping and connecting them with the skills, networks, and resources to effectively design and implement viable projects. We achieve these goals through our three main services: Project Consulting, Innovation Grants, and Revolving Loans.
Eco-Reps: 

The Dickinson Eco-Reps program strives to create a community of leaders in sustainability who work to empower others to make sustainable changes in their lives and in their communities through peer education, programming, and outreach. The program empowers Dickinsonians to represent and lead a community of their choice to become more sustainable and foster connections. Eco-Reps form a network of leaders that work together to create a sustainable campus.
The Handlebar Bicycle Co-Op:
The Handlebar, operated and maintained by the Center for Sustainability Education (CSE), operates on co-op model that is "for" students, faculty and staff, "by" students, faculty and staff. Shop volunteers teach shop-goers how to maintain their bikes, re-assemble parts and make repairs when necessary. Volunteers are always welcomed, and can be trained through our educational workshop program. The shop and its volunteers reuse bikes and bike parts in order to operate sustainably.
The Treehouse:

The Treehouse functions as both a Special Interest House and a student organization. Also known as the Center for Sustainable Living, the Treehouse promotes sustainable living practices and sharing of sustainability information through events such as soup and breads, open mic nights, and open houses.

Outing Club: 

The Outing Club is a great outlet for Dickinson students looking to try their hand at a wide range of outdoor activities. Activities range from camping to kayaking to rock climbing. The club provides the necessary gear and funding for trips, and transportation. Dickinson students are welcome to attend the weekly meetings, or to contact the club if an upcoming outing has sparked their curiosity and interest.


ROOTS: 

A student-run environmental advocacy group, ROOTS initiates sustainability-related projects and initiatives such as a campus-wide ban on the sale of plastic water bottles, an audit on paper use, and a Green Screen Film Series to view and discuss documentaries. They also organize Harvest Fest and the Local Foods Dinner.
Students for Social Action (SSA): 
SSA addresses social justice issues at the campus, local, national or international level. SSA hosts events to raise awareness about current problems and to urge a response from the college community. Past events include the Fair Trade craft fair in the HUB social hall and an organized campaign addressing workers' rights and fair labor.