Reducing Emissions Through Sustainable Transportation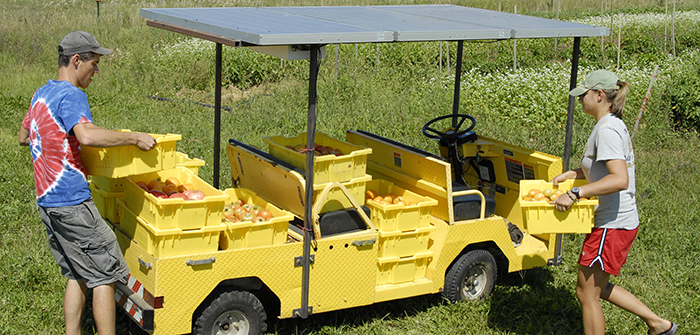 Dickinson is committed to creating options for sustainable transportation in and around campus. Our Climate Action Task Force addressed the issue of transportation directly, and created excellent recommendations for pursuit over the next few years. However, Dickinson has already made great progress in the following areas of sustainable transportation:

The Center for Sustainability Education, guided by Dickinson's Bicycle Advisory committee works to create sustainable biking options through bike share, convenient bike racks, long-term indoor bike storage, a biking listserve, biking blog and The Handlebar. Check out the
Biking
page to learn more about the programs.
Check out our online Dickinson-only Ride-Share Board from RidePost, a leader in transportation for colleges and universities. This service is available to help members of the Dickinson community (students, faculty & staff) to make connections to share rides for daily commuting, trips, errands or breaks.

Vehicular Transportation:

Dickinson College worked with the Carlisle Borough and other members of the community to study transportation problems in Carlisle. The study resulted in a $2.8 million "Road Diet" being funded and implemented by PennDOT. The Road Diet has alleviated some traffic issues and made Carlisle more pedestrian and bicycle friendly by reducing High and Hanover streets from two to one lane in each direction in the downtown core, adding bike lanes, adding turning lanes, and other changes.
Dickinson owns eleven hybrid passenger vehicles for use by faculty and staff when traveling on college business. Zipcars are available for rent to students as well as faculty and staff. Capital Area Transit runs buses between Carlisle, Harrisburg and other locations in the region. Student Development and the Department of Public Safety provide shuttles to and from Harrisburg on weekends and major breaks.