Dickinson's Environmental Studies Department is located in Kaufman Hall at 400 W. North Street in Carlisle, Pennsylvania. Carlisle is the county seat of Cumberland County and is located in the heart of the Cumberland Valley and the Conodoguinet Creek Watershed. The Conodoguinet Creek flows east into the Susquehanna River, which connects us directly to the Chesapeake Bay. Driving Directions to Kaufman Hall.
Environmental Studies and Science Research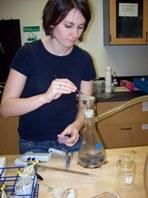 Faculty and students in the Environmental Studies Department engage in a variety of different types of research including faculty research, collaborative research, student independent research, course specific group research projects and community based participatory research. Current research topics within Environmental Studies include watershed monitoring; development of protocols for volunteer monitoring of Marcellus Shale gas drilling; climate change and alternative energy policy; forest ecology and regeneration; air pollution; and environmental health. For more information, please see Student Research Topics, and Student Research Guidelines.
Internships
Environmental Studies and Science Majors are encouraged to explore internship opportunities in order to gain hands-on experience in the field. To learn more about the types of internships that are available and how they are arranged, review the Internship Guidelines.
Watershed-Based Integrated Field Semester
"The Luce Semester" is funded by a grant from the Henry Luce Foundation. Environmental Studies Faculty developed an integrated semester to explore and compare the Chesapeake Bay and Lower Mississippi Delta Watersheds. This 5 year project serves as a model for interdisciplinary, experiential, community-based learning in higher education, and an example of Dickinson's cutting edge Environmental Studies curriculum.
Laboratories for Teaching and Research
The Department's primary teaching and research facilities are located in Kaufman Hall. Additional classroom spaces are shared with other science departments in the Rector Science Complex and across campus. In Kaufman, there are 3 primary teaching laboratories, one housing aquatic research tools, another with a terrestrial focus, and the third used primarily for our introductory courses. There are also labs for student/faculty research collaboration and work space for student's conducting independent research. The building itself serves as a living laboratory. The site was a former industrial facility, which has undergone successful and thorough environmental remediation and has been renovated for teaching and research. Kaufman is now home to the Dr. Inge P. Stafford Greenhouse for Teaching and Research, which is open to the entire Dickinson community. Students, faculty, administration and architects are still working together to design and implement new green building updates to Kaufman Hall.
Advanced Analytical and Field Equipment
The ES Department has a wide variety of equipment used for environmental research and monitoring. A flame atomic absorption spectrophotometer is available for aquatic and soil chemical analysis. Other laboratory equipment consists of computer-assisted measurement of tree-growth rates, compound and dissecting microscopes, a scanning electron microscope (SEM) and soil, air, water, and bacterial contamination testing apparatus. Field equipment includes surber samplers, plankton nets, an Eckman dredge, corers, canoes, a depth finder, a telethermometer, dissolved oxygen, pH, and conductivity meters, soil thermometers, soil corers, tree borers, light meters, and other equipment necessary for environmental monitoring and analysis. Students who desire to conduct independent research with more specialized apparatus can usually be accommodated by arrangements with other departments and state agencies in the region. If you have questions about research capabilities and project ideas, please email the ES Technician.
ALLARM and the R.F. Shangraw Community Aquatic Research Laboratory
The Alliance for Aquatic Resource Monitoring (ALLARM) is a project of the Environmental Studies Department. Since its founding in 1986, ALLARM has become a nationally recognized technical and programmatic support center for community organizations interested in watershed assessment, protection, and restoration. The R.F. Shangraw Community Aquatic Research Laboratory is used by ALLARM to provide Technical Assistance to watershed organizations throughout Pennsylvania. Students and staff members use the lab to conduct quality control analysis and compare sampling and analysis methods used by volunteer monitors.
Florence Jones Reineman Wildlife Sanctuary
Environmental Studies students have the opportunity to conduct field research at a 3,400-acre tract of forested land just eight miles north of campus. A field laboratory equipped with a library, microscopes, field apparatus and a weather monitoring station is managed cooperatively by the Biology and Environmental Studies Departments. Learn More about the Wildlife Sanctuary.
Geographic Information System (GIS)
Instruction and resources for GIS are available to all students, faculty and staff at Dickinson. ArchGIS 10 is available in ES Department classrooms and a variety of other campus locations including a GIS lab, located in the Library's Information Commons Classroom. We have the ability to produce a broad spectrum of computer-generated maps and visual displays and to analyze spatial data. Introductory, intermediate, and special topics GIS courses are offered. GIS is used for management and interpretation of stream data collected by volunteers in the ALLARM project, student and faculty independent research projects, and as a resource for students in upper-level courses. For more information about GIS capabilities and opportunities, contact our GIS Specialist, James Ciarrocca.
The Center for Sustainable Living: The Treehouse
A group of Dickinson students are actively working to limit their impact on the environment by living in the Center for Sustainable Living, commonly known as the "Treehouse". Residents of this student directed living community work actively on issues of campus greening, publish a newsletter called "Leaves", and host a series of dinners, guest speakers and community events. The Fall 2006 Semester marked the grand opening of a LEED certified group of remodeled townhouses that serve as the location for the Treehouse. In 2009, a grid-tied solar photovoltaic system was installed on the Treehouse thanks to a Solar Scholars Grant. Residents, and the house itself, serve as resource for ES students and others in the community who are interested in studying sustainable living and green building. Introductory ES courses and student independent research projects use the Treehouse as an academic resource. Learn More about the Treehouse.
The Dickinson College Farm
With support from the Environmental Studies Department, Dickinson students formed an organic garden program in the summer of 2000 to serve as an outdoor laboratory in which to learn about and demonstrate the methods and philosophy of sustainable agriculture. In 2006, the College began a significant expansion of the student garden program into an Organic Farm that raises produce for the cafeteria, offers a Community Supported Agriculture program for the Dickinson community, supports and vends produce at the local farmers market, and donates food and service to Project SHARE (our local food bank). Students may get involved in community food security by conducting independent research and internships, working at the college farm, and volunteering with the food bank. Academically, coursework in Introduction to Sustainable Agriculture, Freshman Seminars and other interdisciplinary courses have established connections to the farm. Faculty members and students in Fine Arts, History, Chemistry, Geology, Environmental Studies and other departments conduct research and coursework at the farm. Learn More about the Dickinson College Farm.
Library Resources
Dickinson's Waidner-Spahr Library provides journals, books, and other research tools on the environment and related topics. The Environmental Science & Environmental Studies Research Guide highlights many of these resources.
Librarians are available to assist students and faculty with their research. Please contact Jessica Howard, the Environmental Studies & Science Liaison Librarian, at howardj@dickinson.edu with questions.
A Campus Community Committed to Sustainability
Dickinson has a long history of campus greening initiatives, through which we have developed a culture of sustainability among faculty, staff, administrators, students, alumni and local community members. Our strategic plan outlines Sustainability as one of 5 defining characteristics of the institution. We are committed to achieving climate neutrality by actively promoting energy conservation and increasing the use of renewable energy. We are producing local, seasonal food at the College Farm and looking for ways to improve upon our already strong environmental curricula. Learn more about Sustainability at Dickinson.